Amir Khan says he will make history by beating Saul 'Canelo' Alvarez
By Mike Patterson
Last Updated: 03/02/16 1:12pm
Amir Khan says he is ready to make history when he takes on Mexican superstar Saul 'Canelo' Alvarez for the WBC middleweight title in Las Vegas on May 7.
The British fighter - a former super-lightweight world champion who has been fighting at the 147lb welterweight limit since 2014 - is set to take on 25-year-old Alvarez in a catchweight contest at 155lbs.
And Khan, 29, confirmed the venue for the fight will be the MGM Grand's new 20,000 seat T-Mobile Arena.
Alvarez suffered the only defeat of his career when he lost a majority decision to the great Floyd Mayweather in Vegas in 2013, but Khan is confident he has the tools to beat him.
Speaking from California, Khan told Sky Sports News HQ: "It's going to be the first fight there [at the new stadium] and I'm looking forward to it because it is something new and it's time to make history.
"To move up a weight or two and fight a world champion, someone that everyone is going to say is going to walk through Amir Khan. I really believe that I have the chance to beat him and by beating someone like Alvarez it will definitely make me one of the best fighters in the world.
"When Mayweather fought Alvarez he got him down to 152lbs - a weight where he was struggling to make the fight weight - so the weight we are fighting at is giving him a couple of more pounds to feel comfortable.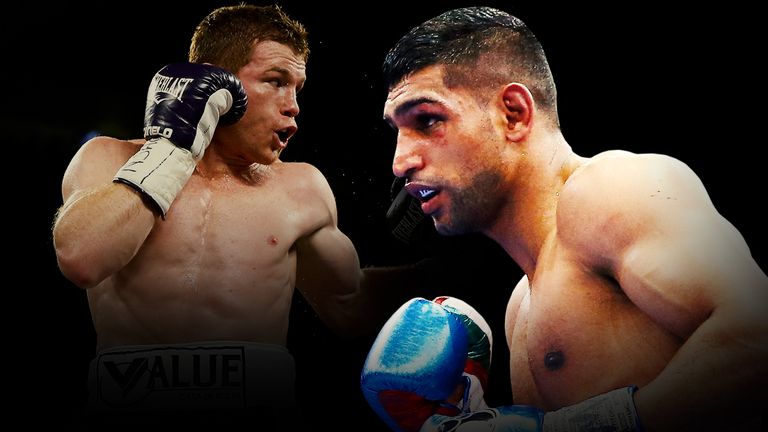 "He is going to be a little bit stronger going into this fight against me, but watching how Floyd Mayweather beat him; Floyd boxed him, was smart and he moved well - he wasn't standing there with him.
"Obviously I am going to pick a few things out of that fight. Alvarez looked really good in that fight, he was sharper, he was quicker. I have the hand speed, I have the great footwork so we know what to do.
"We are going to have a great gameplan. Virgil Hunter [Khan's trainer] here in San Francisco, we are going to set a gameplan to go into the fight and we are going to go in there and execute it.
"Obviously it is going to be a tough fight and we know it is going to be hard. It is not going to be easy and I have to be switched on. I can't take my eye off Alvarez. He is a big guy, a big puncher as well, so we have to be on our A game.
"But whatever he brings to the table, I am going to have an answer for."
Khan has not fought since a points victory over Chris Algieri last May and has been unable to secure a fight with Mayweather or Manny Pacquiao, while fellow Briton Kell Brook is taking on Kevin Bizier on March 26. 
"I want the biggest fights in boxing," added Khan. "Alvarez, we all know how great a champion he is and how good a fighter he is.
"I have been waiting a long time for the big superfights. Mayweather let me down for two years then he went on to Manny Pacquiao and even he let me down and Saul Alvarez said yes he would fight me.
"I know the fight is at a catchweight. I have never fought at 155 before but I walk around at probably 160-plus so it will be me fighting at my natural weight.
"Come fight night I will probably be about 165 as well. I can see Alvarez maybe being even a little heavier than that, maybe going into the ring at 170, but we know what we need to do.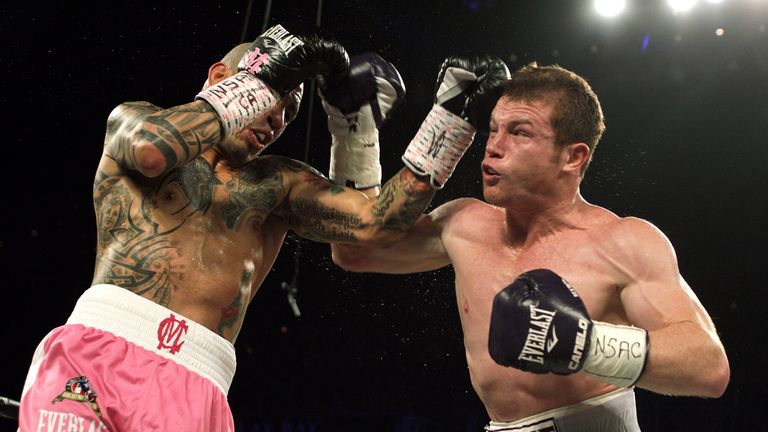 "We know we will be up against a tough guy, a bigger guy, a stronger guy in Alvarez and we have to be smart in there and I think this is the first time I am going into a fight being the underdog.
"It's a good time for me to prove myself and show everyone how good Amir Khan is. Plus it's a big fight. I want to give the British fight fans a huge fight and you can't get bigger than this."
The announcement of the contest came as a shock to many observers and Khan revealed how the fight came about.
He said: "Me and Golden Boy [Alvarez's promoters] have been speaking since last September. We were just talking, not even negotiating, just talks going on between Golden Boy and my team.
"Obviously at the same time the Kell Brook fight was being talked about with Eddie Hearn. It seemed to me Kell Brook's team went on and fought Bizier and that left me with an opponent to pick and I went on and picked Alvarez.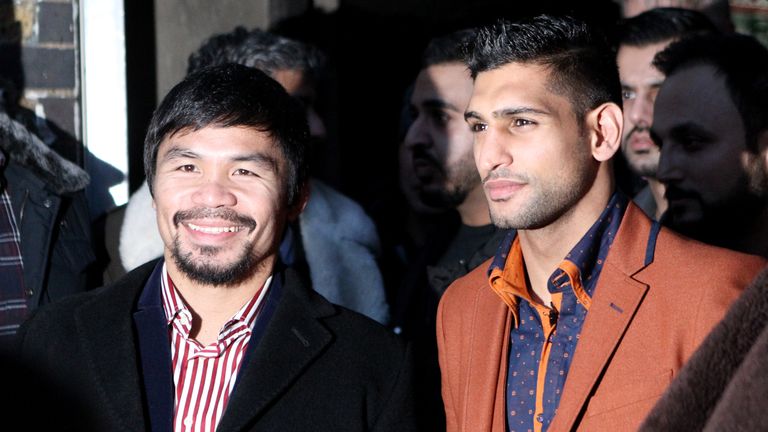 "We wanted to fight Pacquiao before that but that didn't come through. But this fight has, so Alvarez is the guy I'm fighting next and I'm going to be ready for it.
"It's a huge, massive opportunity for me to show how good I am. I am going into this fight as an underdog and I'm definitely going to prove how good Amir Khan is."