George Groves is certain trainer Shane McGuigan will make him even better after Carl Frampton split
Last Updated: 28/09/17 10:08am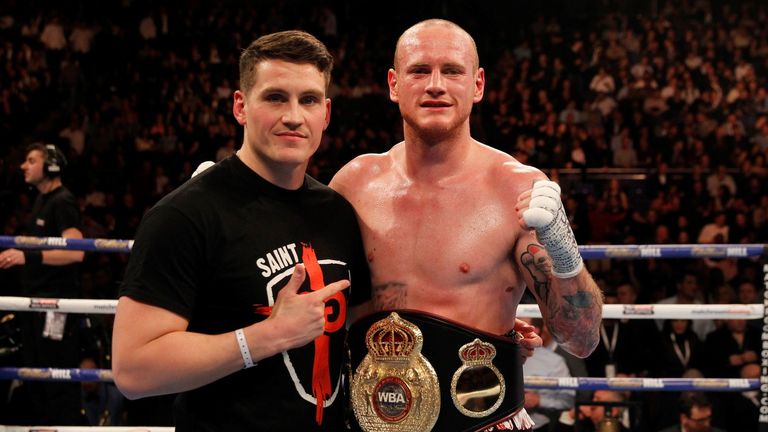 George Groves is "100 per cent confident" trainer Shane McGuigan will silence any doubters and guide him to success in the super-middleweight World Boxing Super Series.
The WBA world champion takes on Jamie Cox at Wembley Arena, in the quarter-final of the tournament that also includes British rivals Chris Eubank Jr and Callum Smith.
McGuigan has been under the spotlight since Carl Frampton split from Cyclone Promotions and ended a successful partnership that won world titles at two different weights, only to lose to Leo Santa Cruz in their last fight together.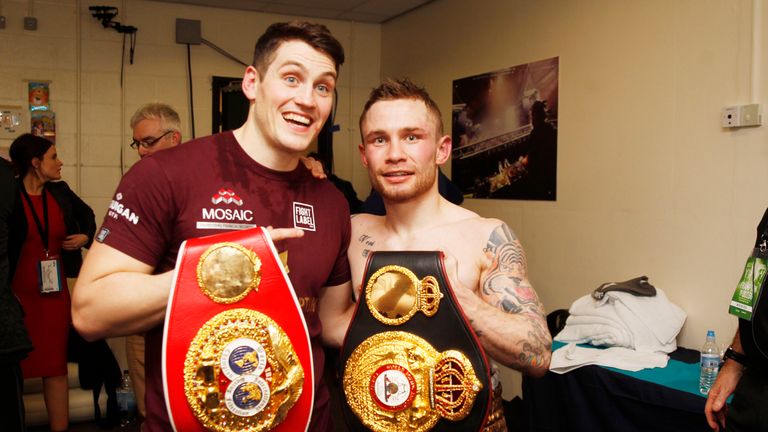 Groves admits he was "surprised" by Frampton's announcement but has promised to show the trainer is turning him into an even better fighter when he takes on Cox, on October 14.
"Any trainer in the world can only go as far as his fighters can go because they are the ones that go out there and fight, and they have to follow his instructions and his gameplan," Groves told Sky Sports.
"I still have 100 per cent confidence in Shane and his ability. We are going from strength to strength and I feel I am improving, week on week, camp on camp.
"I haven't settled, I haven't thought this is what I do, this is all I can do, and just make the best of what I've got. Even if I wanted to do, Shane wouldn't let that happen.
"My career was successful when it started, I went away from that - under previous training regimes - and since I have worked with Shane, I am back.
"Shane himself has had some highs and lows; he was Trainer of the Year when he had a phenomenal year with Taylor, Haye back winning, me winning then in the space of half a year, David Haye decided to part ways, Frampton lost then changed trainers, Conrad Cummings lost.
"You have your ups and downs, but it's how you deal with them. That's all that matters."
Groves also made it clear that Frampton's departure has had no effect on McGuigan's gym in South London, with all the fighters getting one-on-one time even before his Belfast fighter left.
'Saint George' joined forces with McGuigan in December 2016, ironically after his own world-title loss - to Badou Jack for the WBC super-middleweight title - and has won all five fights under him, culminating in lifting the WBA world title in Sheffield in his last fight.
"Maybe being the only world champion there now might bring a bit of pressure but certainly extra determination because I obviously want to stay world champion," he said.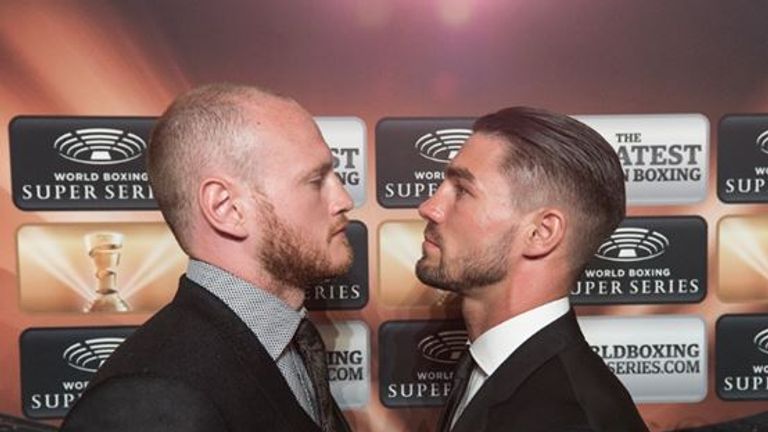 "Certain coaches fit with certain fighters and I know that and Shane fits with me and he knows that. His style will always suit a fighter like me, Carl Frampton and Josh Taylor.
"I believe he will always have success with guys like us and there certainly aren't any reasons to change anything.
"For me, this Super Series tournament has come at the perfect time. I am the best fighter in it, I am the best in-form fighter in it, I don't need a fight to shake off some rust. I am good to go."
"I'm certainly not ready for the lull after winning a world title."
Watch Paul Butler vs Stuart Hall, with Rocky Fielding battling David Brophy, Tom Farrell against Ohara Davies and Sean Dodd taking on Tom Stalker, live from the Echo Arena, from 7pm this Saturday on Sky Sports Arena and 7.40pm on Sky Sports Main Event.