Joseph Parker says Tyson Fury will become 'extra rich' if he sticks to his word by betting on the WBO heavyweight champion to shock Anthony Joshua with a knockout victory.
The New Zealander has been in negotiations for a fight against Joshua, the WBA 'super' and IBF champion, with Parker insisting he 'deserves the respect' of a fair deal before he will commit to a unification clash early next year.
Fury confidently predicted on Twitter that Parker would claim a knockout win over Joshua, even vowing to stake £5,000 on the outcome, and the unbeaten Kiwi has welcomed his backing.
If Anthony Joshua fights Joseph Parker I will bet anybody in the world £5000 cash the parker will ko him?

— TYSON2FASTFURY (@Tyson_Fury) November 15, 2017
Asked if he will earn Fury a big payout, Parker exclusively told Sky Sports: "I will. Hopefully he bets a lot of money, because I'll make him extra rich."
Parker has remained on good terms with Fury, despite defeating his cousin Hughie on points in September, and the pair even carried out a humorous rendition of the famous Maori war dance, the 'Haka', during his post-fight celebrations.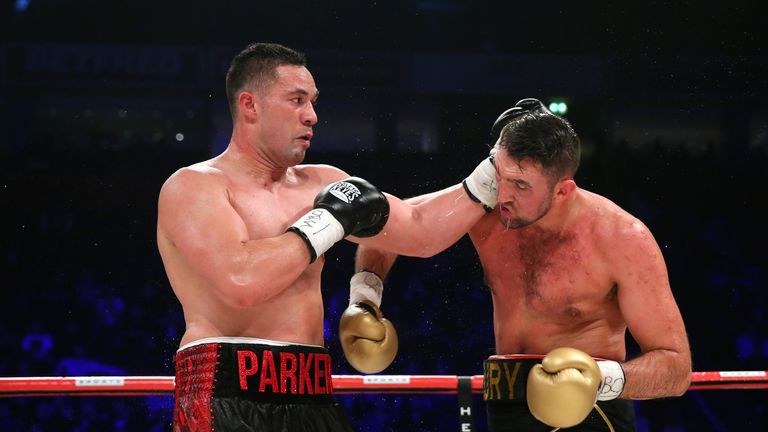 "Tyson is one of those guys that I respect," said the 25-year-old. "I respected him before he was champion. I respect him as a champion and he's honestly a genuinely nice guy.
"We got along really well, so I have a lot of respect for him and his team. It was great to catch up after the fight, even though I was fighting his cousin.
"His Haka? All of us, we didn't look too good, maybe because we were in the party mood. His Haka needs a little bit of work. I think next time I'll teach him, and I'll give him a bit more technique on how to do it.
"He offered a lot of good advice and even before meeting him and fighting in the UK, we exchanged a lot of messages on social media. He's always giving me advice and cheering me on, supporting me, so I'm really thankful for his support you know. That's why we respect him a lot."
Fury hopes an UK Anti-Doping hearing will clear him to make his return to boxing next year and Parker would put their mutual respect to one side if a potential fight against the former world champion was offered in the future.
"If it makes sense for both of us, and it's something that we both want, then we can make it happen," said Parker.
"He's a true champion that I respect, but I respect myself and what I can do in the ring. If it makes sense for us both, there is no reason why we shouldn't get it on.
"I would love to see him return."