Joshua vs Povetkin: 'Legacy' key to Anthony Joshua who refuses to obsess over opponents
Much has changed since AJ's first visit...
Last Updated: 29/08/18 12:22pm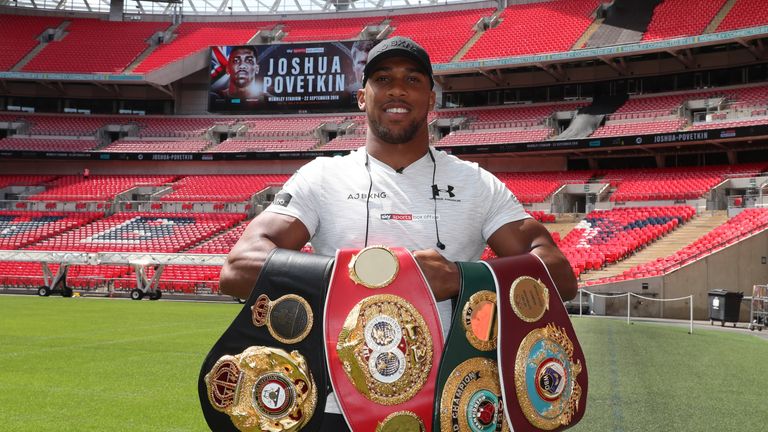 The last time we were here, Anthony Joshua was one-half of an extraordinary event alongside Wladimir Klitschko. Together they were Wembley's twin towers but 15 months and three victories on, the spotlight was Joshua's and Joshua's alone, writes James Dielhenn.
The enormity of his superstardom matched the sheer scale of the stadium. His upcoming opponent Alexander Povetkin, like many before him, was treated by Joshua as the prequel to the ongoing novel of his unique career.
It was Joshua who first strode purposefully onto the Wembley turf (then tore up some pristine and probably expensively-laid blades of grass to let them blow through the wind). Then he helped his non-English speaking rival to adhere to photographer's requests, switching effortlessly from fighter to friend. He was comfortable, he belonged.
Joshua might even outlast the England football team's stay at the national stadium at this rate, as his second headline fight and third overall appearance at Wembley looms. Wednesday in the sunshine was a stark reminder that his fourth consecutive stadium fight will total 330,000 bums on seats. The attendance for April 13, when he is due back, could bring 100,000 in.
Last time with Klitschko, the young champion puffed out his chest when the wily veteran symbolically took off his jacket to peacock - this time there was no question about who was guarding their turf, and who was only permitted to visit.
But Povetkin and Klitschko do share some similarities, as far as Joshua is concerned.
The two men from the east have steely calmness which Joshua respects. More importantly, Povetkin is the most dangerous of Joshua's opponent, aside from Klitschko, with a single punch. The Russian, who will train "in the mountains" for his shot at IBF, WBA and WBO gold, has a left hook that is flung from deep beneath Joshua's height, so low he might not see it. As Povetkin stood silently on Wednesday with cameras and selfies aimed at the charming champ, it was a devilish reminder that he possesses a punch which could derail Joshua's momentum.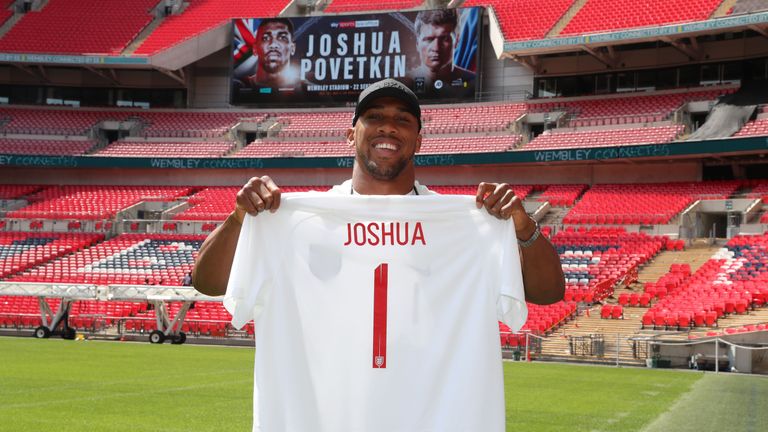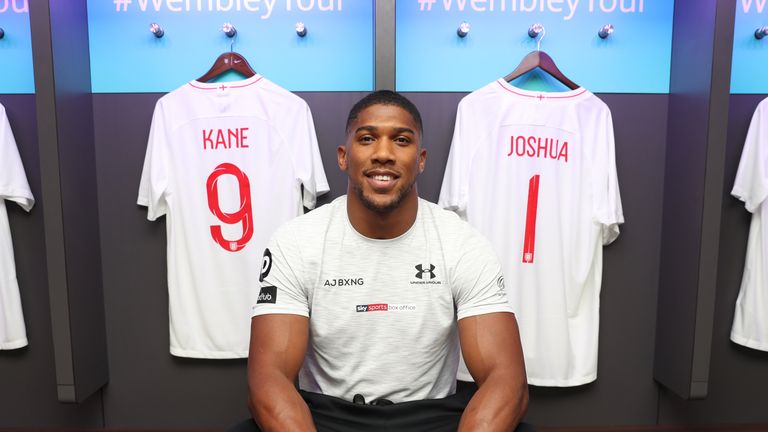 "If Joshua had a choice, he would not have chosen Povetkin," said Vadim Kornilov from the challenger's promotional team. Perhaps he is right. The WBA mandated this opponent because WBC champion Deontay Wilder, who owns the final piece of the puzzle, has not yet agreed an undisputed world heavyweight title fight against Joshua.
"It's about proving your stock worth. It's not about Povetkin or Wilder - it's about me, and my legacy," Joshua said from within Wembley's underbelly on Wednesday. That's the attitude. Great champions are defined by their opponents but, ultimately, render them all into mere footnotes in their own stories.
"This is a new chapter," Joshua warned. By the final bell against Povetkin, he will still not have been a pro for five years.
"This isn't about one fight that defines me, this is about my whole career."
It feels like Wembley has become Joshua's home-from-home, such was his poise on Wednesday. It must be so lonely walking to that ring with so many people watching but Joshua's emotions were ice cold, knowing what awaits. He has taken spirit from England's World Cup campaign, he said, and plans to help transfer the positive synergy back to the national stadium against an opponent from the nation that hosted the tournament.
He is guarding Wembley from Povetkin but, crucially, Joshua is guarding against how people will remember him when these extravagant stadium nights are in his past.
Watch Anthony Joshua defend his world heavyweight titles against Alexander Povetkin at Wembley Stadium, on September 22, live on Sky Sports Box Office.
Watch Dillian Whyte vs Joseph Parker, live on Sky Sports Box Office, from The O2, Saturday, July 28. Book online here.