Groves vs Smith: Callum Smith is part of a younger, fresher and bigger brand of super-middleweight champions
Smith joins Ramirez, Benavidez, Uzcategui and old foe Fielding at the top of a pile where size now matters
By Tim Hobbs
Last Updated: 30/09/18 11:48am
Callum Smith dwarfed George Groves before and during their World Boxing Super Series final to become part of a new breed of super-middleweight champions, writes Tim Hobbs.
It is ludicrous to suggest that Smith's mere size settled Friday's high-octane argument in Saudi, but in a division that has brought Britain so much success, it did matter.
Smith stands at 6ft 3in, Groves four inches shorter, and from the very first clinch towards the end of the opening round in Jedda, it looked like the challenger would not just step up, but stride his way into the 168lbs elite.
WBC champion David Benavidez is the shortest of the other recognised belt holders at 6ft 1½in, the IBF holder Jose Uzcategui clocks in 6ft 2in, with the WBO supremo Gilberto Ramirez even taller at 6ft 2½in. And even though WBA regular champion Rocky Fielding was toppled in a round by Smith two years ago, even he hits the 6ft 1in mark.
Tall, rangy with reaches that seem to stretch from corner to corner, there is clearly a new model taking over.
The new breed of 168lbs world champions
| Title | Champion | Age when crowned | Height |
| --- | --- | --- | --- |
| WBA Super | Callum Smith | 28 | 6ft 3in |
| WBA Regular | Rocky Fielding | 30 | 6ft 1in |
| WBC | David Benavidez | 20 | 6ft 1½in |
| WBO | Gilberto Ramirez | 25 | 6ft 2½in |
| IBF | Jose Uzcategui | 27 | 6ft 2in |
Groves might have been used to being the smaller man but against a 28-year-old who is rumoured to struggle to make the weight, he literally came up short. When they were up close, there was no need to get personal - the physical comparison looked like man against boy.
The Londoner was widely recognised as the No1 super-middleweight around, and even weighed in heavier than his latest challenger. If you've watched Groves grow in stature, you will have seen him hold his left hand low, inviting his opponent in, his right ready to pounce.
Against Smith, he not only found it hard to work out the safest distance to lure him into, but even when it looked ideal, an even bigger right simply came in over the top and crashed home, regularly.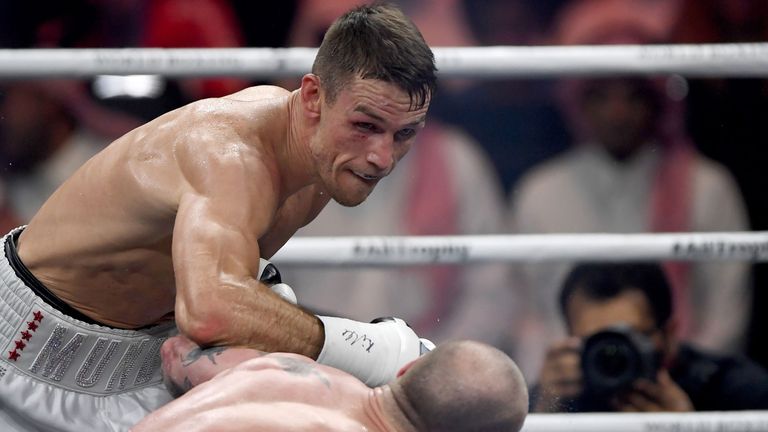 It took trainer Shane McGuigan less than a round to urge Groves to fire his renowned jab up and down. He was not only ticked off by the referee for going too low - all Smith had to do to deal with it was lean back and hit back, if he wanted to. It was an uphill struggle for the smaller man.
Slowly but surely, Smith's confidence grew and even in rounds four and five when his shots whistled past their target, he was still looking down from above - a looming presence that even Groves' knowhow and ring smarts couldn't escape.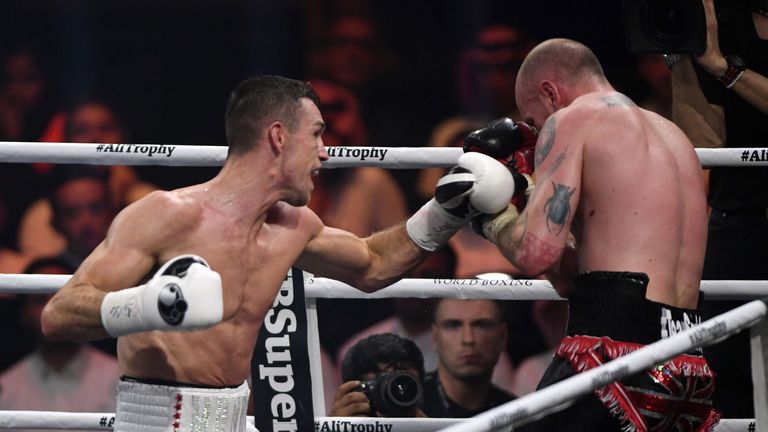 The seventh-round finish in front of a new set of boxing fans out in the Far East summed up the physical threat the Liverpudlian and his new rivals possess.
Like many people, he questioned Groves' punch-resistance, his chin an obvious target ever since Carl Froch - who broke the 6ft barrier - found it full-on under the Wembley lights back in 2014. But this time, it was a left hook to the body that was the beginning of the end, Smith's broad shoulders leaning in and driving it home from out wide, his reach able to wrap itself around an experienced guard.
The champion might have been "embarrassed" to be floored by a body shot for the first time, but it was simply too much to handle.
The new 168lbs stars in numbers
| Champion | Pro debut | Record | Rounds |
| --- | --- | --- | --- |
| Gilberto Ramirez | Aug 2009 | 38-0-KO25 | 211 |
| Rocky Fielding | Sep 2010 | 27-1-KO15 | 128 |
| Jose Uzcategui | Mar 2011 | 28-2-KO23 | 103 |
| Callum Smith | Nov 2012 | 25-0-KO18 | 119 |
| David Benavidez | Aug 2013 | 20-0-KO17 | 76 |
In turn, Smith's inexperience was supposed to play a big part in the contest too, but other than those punches missed in rounds four and five, it didn't - not in the slightest. The older statesmen in the most exposing sport regularly tell us that age is just a number, and at 28, the latest world champion proved it. No-one will forget Groves finally winning a world title at the fourth attempt after a three-year mission, but Smith only needed one. The latest young gun blasted his way into the super-middleweight scene.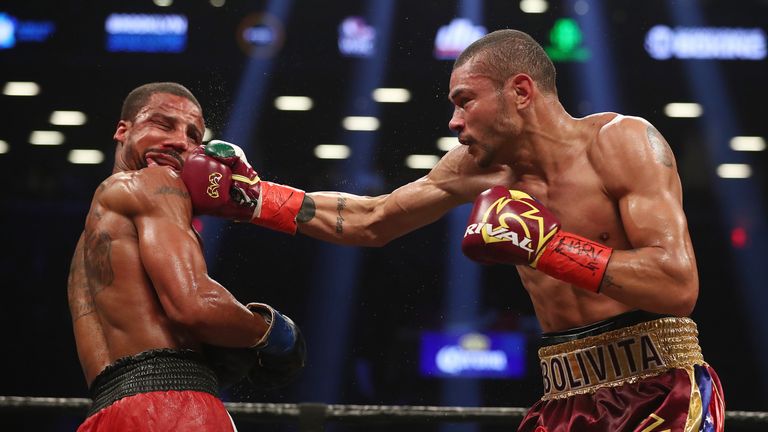 Benavidez was only 20 when he won the vacant WBC title in December, Ramirez was 25 when he wrestled the WBO version from Arthur Abraham (and he has already had four defences), while Uzcategui was 27 when given the IBF title vacated by none other than James DeGale.
Smith had been a fledgling trying to break free of the British super-middleweight stranglehold for the last two years, yet within seven rounds, he suddenly became the oldest of the four major champions at 168lbs.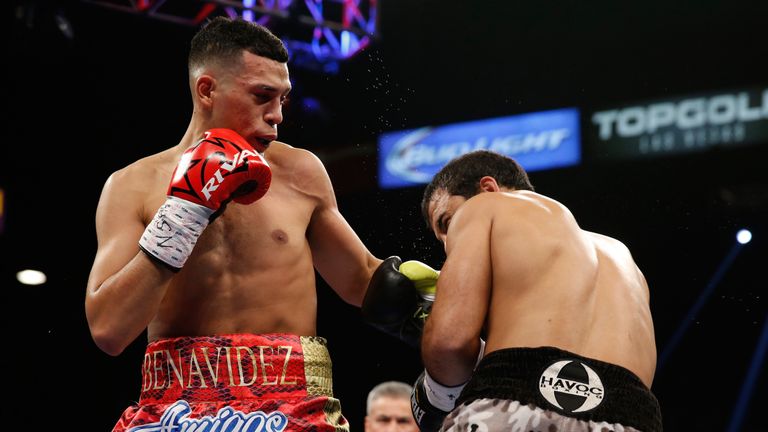 Groves had suggested the WBA 'Super' world title test would take on the guise of the 15-meter diving board at the Putney swimming pools he used as a youngster. Climbing up there was one thing, but the longer you're up there, the harder it is to take the plunge.
There was no such hesitation from Smith, who has now emerged as one of the big fish in an even bigger super-middleweight pond, where the new breed of champions are unlikely to tread water and simply size each other up.