Joshua vs Wilder: Eddie Hearn says 'progress' made in Anthony Joshua-Deontay Wilder negotiations
Promoter more optimistic of securing world title fight: "The communication lines are open, that's positive... maybe it's a breakthrough"
By Matt Horan and Andy Scott
Last Updated: 14/10/18 9:02am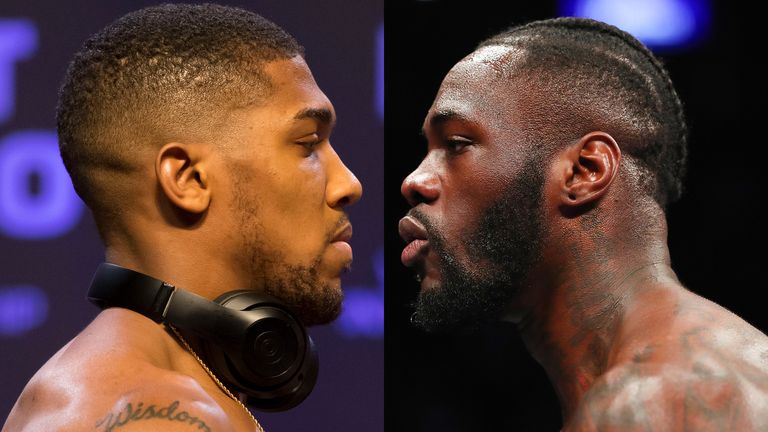 Promoter Eddie Hearn says he has made "progress" in negotiations for the Anthony Joshua-Deontay Wilder fight, after talks with a member of the American's advisory team.
Attempts to discuss a massive world title fight between Joshua and Wilder have floundered in recent months, with Hearn frustrated in his attempts to arrange a meeting with the American's co-manager Shelly Finkel.
But the Matchroom boxing boss has revealed how he reached out to the WBC champion's advisory team, headed by the influential Al Haymon.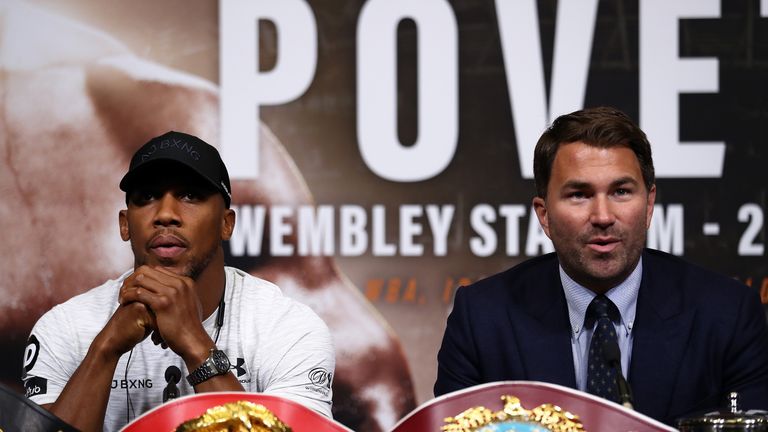 Progress is significant in the fact we are talking. Once the communication lines are open, that's positive, that's all I can say.
Eddie Hearn
Hearn told Sky Sports: "We are kind of talking to Al Haymon and some legal guys on his side. There are people that want to help and make this fight happen.
"Even in Chicago, I had a couple of conversations over two days with someone who felt they could help and it was so productive. We were talking about splits and numbers. It's so natural to do that.
"He's a powerful player in the world of boxing and has the ears of Wilder's team. He probably feels like there needs a mediator to say, 'I spoke to Eddie, this is interesting, how do you feel?'
"If you negotiate on emotion, then the fight will never get made. I don't negotiate on emotion. Some people do that and Shelly does."
Wilder will defend his WBC title against Fury in Los Angeles on December 1, and Hearn has penciled in that date as decisive on the chances of the American agreeing to meet Joshua in April.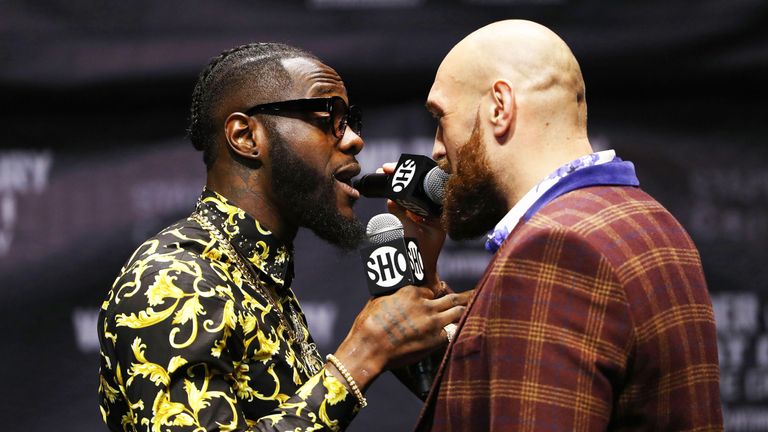 The promoter hopes that now the communication lines are open, further progress can be made.
"I'm not saying it's done, but we made progress because we had a conversation," added Hearn. "I want to be in a position where, by December 1, we are done or almost done. We just have to watch the fight and sign the deal after. There's still a lot of work to do, but at least there's conversation and at least we are discussing the deal points.
"I think everyone wants the fight. The attitude of Shelly is 'we're not making that fight, they're not serious.' Why do they think we keep coming back to the table? It's not for a laugh or to look good. I wouldn't bother.
"We want to fight Wilder. That's why we are the ones continually and consistently making the effort.
"Progress is significant in the fact we are talking. In terms of actual progress, it's small. Once the communication lines are open, that's positive, that's all I can say.
"Maybe it's a breakthrough, they'll come back. All we want is for their team to come back if they don't like the offer and tell us why not, so we can try and make it work. By just saying, 'no, we're not going to talk', how do you even have a chance to make the fight?"