Kell Brook will easily make the welterweight limit for a fight in early 2019 if need be but has to firstly show his class against "banana skin" Michael Zerafa, says John Fewkes.
Brook takes on Australia's Zerafa this Saturday in what could be his last Sheffield appearance, live on Sky Sports, hoping to finally set up a long-awaited clash with rival Amir Khan.
Hearn: Brook-Khan 'owe' us fight
Fewkes, a former amateur rival of Brook's, has closely overseen 'The Special One's preparation ahead of their first fight together and the Sheffield trainer says his man, if victorious, will have no problem boiling down to welterweight early next year if he needs to.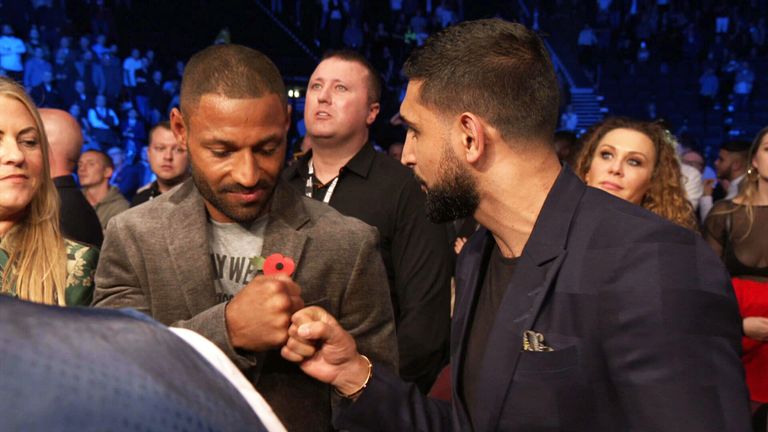 Kell will make 147lbs easily if he stays on it. The Khan fight has to happen.
Khan has been linked with a fight against pound-for-pound star Terence Crawford, but Fewkes, now successfully running his own Sheffield gym having retired from boxing in 2014, told Sky Sports' Toe 2 Toe podcast he hopes the all-British showdown can be made.
"The Khan fight has to happen, everyone in this country needs that fight to happen," he said.
"I know Kell wants it badly, it's just down to Amir or his people, or whoever is needed to make this happen. If it doesn't happen it'd be a tragedy.
"Honestly, I didn't know if Kell would be able to boil down to welterweight, he's massive for 147 and I thought 'will he struggle?'
"Having been in camp, I don't think he'll struggle at all, he just has to box Zerafa and then get straight back in the gym, be professional and stick to a certain food regime.
"He will make 147lbs easily if he stays on it."
Fewkes, 33-years old, says their newly-formed partnership is a "perfect fit" and is confident Brook, with a new lease of life, will shine against Zerafa under the Sheffield Arena lights.
"It was a surprise when Kell rang me to ask if I would I be interested in going out and working with him, but I jumped at the chance and I can't believe how well it has gone - it's worked brilliantly and is a perfect fit," 'Fireball' continued.
"We're the same generation of boxers, boxed each other in the amateurs on three occasions, and have known each other for a long time. We turned pro on the same card, climbing through the ranks together and have stayed friends. I've watched every fight and seen him grow, it has just felt right.
"It's been about adapting rather than changing and I've added a few extra tools, passing on some knowledge, things I thought could make Kell even better and it's been a dream, he's next level.
"How close he is to the weight already, how much he is pushing himself, how he is getting up so early to go gym, he's trained hard and made my job easy. Everyone that knows Kell has said how happy he is.
"People will see the best Kell Brook that they've seen for a long time and in the future, he'll be better than ever.
"Zerafa is a banana skin, he's top 10 and this is his world title fight, a win changes his entire life. We have to win and look good doing so, the big fights are out the window if not. All the world will be watching, we have to put on a show."
Watch Kell Brook vs Michael Zerafa in what could be his last fight in Sheffield, with Josh Kelly, Anthony Fowler and Jono Carroll on the undercard, live on Saturday, Sky Sports Action from 7pm, and Sky Sports Main Event from 8pm.