Jordan Gill faces Enrique Tinoco hoping to challenge the division's world stars by 2020
"100 per cent I'll be ready, if not sooner, as quick as you want to move me. I'm here to fight," said undefeated featherweight Gill
By Peter Gilbert
Last Updated: 09/05/19 5:38pm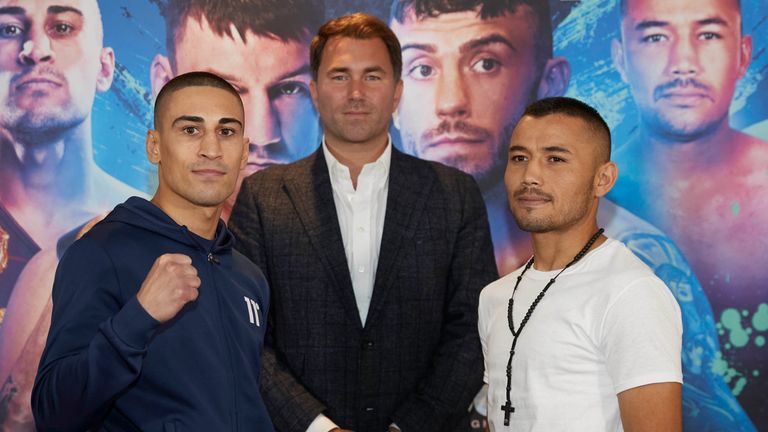 Jordan Gill believes he will be ready to fight for a world title by next year.
Gill returns to the ring against Enrique Tinoco for his second fight in as many months when he defends his WBA international featherweight title at the Nottingham Arena on Friday night, live on Sky Sports.
The 24-year-old is keen to further his career and feels by 2020 he will be ready to mix it at world level with the division's top domestic stars like IBF holder Josh Warrington, world title challenger Kid Galahad or Northern Ireland's former two-weight world champion Carl Frampton.
"100 per cent I'll be ready, if not sooner, as quick as you want to move me, I'm here to fight," Gill vowed during Wednesday's press conference.
Gill, who knocked out Emmanuel Dominguez in three rounds in March to take his record to 23 straight wins, is hoping for a longer fight against Tinoco after winning his last three contests by stoppage.
"This is why we've chosen such a tough opponent," explained Gill.
"I need those rounds, I need to be put under pressure. I need all these different experiences in the ring and I'm sure on Friday night Tinoco is going to ask a lot of questions from me.
"We've trained hard, it's been an intense training camp, a short one and I'm glad to be here and back out again so quickly."
Tinoco (17-5-4, 12KOs) has requested Gill "fight like a Mexican" and the Cambridgeshire boxer is happy to oblige even if it does upset his trainer Dave Coldwell.
"That's what he wants, that's what he's going to get, but Dave's just leaned over and said if I do 'he's going to kill me' so I might have two fights on my hands on Friday night.
"But whatever is in front of me, I'll deal with it. I'm looking to a good fight. I'm sure he'll come and bring it and so will I. No matter what, whether we have a Mexican war for 12 rounds or box and move, or if I run around the ring like a chicken, everybody will be leaving that arena entertained."
Watch Jordan Gill against Enrique Tinoco, with Leigh Wood also defending his Commonwealth title against Ryan Doyle on JD NXTGEN bill, from 7pm on Friday night, live on Sky Sports Action.