Mayweather v Pacquiao: Manny the punters' choice in early betting on mega-fight
An amazing 72 per cent have sided with Pacquiao so far
Last Updated: 06/03/15 3:22pm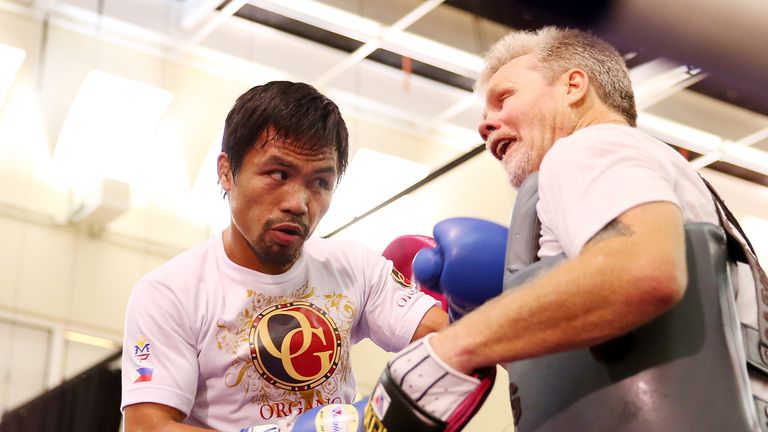 Manny Pacquiao is gaining the majority of the early support from Sky Bet's punters ahead of his mega-fight with Floyd Mayweather on May 2.
A massive 72 per cent of the online bookmaker's customers have sided with Pacman so far, despite 'Money' Mayweather being the 4/11 favourite.
Sky Bet were the first bookmakers in the UK to price up the bout in full after the announcement was finally made late on February 20, and demand has been high ever since.
Spokesman Dale Tempest said: "Considering how heavily the gambling industry relies on televised sport, it's quite remarkable just how many bets we've seen on a fight that has yet to agree on a broadcasting home in Britain.
"In fact, we've already taken double the amount bets on Mayweather-Pacquiao than we did on Saturday night's title fight between Carl Frampton and Chris Avalos, which is surprising seeing as it was live on terrestrial television.
"But it seems the mania surrounding this fight is good for our industry, although if Pacquiao becomes the first man to beat Mayweather we'll be out a fortune at this rate!"
So far, Pacquiao to win in round eight is proving the most popular bet in the individual round betting at 40/1, while one Basingstoke-based customer has lumped £600 on the Filipino to win by any method at 9/4.
A draw is 22/1, but only seven per cent of Sky Bet's customers have taken that bet to date, while three punters have backed Pacquiao to finish the most eagerly awaited fight in the history of the sport inside 60 seconds at 150/1.
Remarkably, only two per cent so far have invested in Mayweather's price of 1/2 for a trademark points win, but Tempest claims little should be read into this.
"It's all about where the value is at, as opposed to what you think will actually happen," he said.
"Lots of these punters will probably appreciate that a points win for Mayweather is the most likely outcome, as our odds suggest, but then they see the 6/1 on Pacquiao and suddenly they've got dollar signs in their eyes.
"Then again, if any sport can make a mockery of the odds, it's boxing."