Floyd Mayweather has compared his fight with Juan Manuel Marquez to Manny Pacquiao's
Pac-Man needed four, Money didn't
Last Updated: 12/03/15 3:58pm
Floyd Mayweather has taken a jibe at Manny Pacquiao's four fights with Juan Manuel Marquez by stressing he needed just one to prove his superiority.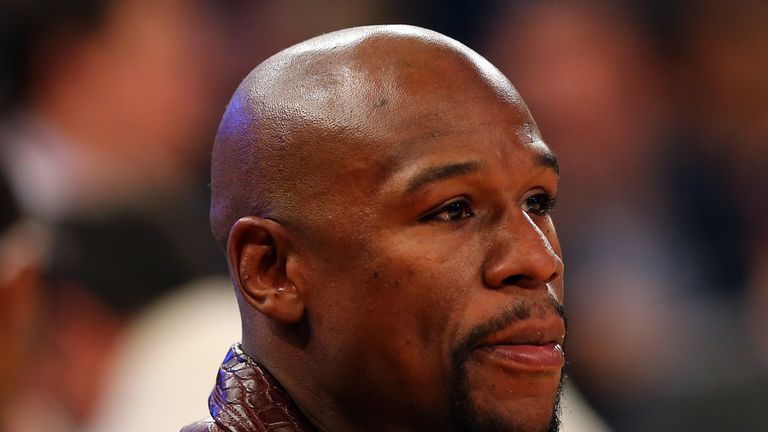 One thing I do know – in any sport, if you've lost before then losing is in your mind.
Floyd Mayweather
Mayweather floored Marquez en route to a unanimous decision victory in 2009 but Pacquiao drew with the Mexican before a disputed decision win, a unanimous decision win and finally a brutal knockout defeat.
Mayweather insists their differing records against Marquez means he looks at his May 2 super-fight with Pacquiao in Las Vegas as just another day at the office.
"I look at this fight as just another fight," he told Sky Sports at their Los Angeles press conference. "I've faced Marquez before, he's faced Marquez four times.
"If I didn't get the job done right the first time, I would have come back around and got it done right the second time. I haven't had to go to number three and number four but some fighters have to.
"Pacquiao is a solid competitor, he's tough and ambitious.
"But one thing I do know – in any sport, if you've lost before then losing is in your mind."
Magnitude
The unbeaten 38-year-old insists he is served well by his experience but still hopes the Pacquiao showdown will outshine his other accomplishments.
"At this level you have to work smarter, not harder," he said. "I know what it takes in a fight of this magnitude. The two biggest fights in the history of the sport, I was involved in. This hopefully, and I'll keep my fingers crossed, will surpass those two.
"I asked my team to make this happen and they went out and did what they had to do."