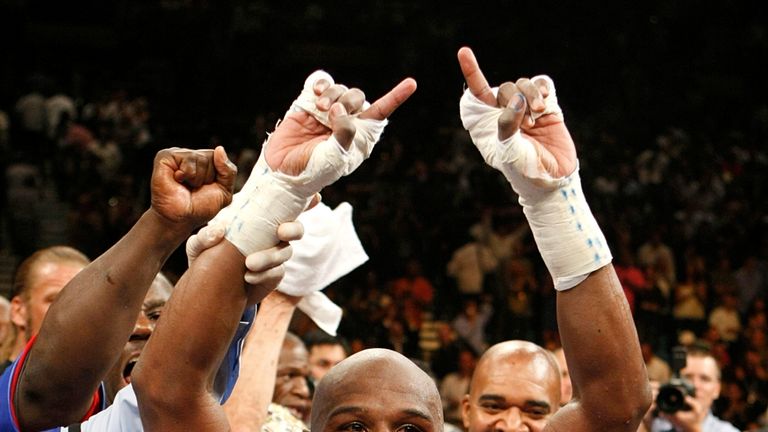 Floyd Mayweather says next month's showdown with Manny Pacquiao could be his penultimate fight.
The undefeated multi-weight world champion is contracted to American TV network Showtime to have two more bouts, the first of which is the long-awaited megafight with Pacquiao on May 2.
And Mayweather says that after the showdown in Las Vegas - which you can see live and exclusive on Sky Box Office - he will enter the prize ring one last time. 
"My last fight is in September," he said after his last open session before taking on Pacquiao. "I don't enjoy it like I once did. It is at a point where it is business. It is my job.
"I go to the gym, I train. I know what I have to do. There was a time when it was fun but I am to a point now where I am really over all of that stuff."
Victory over Pacquiao and another win in September would see Mayweather equal the record of heavyweight great Rocky Marciano, whose tally of 49 victories and no defeats has stood since 1955.
But Mayweather added: "Final one [fight] at the MGM Grand in September."
The welterweight unification fight with Pacquiao will earn Mayweather around $120m (£81m) while the Filipino will pocket in the region of $80m (£54m).
It will bring together contrasting styles - Mayweather's brilliant counter-punching skills against Pacquiao's speed and power - and 'Pretty Boy' is predicting a classic.
"He's a future hall-of-famer. I am a future hall-of-famer and we are meeting at the pinnacle of our careers," Mayweather said. "From the match-up, it is going to be a very exciting fight.
"Our styles are totally different. I fight with smarts. Every move is calculated. Every move is thought about."
But Mayweather sees some flaws in the boxing style of his rival, describing Pacquiao as a "reckless fighter" who takes too many chances, referring to Juan Manuel Marquez's knockout of the Filipino in December 2012.
"He fought very, very recklessly in the Marquez fight," Mayweather said.  "I could have had the same type of career but my career wouldn't have lasted this long."
Book Mayweather v Pacquiao, Sky Sports Box Office, May 2, via your phone or online now. If you want to record the event, book via your Sky remote from April 25. skysports.com/maypac