Mayweather vs Pacquiao: Floyd Mayweather says he will retire after one more fight in September
Last Updated: 03/05/15 11:02am
Floyd Mayweather insists he will retire in September after "out-boxing" Manny Pacquiao.
The best pound-for-pound fighter in the world took his record to 48-0 following a unanimous points win at the MGM Grand in Las Vegas on Saturday night.
Mayweather made it clear he was never in trouble but also made the point that he will have one more fight this year and then call it a day.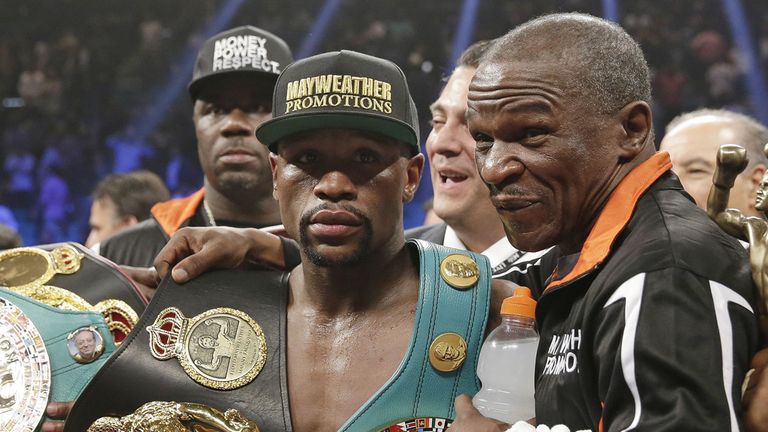 My last fight is in September and after that, I am hanging them up
Floyd Mayweather
"My last fight is in September and after that, I am hanging them up," he said straight after the win.
"I'm nearly 40 years old, in this sport for nearly 19 years and I'm truly blessed. I am fighting again in September."
Mayweather was the favourite going into the fight and admitted that there were moments when Pacquiao caused him problems.
But with judge Dave Moretti scoring it 118-110, and Bert Clement and Glenn Feldman scoring it 116-112, he felt he ended up in complete control - even if Pacquiao claimed he should have got the decision.
"He's a hell of a fighter," he said of the Filipino.
"I take my hat off to him - I now see why he is one of the guys at the pinnacle of the sport of boxing
"I knew he was going to push me and win some rounds. He had some moments in the fight but I kept him on the outside.
"I was a smart fighter. I out-boxed him. I wasn't hit by a lot of shots until I sat there in the pocket.
"We took some shots but we did what we had to do tonight."
Mayweather will now box again in four months time and if he wins that he will move level with the legendary Rocky Marciano with an unbeaten record of 49-0.
But while he spoke about his legacy in the run-up to the 'Fight of the Century', he feels the win over Pacquiao will cement it anyway.
"When the history books are written, it was worth the wait," he said.