Mayweather vs Pacquiao: Floyd ignores show of appreciation from Pac Man
Last Updated: 02/05/15 5:31pm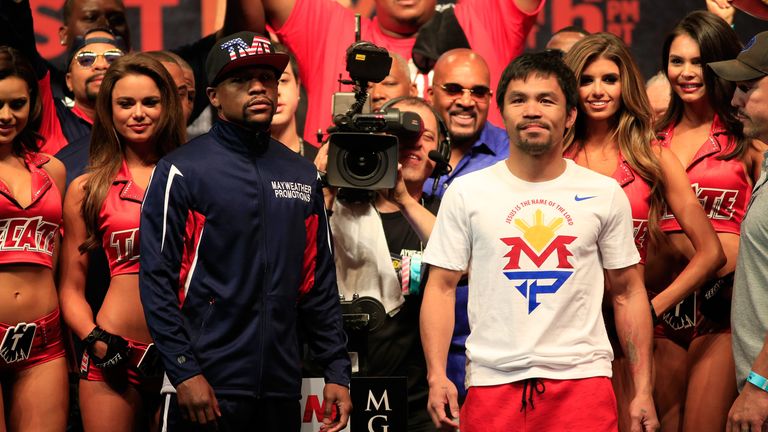 Floyd Mayweather shunned Manny Pacquiao's thank you offer as both superstars made weight for their Las Vegas showdown.
With a crowd of 16,000 watching on at the MGM Grand, both superstars weighed inside the welterweight limit for Saturday's clash, live on Sky Sports Box Office.
Pacquiao appeared to mouth the word 'thank you' while both men posed for the customary face-off, but Mayweather paid little attention to his Filipino opponent.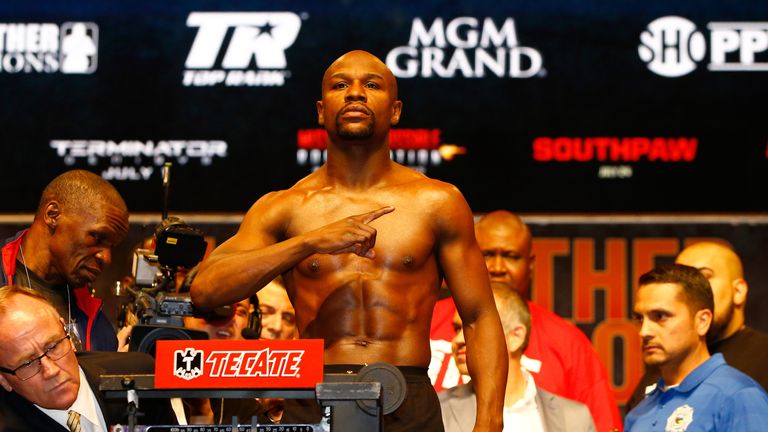 "I dedicated myself to the sport of boxing for over 20 years and I'm ready."
Floyd Mayweather
"I don't know what he exactly said, but my focus is what we are going to do tomorrow," said Mayweather, who tipped the scales at 146lbs, one pound inside the welterweight limit.
"I think all 47 fights played a major key [in my career]. I dedicated myself to the sport of boxing for over 20 years and I'm ready."
The 'Pac-Man' later admitted he made this show of appreciation after finally being granted a shot at the American.  
Asked what he said, Pacquiao replied: "Yes, thank you. Thanking him for the fans - that the fight is going to happen."
Mayweather's last stoppage win came against Victor Ortiz back in 2011, but the 38-year-old insists his training camp has been geared towards a power-punching performance.
"Later on in my career, my hands had a lot of wear and tear after 30 years of fighting," he said. "Of course your hands and body are going to have a lot of wear and tear.
"Fighters, when I would beat them, would go into survival mode just to survive. But we've been swimming, we've been also working on chopping trees, so hopefully everything plays out like it should."
Both fighters have collected world titles at a variety of weights and they retained a respectful demeanour, just over 24 hours before the first bell.
Mayweather believes their names have already been etched in boxing history as they prepare to settle their long-standing rivalry.      
"He is a future hall of famer just like myself," said Mayweather. "He's a solid competitor. We both got here somehow, some way.
"The timing is right, the timing is now, and we are going to see how everything goes."
Book Mayweather v Pacquiao, Sky Sports Box Office, May 2, via your Sky remote, phone or online now. If you want to record the event, book via your Sky remote. skysports.com/maypac