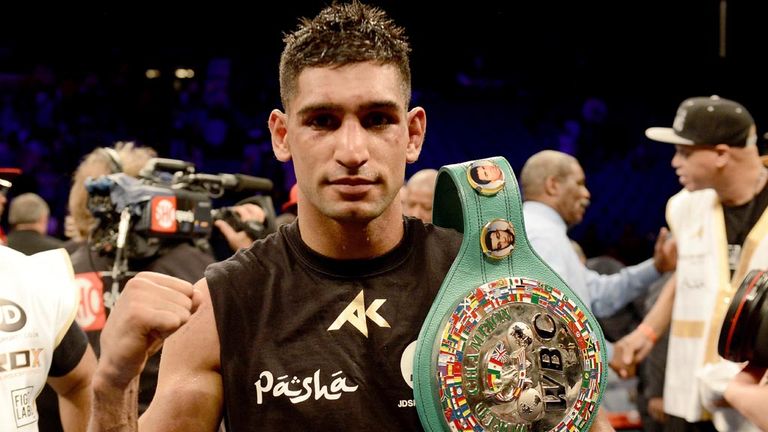 Amir Khan claims he is pole position to face Floyd Mayweather next after the American's victory over Manny Pacquiao in Las Vegas on Saturday night.
Mayweather claimed a unanimous verdict over the Filipino to claim his 48th straight victory, moving him just one win short of heavyweight legend Rocky Marciano's undefeated record.
The American said after the fight that he would only get in the ring once more - in September - and Khan believes he will be the 38-year-old's final opponent.
"I think the fight is there," Khan told BBC Radio. "I spoke to Len Ellerbe, his manager, I saw him in the media room and he came over to say 'hi... he's ready when you are'.
"I think Mayweather's team are wanting the fight. But then - on the other hand - I've even spoken to Manny's team and they said the same thing. (They said), 'Look Amir, I think it'd be good to have the fight between you and Manny next'.
"So, I'm in a position where I could fight either guy but I think Mayweather's the one I want, because I really believe I have his number."
The 28-year-old from Bolton returns to New York on May 29 to take on Chris Algieri, who Pacquaio knocked down six times on the way to one-sided win last November.
However, Khan hopes to get a meeting with Mayweather set up for later this year or in 2016.
He added: "Before anything, I have Chris Algieri to take care of. But I'm ready for whatever Mayweather wants.
"It just depends on my schedule this year, but if we could do this year or maybe early next year I will definitely jump to it."
Khan, at 10 years his junior, is confident he would more than match Mayweather.
He said: "I think it would be an amazing fight, one that boxing fans all around are talking about because I really believe size is a big factor between me and him and the speed and the power as well.
"I really believe I have his number.
"Financially they know it'll be a big fight and it'll be an exciting fight and I think a lot of people thought this fight between Manny and Mayweather would be very exciting, but it seemed to be a one-paced fight.
"They need someone young to fight, like myself, to come on board and maybe push Mayweather and stick him in the trenches and to also not show that respect, and I think my size would be the biggest factor.
"It's all about just sitting my advisor down with Mayweather's advisor, sitting down with the teams and hopefully we can get something scheduled."