No matter what anyone says to the contrary, it is indisputable that wickedly bad blood continues to coarse through the camps of Floyd Mayweather Jr and Manny Pacquiao.
Only four days until their blockbuster collision in the desert, the welterweights turned their backs on each other and celebrated with ardent supporters in grand arrivals on Tuesday at separate MGM Grand properties.
The enmity between the fighters, camps and promoters has been palpable for at least five years but it reached fever pitch after Mayweather, the king of all welterweights and the undisputed champion of conspicuous consumption, announced the fight in February.
Inside Mayweather v Pacquiao


The fighters originally were supposed to greet supporters at the MGM Grand Arena. But Pacquiao's promoter, Bob Arum, had other ideas – but he would not publicly elaborate on why his fighter would not appear in the same building with the champion, which is customary in pre-fight build-up.
Instead, just before noon, more than 1,000 Pacquiao supporters, many of them Filipinos, crowded a stage bathed in strobe lights in a massive Mandalay Bay Casino and Resort convention center, which is owned by fight host MGM Grand (Pacquiao actually arrived the night before after leaving his Los Angeles training camp with entourage in-tow). 
"I am surprised there are not more people here," said a police officer of Filipino descent who was working the event. 
An estimated 70,000 Filipinos live in southern Nevada.
Nonetheless, the ones who gathered for Tuesday's wild celebration were unsparing in their enthusiasm.
Dazed and confused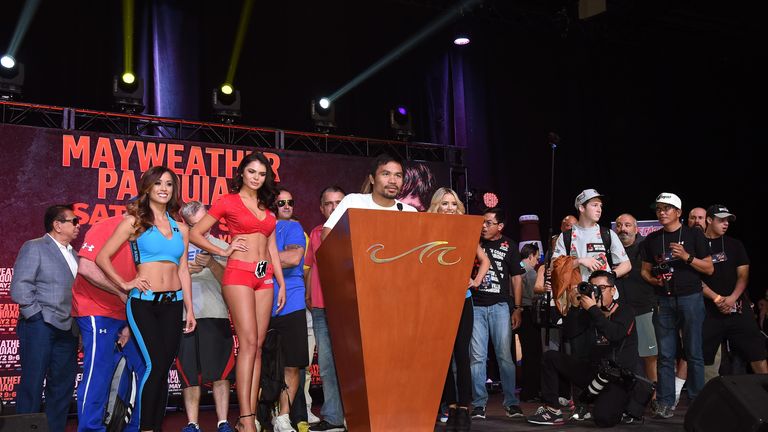 Several jumbo screens televised past fights as Pacquiao conquered several opponents, leaving them dazed and confused.
Filipino singers and dancers performed in a festive Mardi Gras-like atmosphere that included tequila models bearing Vegas-style cleavage, tottering on ridiculous stiletto heels and seemingly painted-on fire-engine red boy shorts.
The MGM Grand, attempting to maximize profits, set up more than a dozen bars inside the hall but sales were sparse. Pacquiao's energized fans had come not to imbibe. They came to inspire their underdog hero.
"Man-ny! Man-ny! Man-ny!" they chanted in unison.
"I have to explain the hype: We are proud of Manny as are Filipinos all over the world because he represents our country, especially here in Vegas," said James Pural, who said he moved here from the Philippines in 2014. "When people ask me if I am Filipino, and I say yes, the first thing they say is, 'Manny Pacquiao.'"
Soon, an organizer shouted, "He's on his way!"
And, soon, he was. The challenger wore a simple T-shirt with his branded logo.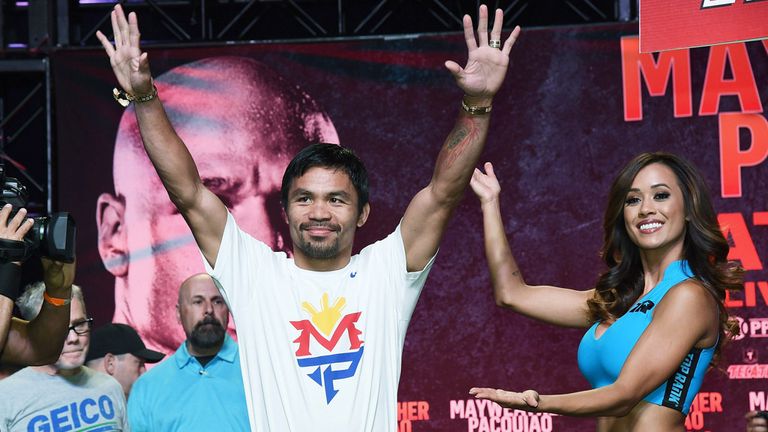 Beaming broadly, balled his fists and raised his arms. The 36-year-old former champion confidently told the crowd how much the support meant to him and also told them not to worry.
"I'm going to win the fight in the ring," he said. "So relax, take it easy."
Later, the humble, self-effacing fighter told reporters: "When I started fighting in America in 2001, no one knew who I was. Now, everyone knows Manny Pacquiao. A lot has changed since 2001."
"I am not only working for myself," Pacquiao added, "but I work to help other people and to be an inspiration."
A few hours later, Mayweather made his grand entrance. 
Mayweather, 38, was led to the stage at the MGM Grand Garden Arena by the Southern University Marching Band, appropriately enough nicknamed "The Human Jukebox."
Dolly the sheep
Thousands of Mayweather fanatics poured into the venue to catch a glimpse of the unbeaten welterweight champion, who has not lost a fight in nearly 19 years.
"Saturday, before and after the fight, I will still be The Best Ever," Mayweather later told reporters. "One fight doesn't define my career. The great thing about my career is that I'm a smart businessman. A 19-year career with no punishment on the body, that's what we should talk about."
Rapper Doug E. Fresh ushered Mayweather into the gala, and he soaked it all in. The champion wore a white track-style athletic suit and matching oversized "TMT" cap.
Eventually, Floyd Mayweather Jr hugged Floyd Mayweather Sr, in a public show of support after years of feuding finally (for now) has ended between the son and the man who taught him almost everything he knows inside the squared circle.
Soon, Floyd played to his adoring crowd, expressing his appreciation. Then again, at $90-$100 a pop for pay-per-view television, many believed it was the least he could do.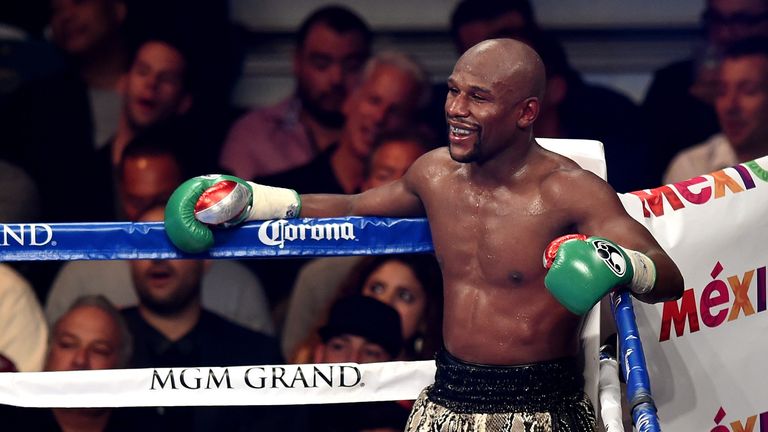 One fight doesn't define my career. The great thing about my career is that I'm a smart businessman. A 19-year career with no punishment on the body, that's what we should talk about.
"It's really not all about just making money," Mayweather attempted to convince the world. "It's about giving back."
The 38-year-old fighter, seeking his 48th victory without a defeat, sounded as if he meant it. Indeed, Mayweather might gross as much as an obscene $200 million for one night of boxing – and the fight doesn't have to be an artistic success to collect.
The strong hunch from America is that the man they call "Money" will offer no rebates for any potentially dissatisfied customers.
Watch Inside Mayweather-Pacquiao on Wednesday 29 April on Sky Sports 1 at 6pm
Book Mayweather v Pacquiao, Sky Sports Box Office, May 2, via your Sky remote, phone or online now. If you want to record the event, book via your Sky remote. skysports.com/maypac