Commonwealth Games: Geraint Thomas wins road race gold despite late puncture
By Matt Westby
Last Updated: 03/08/14 8:59pm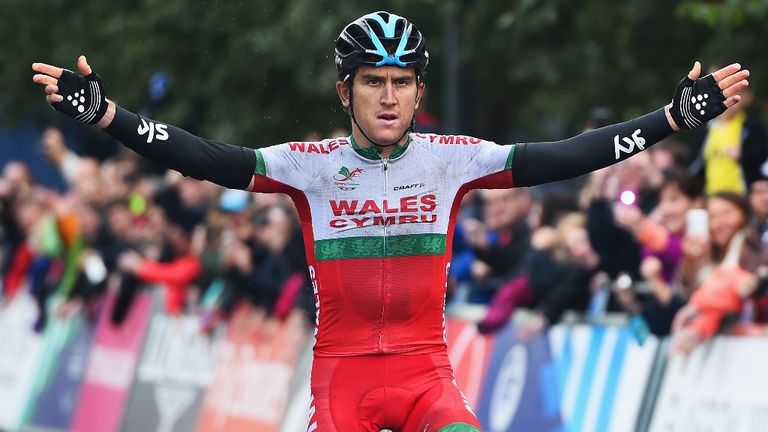 Wales' Geraint Thomas survived a late puncture to win gold in a rain-soaked Commonwealth Games men's road race in Glasgow.
Thomas looked to have sewn victory up when he attacked his two fellow leaders 11.5km from the finish and opened up a solo lead of almost a minute, but he then suffered a flat front tyre 6km out and had to wait for a replacement wheel.
It took more than 30 seconds for him to get back under way, but fortunately for Thomas, the two men behind, England's Scott Thwaites and New Zealand's Jack Bauer, had already both given up the chase and, without race radios, they were unaware of the Welshman's misfortune.
Thomas resumed racing with his gap reduced to 20 seconds, but he remained calm and stretched it back out over the remaining kilometres to win by 1min 21sec from Bauer, who defeated Thwaites in a sprint for silver.
National pride
Thomas's gold was his second medal of the 2014 Commonwealth Games, having won bronze in Thursday's time trial.
"I was coming purely out of national pride and wanting to ride for Wales," he said afterwards. "I never really expected to medal, if I'm honest. To come away with a win and a bronze is more than I could have dreamt of. It was an amazing feeling to come down the home straight with this Welsh jersey on and win.
"When I felt that front wheel going down, I can't say what I was saying. I was swearing, saying, 'What have I got to do?' It felt like an eternity for that wheel change. I'm sure it wasn't that slow. Fortunately I had a decent enough time gap."
The 168km race took place over 12 laps of a 14km circuit and was drenched by heavy rain from start to finish, creating pools of water on several parts of the course and forcing hordes of riders to abandon early.
Kennaugh breaks away
The Isle of Man's Peter Kennaugh was undeterred by the conditions and mounted a solo breakaway straight from the starting flag, but although he ploughed on bravely over the rolling route for almost 120km, he ran out of steam and was caught with just under 50km to go.
Kennaugh's fate was effectively sealed when Bauer attacked out of a severely thinned-down peloton with 55km remaining and was followed by Thomas and Thwaites, who had spotted it was a potentially race-winning move and swiftly set off in pursuit.
Kennaugh was unable to stay with the trio and quickly fell away, but they nevertheless had enough cumulative strength to build up an unassailable lead over the next group on the road.
Thwaites would have been favourite had the race come down to a sprint finish, so Thomas took matters into his own hands with an attack early in the final lap and although the most untimely of punctures still awaited him, he had already done enough to become only the third Welsh cyclist to win a Commonwealth gold medal.
Commonwealth Games men's road race result
1 Geraint Thomas (Wal)
2 Jack Bauer (NZ) +1:21
3 Scott Thwaites (Eng) same time
4 Russell Downing (Eng) +4:29
5 Mark Renshaw (Aus) same time
6 Luke Rowe (Wal) +4:32
7 Greg Henderson (NZ) +5:15
8 Peter Kennaugh (IOM) same time
9 Dan Craven (Nam) +9:03
10 Scott Davies (Wal) +10:10