World Cup: James Anderson believes England have what it takes to be World Cup contenders
Last Updated: 13/02/15 8:24pm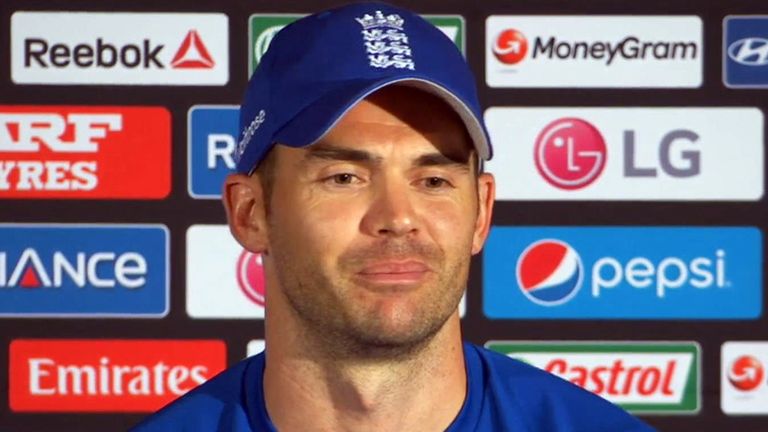 Fast bowler James Anderson believes England have what it takes to be World Cup contenders and insists plans are in place to attempt to nullify Australia danger man David Warner on Saturday.
Peter Moores' side face the joint-hosts at the Melbourne Cricket Ground on Saturday morning in their opening pool fixture and Anderson feels there is renewed belief in the England dressing-room.
He said: "The last few (World Cups) have been very unsuccessful from our point of view. This time there's a real difference in the belief. There's a genuine belief that we can surprise a few teams. We feel confident enough that we can beat anyone if we have our day.
"In a tournament like this you know that it's all about qualifying for the quarter-finals and the three matches from winning the World Cup.
"We're really keen on getting off to a positive start tomorrow, hopefully everything else will take care of itself."
Asked if England might try to bait prolific batsman Warner, Anderson replied: "Having played against him in the past I'm not sure he needs too much encouragement.
"We're just going to go out there and concentrate on what we do. We're going to try and be aggressive with the ball, all the way through the innnings, try and take wickets.
"Our main job is to get him out, not to rile him up, so we'll be concentrating on that."
Anderson, 32, insisted Australia had more to their bowling attack than England's nemesis Mitchell Johnson
He added: "No matter what he sends down, they've got a group of good bowlers, it's not just him we've go to worry about. We've hopefully got plans for all of them but it's about concentrating on us, ultimately.
"I know now you've got to enjoy occassions like this. Playing at the MCG in front of a full house, I believe. Against Australia, in a World Cup is just what every player dreams of and we're so excited, can't wait."
The Lancashire swing king began his international career as a 20-year-old at the Melbourne Cricket Ground and starts out on his fourth World Cup campaign at the same venue.
He is among the top wicket-takers in the first 10 overs in one-day internationals over the last couple of years and has become adept at bowling in a more defensive fashion.
In 188 ODIs Anderson has captured 264 wickets at 28.84 and is currently the ICC's fourth-ranked bowler. 
"The 20-year-old version of me was that I was just happy to be there and enjoying the occasion," he recalled. "I guess the abuse at the time was a bit of a shock, and tomorrow it won't be."
Watch Australia v England on Sky Sports' dedicated World Cup channel (SS2) from 3am on Saturday