Cricket Expert & Columnist
'England have lost their aura after South Africa series defeat', says Nick Knight
England lose second T20I by nine wickets, to lose series 2-0...
Last Updated: 10/03/16 12:29pm
England have lost some of their presence and aura after five straight defeats to South Africa to end their tour, says Sky Sports' Nick Knight.
England suffered a nine-wicket thrashing by South Africa in the second T20I in Johannesburg on Sunday, slipping to a 2-0 series defeat to follow a 3-2 loss in the ODIs.
"It's a demoralising defeat," said Knight. "The nature of it, plus the fact that it's five in a row, means that it's going to be a long trip home.
"It has been a huge turnaround in fortunes since leading the ODI series 2-0, and it has somewhat taken that presence and aura away from the team.
"Overall the side are going in the right direction, but this is still a huge setback, particularly because it comes on the cusp of a global event, with the World T20 in March.
"Other teams will have been fearful of this England team five games ago, playing an exciting brand of cricket, and winning."
South Africa chased down England's 172-run target inside 15 overs at The Wanderers, with AB de Villiers (71) cracking a 21-ball fifty, after England collapse at the back-end of their innings, losing seven for 14.
"Eoin Morgan has said in interviews that having been so far behind all the other sides at the 2015 World Cup, they have to be extreme in their tactics to try and catch up.
"I think they are right to do that," said Knight. "But in so doing they're going to have moments like they did today.
"Morgan has still got to let these young, free-spirited players play in a way we haven't seen before, but that can't go on forever.
"Seven for 14 was the momentum shift as England were well placed up until that point, but then South Africa went out with the bat and played as if England were well short of a good score.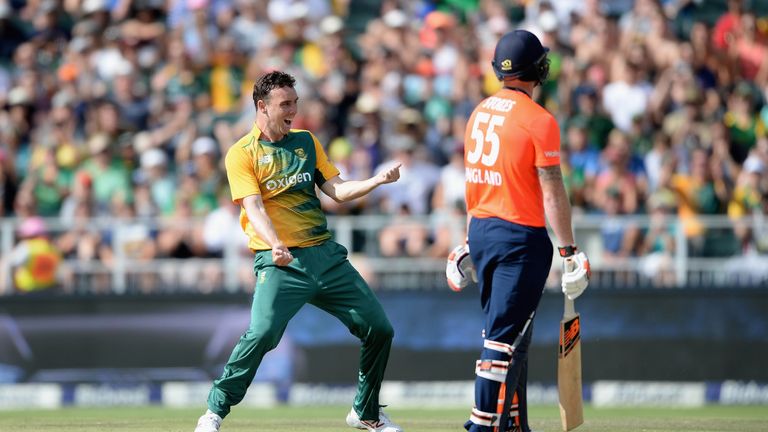 "The whole game just got away from England after they fell away so badly with the bat and then their inexperienced attack came up against a whirlwind innings from De Villiers."
Knight thinks England's selection for the game was wrong, with Sam Billings coming in for David Willey, weakening the bowling reserves for when De Villiers got going.
"Morgan has talked before about his inexperienced bowling line up, yet in this intimidating environment here, against De Villiers and co, he was prepared to take one of his bowling options out," added Knight.
"David Willey swings the white ball, and the ball has swung here in these conditions, plus, when you pick so many batsmen, with options at eight, nine, 10, it almost takes away some of the responsibility of the top order.
"They don't look to build a partnership, thinking it doesn't matter if they get out because there is more batting to come.
"We have talked a lot in the last few weeks about the strength of England's batting, but they have been bowled out here with two balls to spare. I thought it was a strange decision."
Watch highlights of today's match at 6.30pm on Sky Sports 2, then join us for live coverage of the ICC World T20 live on Sky Sports in March.