Cricket Expert & Columnist
Eoin Morgan's calmness and aggressive intent has boosted England, says Mike Atherton
"He was pretty aware of how he needed to take England on. He is also perfectly capable of playing match-winning innings - you have the whole package."
Last Updated: 11/10/18 9:28am
Eoin Morgan's calmness and aggressive intent has transformed England's white-ball side, says Michael Atherton.
England have risen to No 1 in the ODI rankings under Morgan's captaincy, with a team dumped out in the group stages of the 2015 World Cup now favourites to win next summer's version on home soil.
Morgan has guided his charges to eight bilateral ODI series victories on the bounce, while they have also carded the two highest scores in the format - 481 against Australia and 444 against Pakistan - during his tenure.
"He has been a massive part of what England have done since the 2015 World Cup," Sky Sports Cricket expert Atherton said of Morgan. "He set a simple message that the team were going to play aggressively from ball one. His calmness is also very important.
"One-day cricket, T20 cricket, is very frenetic these days and you watch him towards the end of a game when the pressure is on and you have to think quickly and instinctively and time is against you and he is very calm. I think that transmits to the other players.
"Tactically he is pretty adept having played lots of franchise cricket - IPL, Big Bash, whatever. He knows modern one-day cricket.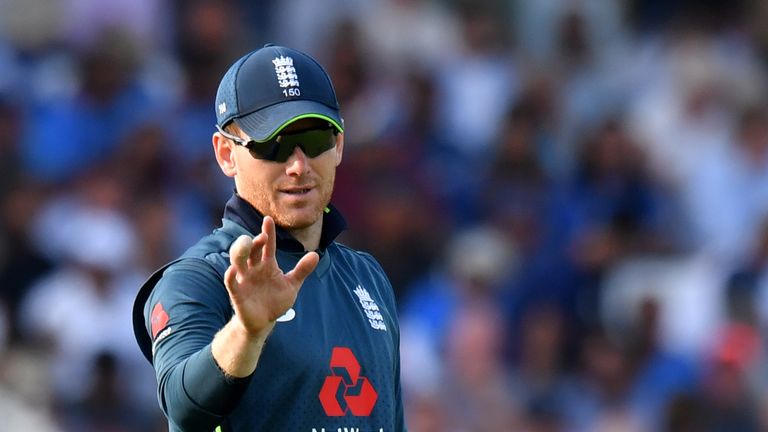 He is very consistent in his message to the press and I imagine he is very similar in the dressing room. He strikes me as a very empathetic person and that goes a long way. He looks like the iceman in that team. When it is all kicking off in a game, he has the ability to slow it down.
Former Essex wicketkeeper James Foster
"When he was given that hospital pass ahead of the 2015 World Cup he was pretty aware of how he needed to take England on. He is also perfectly capable of playing match-winning innings - you have the whole package."
Morgan caused a stir on the eve of England's ODI series in Sri Lanka - the first game of which was abandoned due to rain - when he said he would be prepared to drop himself at the World Cup if benefited the team.
Atherton does not foresee that happening but says the statement, coupled with Morgan's decision to withdraw from England's tour of Bangladesh in 2016 on security grounds, shows his "strength of character".
"He is his own man, as we have seen from decisions in the past - when he didn't go to Bangladesh, for example," added Atherton of the 32-year-old, England's all-time leading run-scorer in one-day international cricket.
"Despite the torrent of criticism that came, he said 'no, that's how I see it and I am going to make my decision'. It takes a strength of character to make a decision like that. He is not somebody who will be swayed by what other people think. He will do what he thinks is right.
"I think [Morgan dropping himself] it is a hypothetical situation, barring 16 noughts in a row. He is going to lead England in that first World Cup game.
"What he is saying is no one is irreplaceable and England have a fantastic squad with great depth when someone like Alex Hales can't get in. He is putting himself on guard that he needs to perform.
"Going way back six or seven years, Morgan was an outlier for England in one-day cricket. He had all the tricks that nobody else had, including the reverse sweeps and the scoop.
"I feel everybody else has caught up and some have overtaken him, which is not to say he doesn't deserve his place in the side, of course he does."
Watch the second ODI between Sri Lanka and England live on Sky Sports Cricket (channel 404) from 4.45am on Saturday.