Cricket Expert & Columnist
Jos Buttler incident will fire England up for series decider, says Nasser Hussain
Last Updated: 10/10/16 9:37am
Nasser Hussain believes the heated exchange that followed Jos Buttler's dismissal in the second ODI will fire England up for Wednesday's series decider.
Bangladesh won by 34 runs in Dhaka to level the series at 1-1 with the confrontation between the stand-in England skipper and the Bangladesh fielders giving the latter stages of the game an extra edge.
Having been given out lbw on review, Buttler was making his way off the field before he turned back, apparently incensed by a comment from a Bangladesh player during their exuberant celebrations.
The umpires stepped in and a visibly furious Buttler trudged off, although the incident appeared not to have been forgotten as Ben Stokes and Jonny Bairstow were involved in another spat with some of the home players as the teams shook hands at the end of the match.
"I saw it as a captain who is trying to win the game for his team, who has been quite brilliant out here and, in the heat of battle, these things happen," Hussain told Sky Sports.
"It's all well and good sitting up in an air-conditioned commentary box or in a studio or sat at home to be very calm about these things. But in 90 per cent humidity, 38 degree heat, when you've kept all day, you're batting, you're trying to win a game that you are losing and then someone gives you a send-off…"
The former England captain believes the incident shows the character of the current side and their determination to succeed.
"He probably pushed the limit and went over the top but I'd rather have a captain like that, who cared and gave it absolutely everything," Hussain added.
"Yes, he probably pushed the limits, as Ben Stokes did at the end there, but we've got a side out here who are absolutely caring. This is not a side thinking 'oh shall we just pop over to Bangladesh and get it done and dusted'. They're thinking 'let's go to Bangladesh and try to win'.
"You've also got the atmosphere and the hostile nature of the crowd - sometimes things do boil over. I've never seen that from Jos, he's so calm, he's so calculated and it's nice to see that he's got a different side although sometimes he may have to rein it in."
Hussain expects that there will now be repercussions though with match referee Javagal Srinath likely to examine the situation.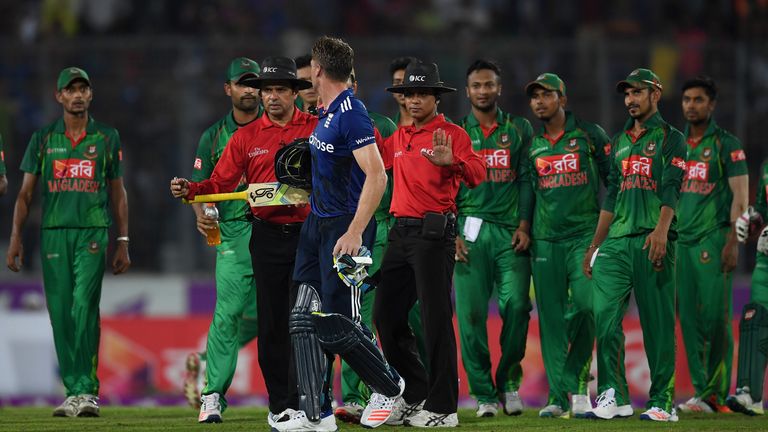 "I don't think [the match referee] has to get involved but I think he will get involved because it's the captain and in the laws of the game, the captain is in charge of the spirit of the game," he said.
"It's one thing being given a send-off as most batsmen in the world have been given at some stage, it's another thing walking back into a huddle, walking back towards a player. So match referee Srinath will have a look at the situation and the situation at the end with Ben Stokes. Javagal Srinath will be a busy man this evening."
What punishments, if any, will be handed out remains to be seen but England can ill-afford to lose Buttler or Stokes, according to Hussain.
However, he also argues that the altercation could prove a key motivating factor for the tourists going into the third ODI.
"The last thing England need is either Stokes or Buttler in any kind of trouble," Hussain added. "[But] it could fire England up. At 1-1 Bangladesh will be up for it and England will be up for it now."
You can watch England's tour of Bangladesh, plus Premier League football and the British Masters on Sky Sports. Upgrade now and enjoy three months at half price!