Cricket Expert & Columnist
Evin Lewis is the future of Windies cricket, says Nasser Hussain
"I couldn't think of anything worse than turning to my team and saying: 'Be in by 11 o'clock'. I am very anti curfews."
Last Updated: 27/09/17 9:20pm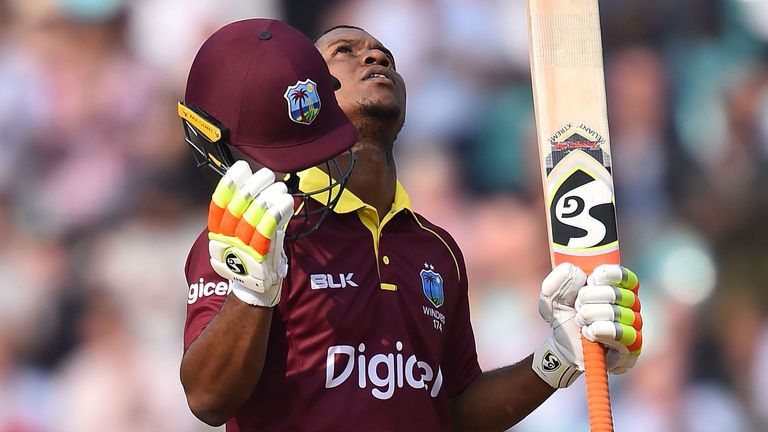 Evin Lewis hit 176 for Windies against England at The Oval and could also star in the Test arena, says Nasser Hussain, who gives his take on Eoin Morgan, yorkers and curfews…
Sometimes you look at a player and think he is an old-fashioned pinch hitter, a T20 specialist who is trying to make his way in 50-over cricket and then the red-ball stuff.
I see Kieron Pollard as a player like that, someone you can bully occasionally with the short ball, but I don't think you can put Evin Lewis in that category.
If you bowl short to him he will pull and hook you, sometimes out of the ground. Plus, if you pitch the ball up he will whack you and if you bowl a good length he seems to have an organised technique to deal with it.
He also seems to have a good temperament, too, as at 33-3 and with Windies in a lot of trouble, he reined himself in. Some people keep swinging from the hip and say 'that's the way I play' but Lewis showed he can slow down and then catch up later.
Lewis and Shai Hope are the players Windies have to build their side around. For too long they have talked about Chris Gayle, Marlon Samuels and the Bravos. Fair enough, those are very good players but Lewis and Hope are the future.
Windies must have a very good team - or the pundits must be missing something with his technique - for Lewis to seemingly not be anywhere near their Test XI.
Look at someone like David Warner who came through the T20 route and progressed to the 50-over stuff and then Tests. He has cracked every format and Lewis could well do the same.
Six hitting seems to come naturally to him - he hit seven in his score of 176, including one huge one down the ground off Liam Plunkett - which is much like a man I used to play with, Andrew Flintoff.
When I first saw Freddie, he hit the ball as hard as anyone I have ever seen - he would almost check drive the ball for six.
Stokes probably falls into that category, too, but I thought England missed him with the ball at The Oval following his arrest earlier in the week in Bristol. They certainly could have done with the balance he brings.
England were shorn of a seam option and someone for Eoin Morgan to turn to when Adil Rashid and Moeen Ali were going around the park a little. Ben might not have bowled his full allocation of 10 overs but he would have bought Morgan two or three.
England went for the extra batsman in Sam Billings as opposed to another seam bowler and shunting Moeen Ali and Chris Woakes up the order, but on a pitch as flat as The Oval that is possibly the way to go.
I just don't think England bowled that well generally until they went to yorkers later on and it worked to an extent.
I don't think you should bowl too many yorkers as if a batsman knows where the ball is going to go he can line you up and make something happen, but it should be your go-to ball.
Alex Hales' absence gave Jason Roy a great opportunity on his home ground and he responded with a decent score of 84. You would expect Hales to come back in for the final ODI, at Southampton on Friday, and so the most vulnerable place at the moment seems like Morgan's.
He is short of form but you have to be careful when you assess that because a lot of his low scores recently have been in 20-over cricket. Don't confuse that with his 50-over stats, which have been solid, particularly in the Champions Trophy.
England need a healthy squad with strength in depth - just look at India. When everyone is fit and firing, they have the luxury to leave out the likes of Ajinkya Rahane but when he comes in, as he has done against Australia, he has done well. I'm sure Roy will get his fair share of chances, even if he is not always a regular.
The Stokes incident has raised the argument of curfews for sports teams - but I am very anti them. I couldn't think of anything worse than turning to my team and saying: "Be in by 11 o'clock."
What's the coach supposed to do? Stand in the hotel lobby, counting grown men in! Cricketers aren't stupid - they'll still sneak in and out.
The main thing is that Stokes has let himself down and let his team down a little bit. No curfews - just do the right thing and behave like an adult and professional cricketer.
Watch the fifth and final ODI between England and Windies, at The Ageas Bowl in Southampton, live on Sky Sports Cricket (channel 404) from 12pm on Friday.