David Warner says Cricket Australia video not helping team at Champions Trophy
By Stephen Turner
Last Updated: 08/06/17 3:49pm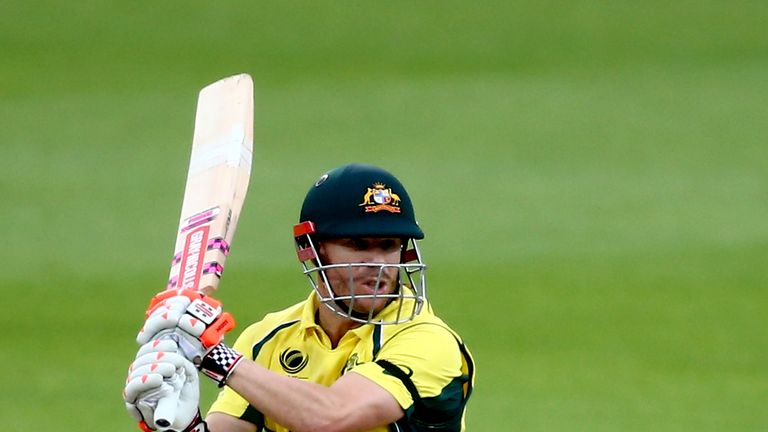 David Warner has told Cricket Australia to stop undermining the team's Champions Trophy campaign.
Australia's players have left their ongoing pay dispute with CA in the hands of the Australian Cricketers' Association while they focus on qualifying for the Champions Trophy knockout stages.
But a video released this week by CA negotiator Kevin Roberts, in which he called the current pay model "unbalanced and unsustainable" for the future of grassroots cricket, has riled Warner two days out from their key group game against England.
"They obviously haven't thought about the process," said the Aussie vice-captain, who suggested recently this winter's Ashes series could be threatened by the dispute. "We've given back almost £17.5m to grassroots cricket.
"But at the end of the day we're here to win, and if CA want to try and help us win I think they wouldn't be releasing videos like that. We have an important game coming up this week."
Australia will almost certainly need to beat England to avoid elimination at the same stage as four years ago.
England beat the Aussies in the group stage in 2013, and in the hours after the game Warner clashed with Joe Root in a Birmingham bar in an incident which saw him dropped.
"If I see him I'll give him a handshake," Warner said. "We all go through periods when young and naive - it's not about stuffing up and moving on; it's about learning the ropes of being away on tour for such a long time.
"There are things you have to think about as a youngster, 'What can or can't I do?'. I probably didn't work that out at that stage, but now I have, and have a great balance on and off the field.
"It was a learning curve for me... I was young, and now I'm old - two kids and married."