Sky Ocean Rescue teams up with The Kia Oval for third Test
By Oli Burley
Last Updated: 01/08/17 7:37am
In the time it takes England or South Africa to bowl one over in the third Test, the equivalent of four rubbish trucks of plastic is dumped into the ocean.
That's just one of the reasons why Sky Ocean Rescue is teaming up with The Kia Oval this week in an effort to inspire people to help protect our planet.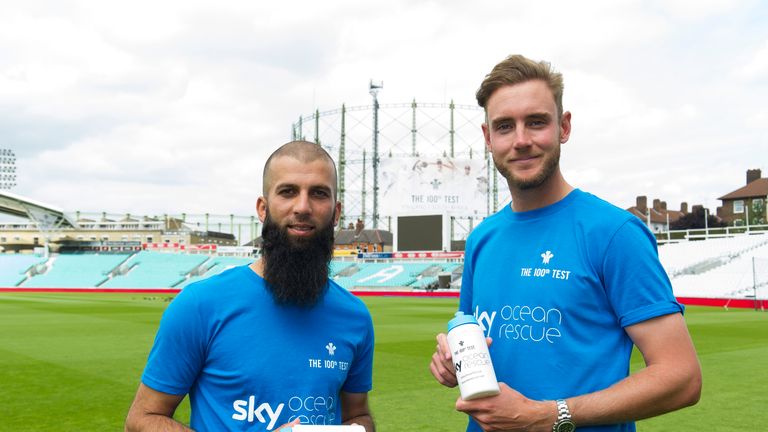 Check out the official website and Twitter feed here and then read on to find out how you can show your support during the Test…
What's the big idea behind Sky Ocean Rescue?
Our oceans are amazing - but eight million tonnes of plastic are dumped in them each year, none of which decomposes. That means it remains there forever. If nothing changes, all the plastic in the oceans could weigh more than all the fish by as soon as 2050. Plastic impacts on an entire ecosystem - marine life get caught up in it, eat it and live in it. It also damages our health, acting as a sponge for toxins which can end up in our food - micro plastics have been found inside a third of fish in the English Channel.
What's The Oval got to do with it?
The Oval's ambition is to become a plastic-free venue - and Sky Ocean Rescue is committed to supporting them, and other venues, to do the same. This week, The Oval is staging its 100th Test, some 137 years after England played host to Australia. We want to make sure the ocean is healthy by the time the 200th Test rolls around but the signs aren't good as in the last 10 years alone, we have produced more plastic than in the whole of the 20th century!
Will the ground look different this week?
Absolutely. A total of 20 new water fountains have been installed around the ground and Sky Ocean Rescue will give away up to 20,000 re-usable water bottles. You'll hear plenty more about Sky Ocean Rescue from the Sky Sports commentary team during the Test and on the live blog - and what's more, you might just bump into one of our pundits giving out water.
How can I make a difference?
There are plenty of tips that you can factor into your daily life, whether you're at the ground or not. Doing just one will make a big difference - but the more you practice, the better it will be for our planet. We all love a picnic at the cricket - just remember to pack your food in a basket or cool box rather than a plastic bag and make sure you take reusable bottles rather than plastic ones.
Make sure you take all your rubbish with you - and make sure you collect it even it if blows away but remember, going on the outfield without prior permission is a serious offence.
I've seen #OceanHero on Twitter. How can I become one?
Being heroic is a lot easier than you think - especially if you start by ditching single-use plastic, such as plastic cutlery, plastic bags and straws (you can get these made in metal or glass, remember!) If you need a caffeine hit, take your own cup to the shop and try to buy fruit and veg loose rather than in plastic packaging.
Find out more about the issues affecting our oceans and how you can be an Ocean Hero by joining in the conversation on the Sky Ocean Rescue Facebook page or visit our website.
Watch the third Test between England and South Africa - brought to you in association with Sky Ocean Rescue - live on Sky Sports Cricket from 10am on Thursday.