Ashes in a nutshell: All you need to know from day five in Adelaide
By Sky Sports Cricket
Last Updated: 07/12/17 6:27am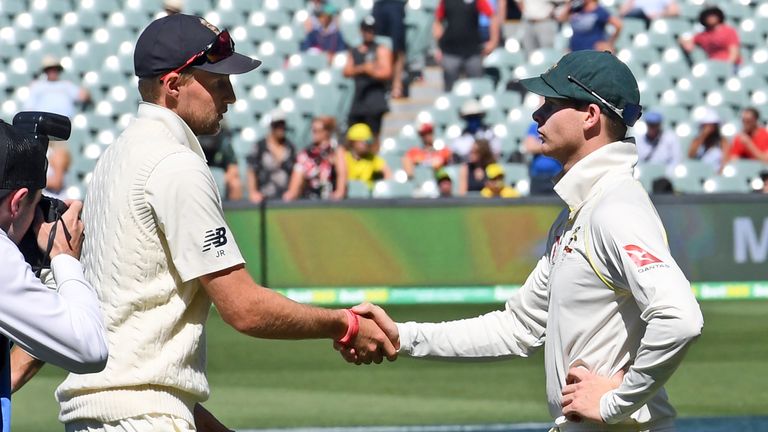 Australia ruthlessly blew England away in just under two hours to take a 2-0 lead in the Ashes series. Here's all you need to know from the Adelaide Oval...
England's hopes of a remarkable comeback victory in the second Ashes Test in Adelaide were crushed quickly on the final day as Australia took six wickets in just under a session to complete a 120-run victory and go 2-0 up in the series.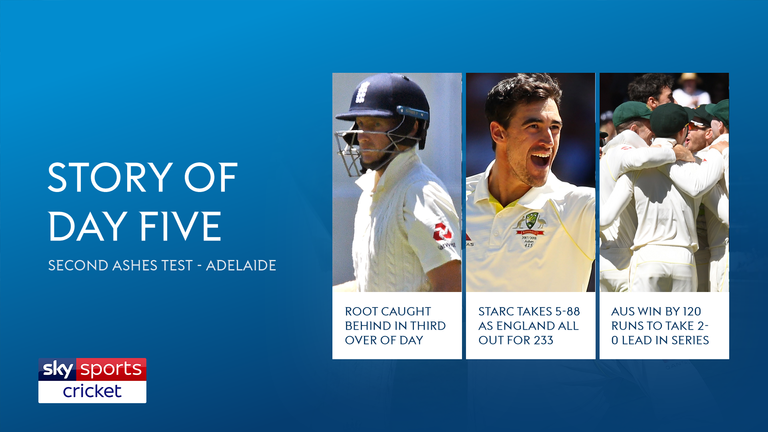 WHAT THEY SAID
Steve Smith, Australia captain: "It's phenomenal to be 2-0 up in the series. I thought England fought back hard but we always thought that that if we could get one or two wickets before the new ball things would probably be in our favour.
"I was a bit nervous at times last night, if I am being brutally honest, but it was about having faith and trying to keep doing the basics really well. I thought Hazlewood's length this morning was particularly good and he cracked the game with the wickets of Woakes and Root."
And what about the Aussie skipper's decision to not enforce the follow-on? Smith added: "Would I do the same again? I'm not sure - we'll cross that bridge when it comes round again! It has played on my mind a little bit over the last couple of days and I thought: 'Have I made a mistake?' In the end, my rationale was that it's a long summer and I don't want to bowl by bowlers into the ground. In the end, we won the game, so it's irrelevant."
Joe Root, England captain: "We came to the ground well in the fight but those two early wickets really cost us. If we went on and made a decent partnership it was a different game, but we weren't able to do that. It's frustrating as the way we responded in the second innings with the ball and the fight we showed with the bat was outstanding."
When asked about his decision at the toss, Root added: "Whenever you review a game, it's easy to look at things in hindsight but I don't regret it. You want to give your bowlers the best chance to take 20 wickets and with the quality we have, I thought we could take 10 on the first day.
"I thought we could have bowled a tiny bit fuller as a group as there was a lot of movement but at the time we were unlucky, beating the bat and not getting the rewards.
"The way we bowled in the second innings was a template as to how you bowl over here, while we also have to be better with the bat in the first innings. There were a few soft dismissals and we can't do that."
MOMENT OF THE DAY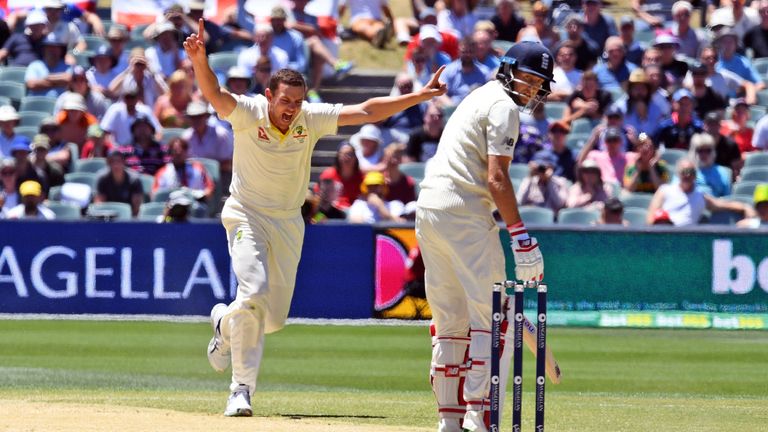 Resuming day five on 176-4 and needing another 178 runs for a record run chase, England's chances rested with captain Joe Root, who started the day unbeaten on 67.
However, after Chris Woakes departed in the first over of the day, Root could only succumb to another superb delivery from Josh Hazlewood, edging behind to Tim Paine.
It proved to be a crucial moment as Australia romped to victory and it could prove to be a decisive moment in the series.
STAT OF THE DAY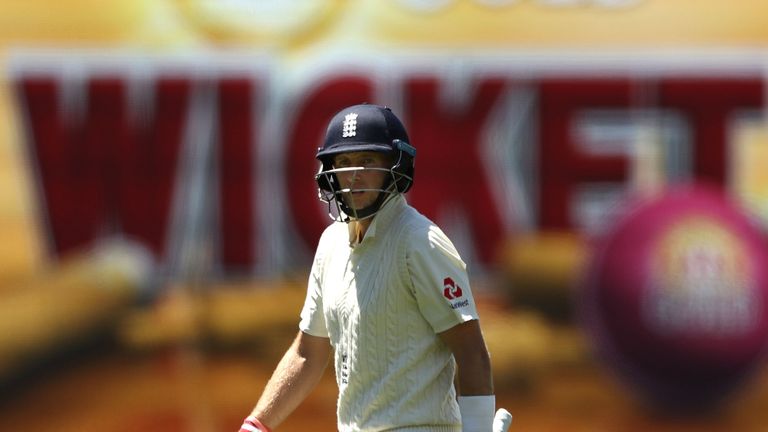 In their last 12 Ashes Tests, England batsmen have only scored three centuries - two by Root and one by Ben Stokes.
TWEETS OF THE DAY
Piers Morgan turned to poetry to mark England's defeat...
There's a more positive outlook from former England off-spinner Robert Croft...
Meanwhile, Nathan Lyon's enjoying one of the most productive spells of his Test career...
Nathan Lyon has 38 wickets from his past five Tests - the most productive sequence of his career #Ashes

— Adam Burnett (@AdamBurnett09) December 6, 2017
And former Aussie seamer Peter Siddle has praised Steve Smith's decision not to enforce the follow-on on day three...