David Warner says Quinton de Kock incident started after insults aimed at his wife
By AFP Sport
Last Updated: 08/03/18 8:08am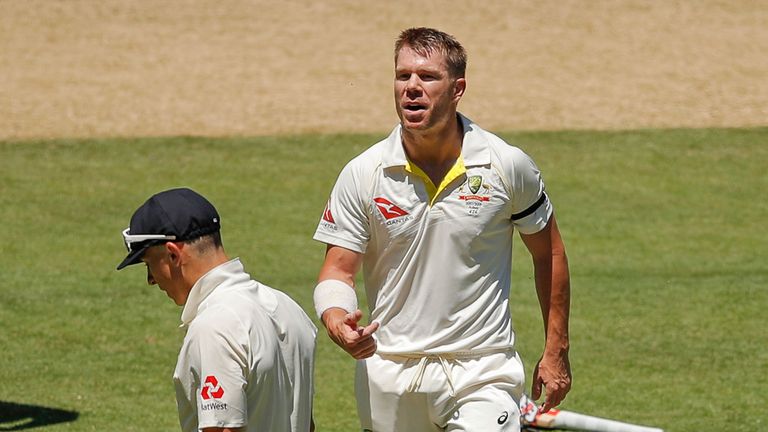 Australia vice-captain David Warner says he will always defend his family after claiming a "vile and disgusting" remark about his wife led to his angry altercation with South Africa's Quinton de Kock.
Both players were punished for the incident during the opening Test in Durban, with Warner fined 75 per cent of his match fee and De Kock 25 per cent.
De Kock and Warner are free to play in the second Test in Port Elizabeth which gets underway on Friday - live on Sky Sports - after they escaped a ban.
Warner was also given three demerit points, meaning he will be banned for one Test match if he accrues one more point within the next year.
He confronted the Proteas wicketkeeper-batsman as the players walked up a narrow staircase to the dressing rooms during the tea interval on Sunday.
CCTV footage showed the Australian having to be restrained by his team-mates and Warner has spoken about the exchange that led to the incident.
"The other day I was probably out of line," he said. "I've seen the footage and I regret the way it played out but for me - it is how I am and I responded emotionally and regretted the way I played out.
"I'll always stick up for my family. I cop it left, right and centre, especially off the field from spectators. I am used to that and it doesn't bother me.
"But in the proximity of my personal space and behind me, a comment that was vile and disgusting and about my wife and just in general about a lady was quite poor, I felt.
"When it comes to family or racism comments or anything like that, that's just a no-go zone."
Watch the second Test between South Africa and Australia live on Sky Sports Cricket from 7.55am on Friday.