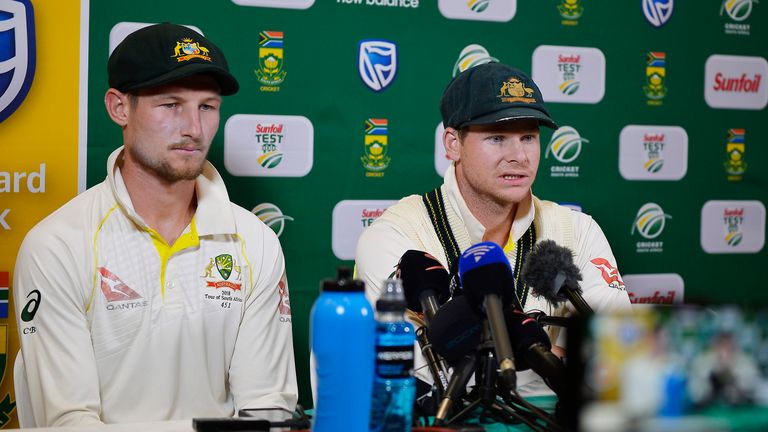 The Australian Cricketer's Association (ACA) says there were  "a number of glaring and clear anomalies in the process" that led to Steve Smith, David Warner and Cameron Bancroft receiving lengthy bans.
Following the ball-tampering scandal in Cape Town at the weekend, Australia captain Steve Smith and vice-captain David Warner were handed 12-month bans by Cricket Australia, while opener Cameron Bancroft was banned for nine months.
The ACA, which represents professional first-class cricketers, agrees the players deserve to be sanctioned, having been found guilty of conspiring to "change the condition of the ball".
But the Association has also questioned the handling of the affair by Cricket Australia and issued a statement which read: "There are a number of glaring and clear anomalies in the process to date, which causes the ACA to query the severity and proportionality of the proposed sanctions."
The ACA went on to list the perceived anomalies, adding: "The grading and sanctions proposed are considerably higher than the ICC's grading and sanctions.
"The disproportionality between the proposed sanctions and those previously handed down in world cricket for 'changing the condition of the ball' - including by captains of international teams applying artificial substances.
"The activation of CA's Board as a deliberative body on the proposed sanctions.
"That public statements by CA to date have not referenced consideration of contextual factors including the environment in South Africa during the series and the impacts on individual players.
"The rush to place players before the world's media last Saturday night without the benefit of considered and coherent advice."
Australian cricketing legend Shane Warne also considers the bans excessive.
Warne said: "The jump to hysteria is something that has elevated the offence beyond what they actually did, and maybe we're at a point where the punishment just might not fit the crime."