Kumar Sangakkara joins Sky Sports for huge summer of cricket
"The line-up on Sky Sports Cricket will be one to remember"
By Sky Sports
Last Updated: 18/04/18 4:42pm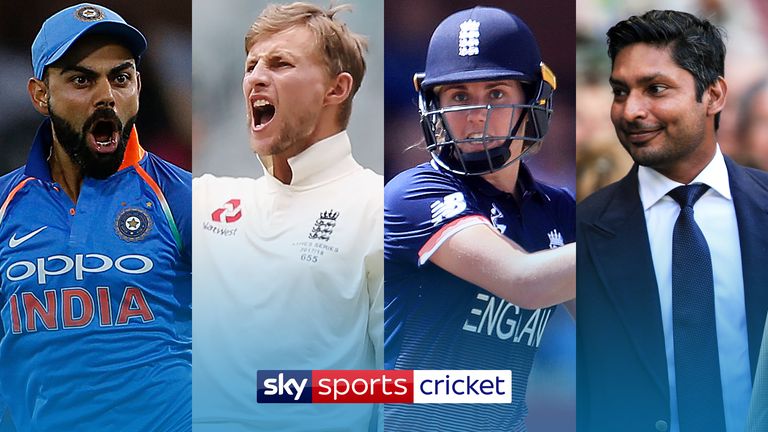 Kumar Sangakkara joins the Sky Sports team as part of a huge line-up of cricket this summer.
The former Sri Lanka captain, one of the greatest batsman of all time, joins a star-studded line-up of legends including; former Australia captain Ricky Ponting, Indian spin bowler Harbhajan Singh and Pakistan legend Wasim Akram, throughout the summer.
In the studio and commentary box, regulars David 'Bumble' Lloyd, Nasser Hussain, Michael Atherton, Sir Ian Botham, David Gower and Michael Holding, will also be joined by former England Internationals Isa Guha and Ebony Rainford-Brent.
From April to September, Sky Sports Cricket viewers can enjoy exclusive coverage of:
All England internationals against Pakistan, Australia and India
England Women's home ODIs and T20 Tri Series against South Africa and New Zealand
12 matches from the Kia Super League, culminating in finals day from Hove on 27 August
County Cricket including: Vitality Blast, Royal London One Day Cup and Specsavers County Championship
Every game from the Indian Premier League
Caribbean Hurricane Relief T20 International, West Indies v ROW at Lord's on 31 May
Sangakkara said: "The line-up on Sky Sports Cricket this summer is going to be one to remember, with England facing some huge rivals at home, we will certainly not be short of talking points. I am looking forward to joining the Sky Cricket team alongside my old rivals Nasser Hussain and Michael Atherton and bringing fresh insight, analysis and opinion to the commentary box."
The schedule will undoubtedly bring drama and excitement as the best player in the world, India's Virat Kohli, brings his side for five Tests, three ODIs and three T20s.
And with the ICC Cricket World Cup and The Ashes live and exclusive on Sky Sports in 2019, the stakes are high for England's five ODIs and T20 International against Australia - the last time both sides will meet ahead of next year's clashes.
Building on the momentum of last year's World Cup victory, Sky Sports will show more women's cricket than ever before including; England Women's home ODIs and T20 Tri Series against South Africa and New Zealand and 12 matches from the Kia Super League - all great build-up to the Women's T20 World Cup on Sky Sports later this year.
Head of Sky Sports cricket Bryan Henderson said: "With some of the best players and teams in the world flying over, we hope to show audiences far and wide what Sky Sports can deliver on all platforms. We'll capture every ball using the best technology and innovation, including Spidercam and more matches in UHD than ever before. And with our great talent line-up, audiences at home will have the best seat in the house."
Action has already started on the Sky Sports Cricket channel, with the IPL season underway. Sky Sports will continue to show every game, so fans from all over can enjoy the best of Indian cricket.
This summer, customers can also enjoy new and exclusive content on the Sky Sports Cricket channel. Following the award-winning documentary Imran, Sky Sports has commissioned new documentaries including; Cricket in Mumbai, Viv Richards: The Master Blaster, Last Man Standing and Mind Games - a series showcasing the mental side of cricket and sport.
Non-Sky subscribers can follow all the action via the Sky Sports app, Sky Sports News and skysports.com. Sky Sports is the home of England cricket until 2024 and ICC events until 2023.
Sky Sports - Televised Cricket Schedule
Indian Premier League
Showing every match - Saturday 7 April to Wednesday 16 May
Men's Internationals
England v Pakistan
1st Test (Lord's): Thursday 24 May
2nd Test (Emerald Headingley): Friday 1 June
Scotland v England
ODI (Grange CC): Sunday 10 June
England v Australia
1st ODI (The Kia Oval): Wednesday 13 June
2nd ODI (SSE SWALEC): Saturday 16 June
3rd ODI (Trent Bridge): Tuesday 19 June
4th ODI (Emirates Riverside): Thursday 21 June
5th ODI (Emirates Old Trafford): Sunday 24 June
Only Twenty20 (Edgbaston): Wednesday 27 June
England v India
1st Twenty20 (Emirates Old Trafford): Tuesday 3 July
2nd Twenty20 (SSE SWALEC): Friday 6 July
3rd Twenty20 (The Brightside Ground, Bristol): Sunday 8 July
1st ODI (Trent Bridge): Thursday 12 July
2nd ODI (Lord's): Saturday 14 July
3rd ODI (Emerald Headingley): Tuesday 17 July
1st Test (Edgbaston): Wednesday 1 August
2nd Test (Lord's): Thursday 9 August
3rd Test (Trent Bridge): Saturday 18 August
4th Test (The Ageas Bowl): Thursday 30 August
5th Test (The Kia Oval): Saturday 7 September
Women's Internationals
England Women v South Africa Women
1st ODI (New Road): Saturday 9 June
2nd ODI (Hove): Tuesday 12 June
3rd ODI (Canterbury): Friday 15 June
England Women v New Zealand Women
1st ODI (Emerald Headingley): Saturday 7 July
2nd ODI (County Country Ground, Derby): Tuesday 10 July
3rd ODI (Grace Road): Friday 13 July
England Women's Tri Series
South Africa v New Zealand / England v South Africa: Wednesday 20 June
England v South Africa / England v New Zealand: Saturday 23 June
South Africa v New Zealand / England v New Zealand: Thursday 28 June
Final: Sunday 1 July
Kia Super League
Western Storm v Yorkshire Diamonds: Sunday 22 July
Southern Vipers v Loughborough Lightning: Wednesday 25 July
Yorkshire Diamonds v Lancashire Thunder: Friday 27 July
Western Storm v Loughborough Lightning: Sunday 29 July
Surrey Stars v Lancashire Thunder: Tuesday 31 July
Lancashire Thunder v Surrey Stars: Tuesday 7 August
Southern Vipers v Yorkshire Diamonds: Wednesday 8 August
Southern Vipers v Surrey Stars: Tuesday 14 August
Loughborough Lightning v Western Storm: Wednesday 15 August
Saturday 18 August: TBC
Kia Super League Finals Day: Monday 27 August
Royal London One-Day Cup
Lancashire v Notts Outlaws: (Emirates Old Trafford) Thursday 17 May
Durham v Yorkshire: (Emirates Riverside) Friday 18 May
Hampshire v Surrey: (The Ageas Bowl) Monday 21 May
Glamorgan v Middlesex: (SSE SWALEC) Wednesday 23 May
Kent v Somerset: (Canterbury) Tuesday 29 May
Warwickshire v Northamptonshire: (Edgbaston) Wednesday 30 May
Wednesday 6 June (last group)
Thursday 7 June (last group)
Thursday June 14 (playoff)
Sunday 17 June (semi-final)
Monday 18 June (semi-final)
Saturday 30 June (final at Lord's)
Vitality Blast
Notts Outlaws v Birmingham Bears: Wednesday 4 July
Middlesex v Surrey: Thursday 5 July
Gloucestershire v Kent: Wednesday 11 July
Worcestershire v Yorkshire: Sunday 15 July
Leicestershire v Lancashire: Wednesday 18 July
Northamptonshire v Derbyshire: Thursday 19 July
Lancashire v Yorkshire: Friday 20 July
Essex v Hampshire: Saturday 21 July
Middlesex v Hampshire: Thursday 26 July
Yorks v Birmingham Bears: Friday 27 July
Durham v Notts Outlaws: Saturday 28 July
Somerset v Middlesex: Sunday 29 July
Surrey v Glamorgan: Tuesday 31 July
Sussex v Gloucestershire: Wednesday 1 August
Kent v Essex: Thursday 2 August
Surrey v Middlesex: Friday 3 August
Nottinghamshire v Worcestershire: Saturday 4 August
Lancashire v Durham: Tuesday 7 August
Hampshire v Somerset: Wednesday 8 August
Yorkshire v Lancashire: Thursday 9 August
Glamorgan v Hampshire: Friday 10 August
Derbyshire v Leicestershire: Saturday 11 August
Sussex v Glamorgan: Tuesday 14 August
Warwickshire v Lancashire: Wednesday 15 August
Thursday 16 August: TBC
Friday 17 August: TBC
Vitality Blast Quarter-Final: (TBC) Thursday 23 August
Vitality Blast Quarter-Final: (TBC) Friday 24 August
Vitality Blast Quarter-Final: (TBC) Saturday 25 August
Vitality Blast Quarter-Final: (TBC) Sunday 26 August
Vitality Blast Finals Day: Saturday 15 September
The Specsavers County Championship: Dates tbc
Other Internationals
West Indies v ROW
(Lord's) Thursday 31 May
West Indies v Sri Lanka
1st Test (TBC): Wednesday 6 June
2nd Test (TBC): Thursday 14 June
3rd Test (TBC): Saturday 23 June