#ShowUp for England Women: Sky Sports, Women's Sport Trust, ECB join forces at T20 double-header
By Sky Sports Cricket
Last Updated: 23/06/18 5:15pm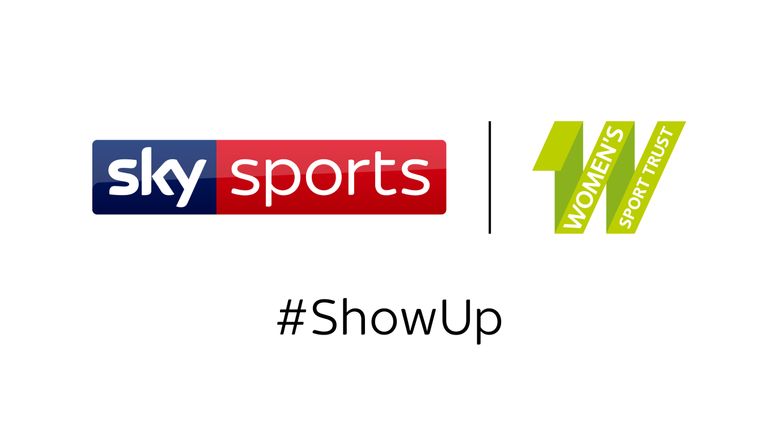 Sky Sports and the Women's Sport Trust will join forces with the ECB on Saturday for a #ShowUp special featuring England Women in a Vitality IT20 double-header, against South Africa and New Zealand.
The #ShowUp campaign - launched to encourage more people to watch, attend and play women's sport - will take over the Sky Sports Cricket channel for a day of dedicated women's programming.
Former internationals Isa Guha, Mel Jones and Ebony Rainford-Brent will be part of the commentary team as England Women contest two T20s in the space of eight hours - with former British javelin thrower and #ShowUp ambassador, Goldie Sayers out and about as a roving reporter.
As part of the campaign, Sky is asking famous faces, fans and the general public to pledge their support using #ShowUp across social media to document their experiences of women in sport and will be giving out #ShowUp merchandise at the ground to fans.
Bryan Henderson, Head of Sky Sports Cricket, said: "This is a fantastic opportunity for everybody to show their support for England Women - and women's sport in general - by watching the matches at Taunton or on television, and using the hashtag #ShowUp on social media.
"At Sky Sports, we remain proud of the contribution we've made to growing women's sport, and we're committed to women's cricket going forward."
Jo Bostock and Tammy Parlour, Co-Founders of the Women's Sport Trust said: "The #ShowUp campaign has one simple idea at its core, if we all #ShowUp for women's sport then it will absolutely fly. By watching, spectating and playing - we are all able to prove the value and appeal of women's sport. It is the ultimate expression of people power.

"We are incredibly proud to be partnering with Sky Sports and the ECB to support the brilliant England Cricket team in action against both South Africa and New Zealand on Saturday 23rd June.
"Full stands are part of the drama and entertainment - they are the extra player on the pitch - so come along and make sure it is a sell-out performance."
To show your support for #ShowUp Saturday at Taunton by buying tickets, simply click here to visit Somerset CCC's official website.
#ShowUp Schedule: Saturday 23rd June
6am: Coaching Clinic: Women's Special
6.30am: Great Women: Stars of ODI Cricket
7.30am: Winning Over the World - how England won the 2017 ICC World Cup
8.30am: England Women v SA Women first ODI highlights
9.30am: England Women v SA Women second ODI highlights
10.30am: England Women v SA Women third ODI highlights
11.30am: England Women v SA Women T20 highlights
12.30pm: England Women v South Africa Women T20 LIVE!
4.30pm: Coaching Clinic: Women's Special
5pm: England Women v Pakistan Women 2017 WWC
5.15pm: My Icon - Ebony Rainford-Brent
5.30pm: England Women v New Zealand Women T20 LIVE!