Sam Curran and Ollie Pope talk to Ian Ward and Kumar Sangakkara about making the England Test squad
Last Updated: 09/08/18 3:56pm
Sam Curran said he did not get much sleep after his man-of-the-match performance in England's victory over India in the first Test at Headingley, as his Surrey team-mate Ollie Pope prepares to make his debut at Lord's.
Click on the video above to watch the full interview as Ian Ward and Kumar Sangakkara talk to the Surrey duo about their rise, winter in the Southern Hemisphere and batting with the Sri Lankan wicketkeeper-batsman.
Curran, 20, became the youngest player to win the post-match award for the hosts, after picking up five wickets and hitting a match-defining 63 in the second innings.
And, speaking with Sky Sports Cricket presenter Ward and former Sri Lankan wicketkeeper-batsman Sangakkara, Curran said the post-match celebrations allowed him to get to know the England players better.
"I didn't get much sleep," he said. "We had a nice celebration and stayed in the dressing room for a while, getting to know the boys a little bit off the field which was nice.
"I don't know them too well, I know them as players on the field, so just to chat away from the game, pick their minds because that's where you can learn more about the game - actually chatting to people who have played it for a while."
Curran and debutant Pope - who England captain Joe Root confirmed would bat at four at Lord's after replacing Dawid Malan in the squad - came up through the Surrey age groups together after the former moved to England from Zimbabwe at 14.
Despite being close with each other, the all-rounder's first memory of playing with the wicketkeeper-batsman was not an all together positive one.
"I was in the U14s the first I played with Popey," Curran explained. "I remember my first game with him he was captaining me and I nicked off first ball and he was laughing."
Pope was quick to disagree, adding: "I wasn't! I saw the coach laughing and that made me laugh!"
The pair both travlled to the Southern Hemisphere over the winter to play more red-ball cricket and Curran admitted that he had not managed to fulfil his mum's one wish.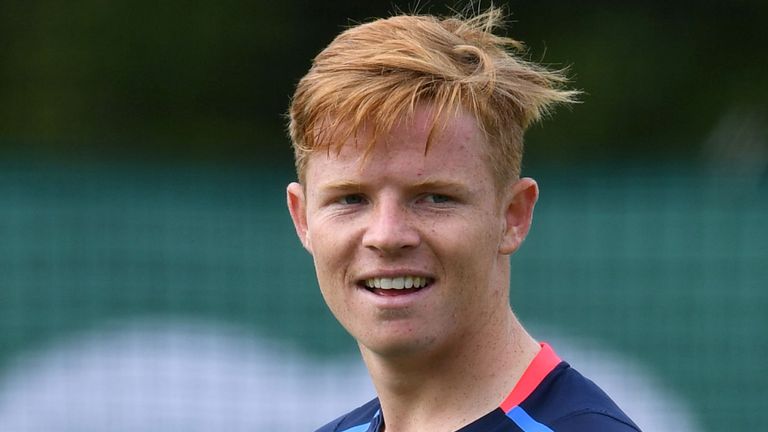 "I really enjoyed going to Auckland this winter" he added. "It made us grow up a little bit. living by ourselves.
"Mum thought I was cooking but I was generally just getting takeaway. Her main aim was to get me cooking and that didn't happen!"
Both Curran and Pope played alongside Sangakkara for the Division One side last season, when the Sri Lanka batsman averaged over 100 in red-ball cricket.
In his final playing season, Sangakkara hit 1, 491 runs in 10 Championship matches, with a highscore of 200, and although Pope only played five red-ball games for Surrey batting at six, he has the opportunity to bat with the left-handed batsman.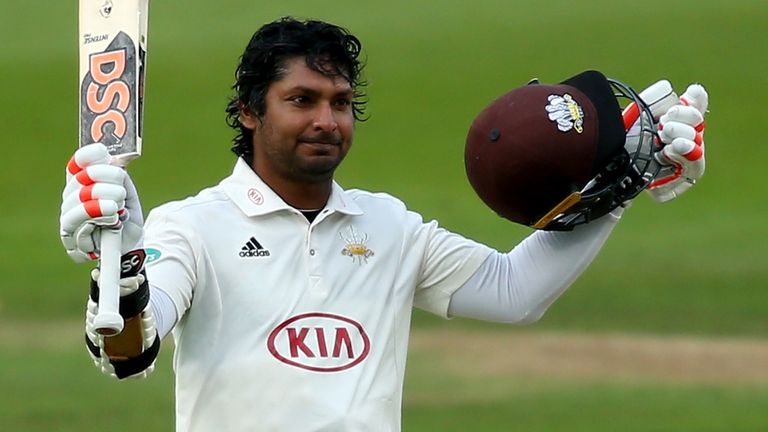 "My most memorable moment was putting on a 100-run partnership with him against Somerset," Pope said. "He got 150 and I got 50, just batting with him and talking between overs.
"I was facing (Dominic) Bess and he came down and said a small thing 'don't try to make your own areas' and the next over I hit the nicest shot of the match. It was the small things, he was always watching and trying to help."
Sangakkara told both his former Surrey team-mates to embrace the history of Lord's.
"It is exciting times for them (Curran and Pope) and I think one of the most important things is to accept that there are lots of camera, a big crowd and it is Lord's" Sangakkara said.
"You have to accept it rather than fight it. Only when you accept, you really enjoy it."
Find out who was the worst footballer and which of three players dived the most and why Root should be wary of listening to Pope asking for reviews by watching the full interview.