Harbhajan Singh discusses bowling off-spin against Kumar Sangakkara in The Zone
Last Updated: 11/08/18 7:13pm
Off-spin has dominated the England and India series so far this summer, with Ravichandran Ashwin causing havoc for the hosts' left-handed batsmen and Adil Rashid drafted into the Test side after outfoxing Virat Kohli in the final one-day international.
Indian off-spinner Harbhajan Singh and Sri Lankan batsman Kumar Sangakkara, who faced each other in 58 matches across all formats between 2001 and 2015, joined Ian Ward in The Zone as they discussed how they set about facing up to one another before going head-to-head.
"The biggest challenge (in playing Sangakkara) was he bats for a very long time," Harbhajan told Ward. "He had all the shots, he could drive the ball, he could cut, play the sweep and it was always challenging to bowl to him."
Meanwhile, Sangakkara added: "With Bhajji it was his ability and skill to drift it in to you but he could also drift it away from you, which was really strange for me, especially in one-day cricket.
"There were times I got stumped running down expecting to hit straight back over him because he would be drifting it back in to me and suddenly I would find he's drifted it away from me.
"He also had the ability to exploit spin and pace off the wicket much more than most spinners I've faced."
One of Sangakkara's most memorable knocks against Harbhajan came in a Test match in Colombo in 2010, when the wicketkeeper-batsman hit a brilliant double-century.
And the Indian spinner said it was Sangakkara's decision to stay in the crease and play on the front and back foot from there that made it so challenging to bowl against him,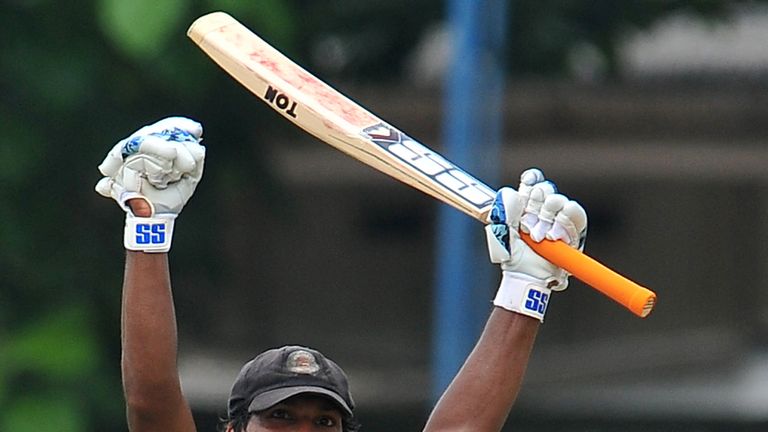 "He (Sangakkara) didn't want to get caught in the crease and worked everything either towards midwicket or swept," the World Cup winner said.
"In my mind, that put in maybe I have to bowl a bit wider to him to make him drive but it allowed him to stay in the crease and cut."
In contrast, Sri Lanka's former captain explained his decision to stay back was because Harbhajan had the relatively unique ability to drift the ball both ways.
"He has sharp turn and drift either way and has the ability to react very late to a batsman coming down," Sangakkara told Ward. "A lot more than other spinners who you can surprise by coming down the wicket.
"I trusted my defence, I know bowlers - like batsmen - run out of patience so then what I'm waiting to score off is shorter and quicker (deliveries)."
Watch the full video to see who comes out on top as Harbhajan sets a field that includes slip and short-leg to Sangakkara with the pair going head-to-head in The Zone.