Swimmer Max Litchfield dives in for work experience with Sky Cricket team
By Mark Ashenden
Last Updated: 14/09/18 10:07am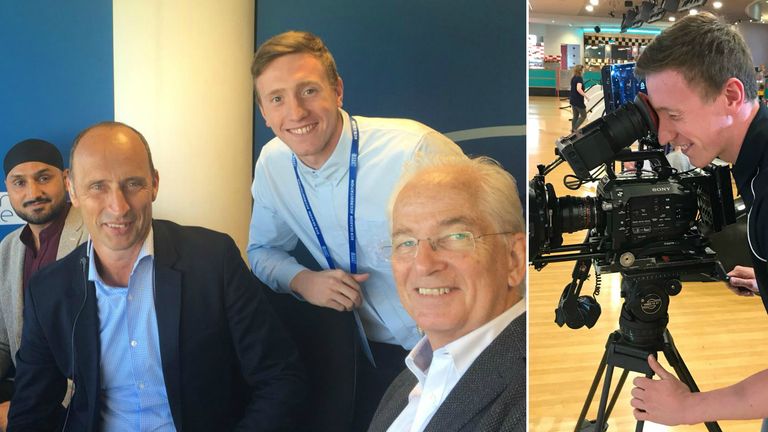 Diving into a pool is what Max Litchfield does best.
However, a few days after his heroics at the European Championships, the 23-year-old Sky Sports Scholar took the plunge into the deep end to help the Sky Cricket team for a dazzling week's work experience.
Meeting cricket legends and seeing the magic behind the TV cameras. The Sheffield swimmer reveals all....
---
To spend a week with the Sky Cricket and Scholarships team was an unmissable opportunity!
From the first minute of arriving, it was all action after getting the all-clear to head to Brighton to film three Sussex bowlers.
It was a great start to the week and I hugely enjoyed getting a sneak peek into what goes on before the athletes arrive. I'm used to rocking up for an interview and heading home. But there is some much more to it, so much you don't see as an athlete and it was amazing see it all in action.
Day two was quieter but I got to see some retrospective analysis by the Sky Football team which was very insightful into my degree I am currently doing. I had the pleasure of meeting the MD of Sky Sports Barney Francis and got to speak with the Multi-sport team on what they had planned for our Scholarships anniversary on September 19.
The third day was awesome. I was at The Oval cricket ground in the morning and I had the pleasure of meeting Nasser Hussain, closely followed by Bryan Henderson and Rob Noonan (the two leading men behind Sky Sports Cricket).
And of course to top it all off we got to see Alastair Cook's interview - the first since he announced he was retiring. It was so great to see the greatest ever English batsman in the flesh and hearing him was inspiring.
The day was topped off by meeting my two Scholar mentors Will Greenwood and Bob Suppiah and I got to understand a bit more about their roles at Sky.
Thursday was a great day where I got to see what happens after an interview is filmed. Some people may think the editing is simple (as I did!) but it's really not!
We had to get a 31-minute interview down to six minutes. A full day later and the finished product aired live on Sky Sports Cricket. A hell of a lot of work goes on behind the scenes.
And the best was saved for the end! I was back down at The Oval and this time to watch a real Test match being directed. From the commentary box to the gallery. The behind-the-scenes production is staggering.
You walk into one room and you're faced with dozens of TV screens showing live action, replays, edits and stats all directed by one person sat in the middle having numbers and colours shouted at them.
To make a long story short I have the utmost respect for the guys that produce these sporting events. There's so much preparation and quick thinking and there is always a world class result.
My week with Sky was a huge success with the opportunity to work with some amazing people and see what things are like behind closed doors.
On top of it all I was able to meet some cricket legends which was a huge honour and a week I will remember for years!