England World Cup squad: Sky Sports' pundits make their picks
Does Jofra Archer make the 15? And who misses out?
Last Updated: 20/05/19 11:15pm
England name their final squad of 15 for the ICC Cricket World Cup on Tuesday.
Has Jofra Archer done enough to force his way into the 15? And, if so, who drops out? Also, who replaces Alex Hales after he was axed from the provisional squad named? And does Joe Denly keep his spot?
Ahead of the official announcement - which you can watch from 9.30am on Sky Sports News, Tuesday - we tasked the Sky Sports Cricket pundits to name their squads.
Click on the video above to watch as Nasser Hussain, Michael Atherton and David Lloyd make their picks, while you can read on to see their, and Rob Key's, selections below...
Nasser Hussain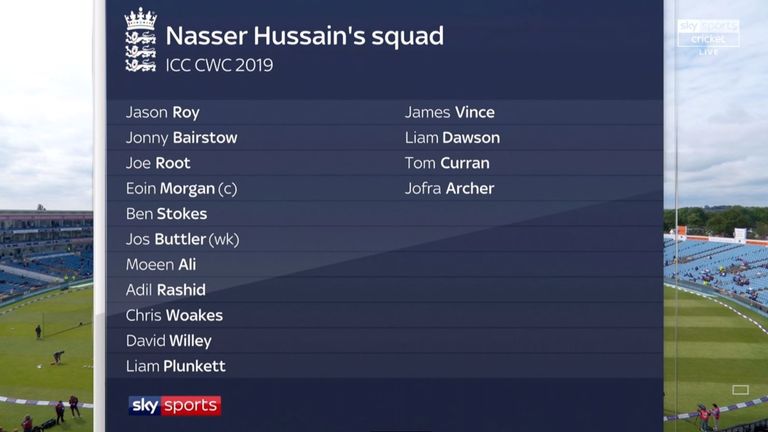 Who comes in for Alex Hales?
JAMES VINCE. He can bat in any position, he is in good form for Hampshire and he is definitely the next cab off the rank. He can hit good balls for four, his strike-rate is up there and he is a good player of spin.
As for other contenders, like Sam Billings, some of them have got injured. He might have been in line for a spot. And there's someone like Ben Duckett, who is maybe not quite ready just yet. It's Vince's turn.
Jofra Archer: yes or no?
YES. I've always said that for him to come in, he has got to be better than someone. If he's not adding to the squad, then you go with the other lads that have got you to this position, but I do think he is adding to this squad. Definitely.
Who misses out for Archer?
I want to use all the time available up until the squad is announced on Tuesday as there is no obvious bowler who has ruled themselves out.
They all have had brilliant spells at points in the series. But I wouldn't fudge it, and leave Joe Denly out for Archer and just go with two spinners in the squad.
I'm sick and tired in various World Cups over the years of having last-minute changes because people suddenly have this left-field idea. Those lads have done everything and deserve to be in a World Cup squad, so I've stuck with them. I've not bottled it at the last second.
As my back-up seamers, I've gone for Tom Curran and Archer. Curran brings something to this team, he wants to be out there in the pressure situations. But the one thing my XI is lacking is pace, so I have to go for one out of Archer and MARK WOOD.
I wouldn't want Archer and Wood together; I want a varied attack. It is an incredibly difficult decision, but I can't leave Archer out.
Does Joe Denly keep his spot?
What if Moeen Ali or Adil Rashid rocks up one morning with a dodgy stomach, or a little niggle, and can't play? You don't want to just say 'oh, Joe Root can bowl a bit of offspin' to cover that day. That day might see you knocked out.
You want your next best spinner to come in, and that's LIAM DAWSON, not Denly.
Michael Atherton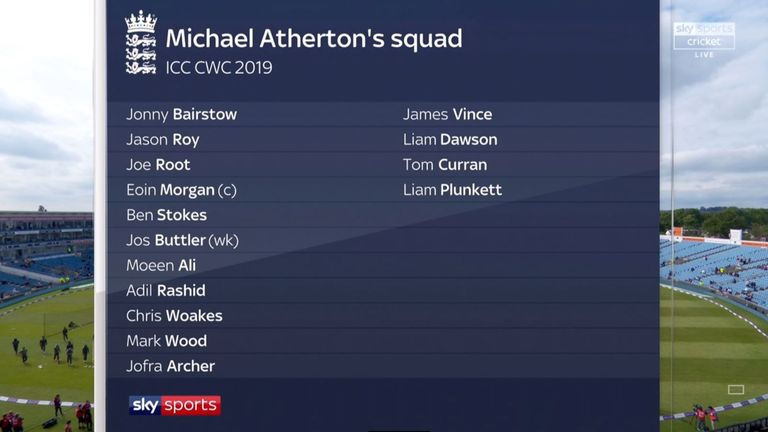 Who comes in for Alex Hales?
I think it is between Vince and Denly. Vince was obviously brought into the 17-man squad for the Pakistan series and Denly, in my view, is a batsman who bowls a bit rather than the other way around, so you have to decide between the two.
Given that VINCE has been given the opportunity at the top of the order and Denly hasn't, I'd imagine that's the way they'll go and I think that is fair enough.
Jofra Archer: yes or no?
YES, definitely. We haven't see that much of him because he hasn't played too much against Pakistan, and he hasn't played much List A cricket. But from what we have seen, he has rapid pace, has the ability to get wickets up front and to bowl yorkers at the end and, with his fielding and batting, he is the whole package.
You can look at stats, but you've also got to look at the evidence with your own eyes, which points very strongly that he should not just be in the squad but in England's best XI.
In what will be a very high-scoring World Cup, if you've got bowlers with a bit of x-factor, a bit of extra pace, that's a good thing.
Who misses out for Archer?
It's the big question, and we've had a range of views in the commentary box. I'd leave out DAVID WILLEY, but it's an impossible decision to make really, because you can make an argument for any of them to play.
I'm strong on Tom Curran. It's very important to recognise that cricketers don't stay the same over a three or four-year period. Some are on the rise, some slightly on the fall. Curran is on the rise, for me.
Then, I just reckon with Chris Woakes, Wood and Archer, you have a lot of bowling at the start and the end. What you need, therefore, are wickets in the middle and Liam Plunkett gives you that.
Since the last World Cup, Plunkett has taken more wickets than anyone in world cricket in that middle period and that's why I'd pick him.
It's going to be cruel on whoever gets left out and I'm not certain it's the right call. But, in the end, I don't think it's going to decide the World Cup. If they go for Willey, I have no problem with that. He's an excellent cricketer.
Does Joe Denly keep his spot?
As I said, I see Denly as a batsman who bowls. So I'd go with DAWSON. He is a more experienced spinner and more consistent spinner, and he's had a fantastic time of it in the Royal London One-Day Cup. I see Denly more as challenging Vince rather than as a spare spin-bowling option.
David Lloyd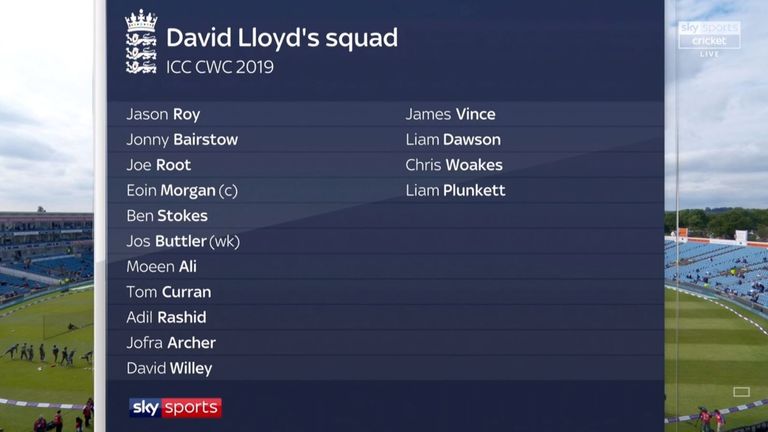 Who comes in for Alex Hales?
VINCE. He has got everything that is required of this squad; he is my backup batsman. If somebody gets injured, you've got to be ready to play and make an impact. Vince can do that.
Jofra Archer: yes or no?
YES. Absolutely nailed on. He's straight into the team. His athleticism, his pace, his fielding. He is a very exciting cricketer.
Who misses out for Archer?
I wouldn't have a clue. But, at a push, I've got my paceman in Archer, and so it's with a heavy heart, and a few sleepless nights, some soul searching, but I'd have to send WOOD back up to Chester-le-Street. What a decision that is!
On pace, Plunkett is down, yes, but he's clever. He finds a way to take wickets and you've got to have bowlers with the ability to take wickets. And Willey is in my 15, just based on his angles. I do like a left-arm bowler in a one-day team, much like I do a legspinner.
I'll give you a couple more cricketers in prime form. Lewis Gregory at Somerset, and Saqib Mahmood up at Lancashire. They wouldn't let anybody down, but I'm sticking with the guys that got England to No 1. England have got real depth. These are very good cricketers.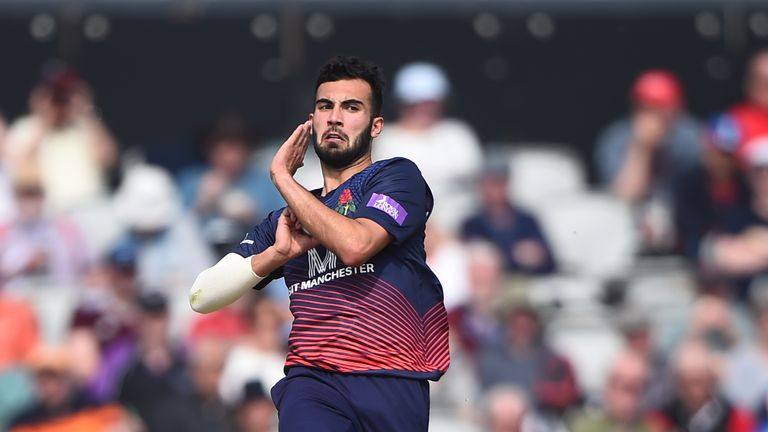 Does Joe Denly keep his spot?
The best thing for Denly would be to not get into that squad. He wants to play in the Ashes; he is 33-years-old, now at No 3 in the Test team. But if he gets into that squad, he is not going to be playing any cricket. It will be a real disappointment - of course you want to play in a World Cup - but it will be better in the long term if he goes back and plays for Kent, gets some form and gets ready for the Ashes.
DAWSON is in prime form and has worked his way into my 15. I always remember Trevor Bayliss saying when he first came into the team, 'I like his character' - he gets stuck in - and I think he has got better as a cricketer.
Rob Key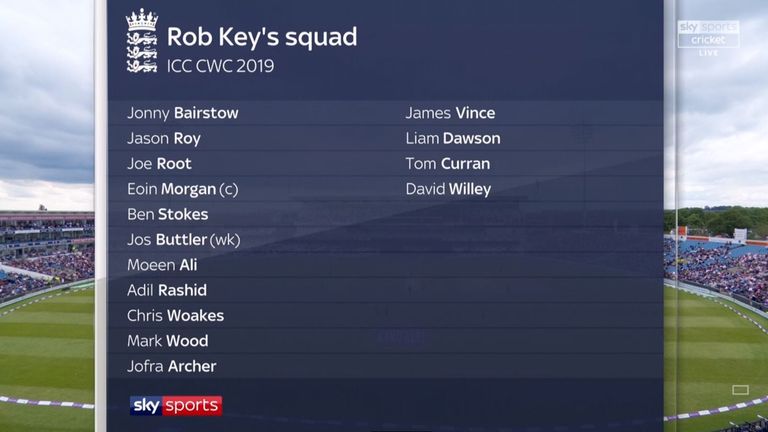 Who comes in for Alex Hales?
It's all very simple until you get to the bowlers. VINCE deserves a place. He's a class player in one-day cricket, in particular. It has just been unfortunate the era he has been around, with the likes of Jason Roy and Jonny Bairstow ahead of him.
Jofra Archer: yes or no?
YES. Archer is in my XI, along with Wood. Pure pace! He just has a touch of class. It's like when you watch a batsman caress one through the covers and just know there's something about him.
Who misses out for Archer?
Obviously, it's a very tough decision. I still don't know, but PLUNKETT doesn't get into my starting XI and, of all the bowlers, if Plunkett doesn't play for four or five weeks - ends up on the sidelines for a bit - he isn't going to find it so easy to come in at full tilt.
He has always been like that, someone that has needed overs under his belt. We saw that in the first domestic game of the year down at Sussex, where Plunkett looked under-done for Surrey.
If you needed to draft someone in for one game, after not playing for a while, I think the other guys would hit their straps quicker than Plunkett.
Does Joe Denly keep his spot?
I just see Denly as a batsman. I clearly never saw him as a bowler because when I was Kent captain, I never bowled him. He is obviously much improved, but can he give you 10 solid overs? Is he a banker? I'm not so sure.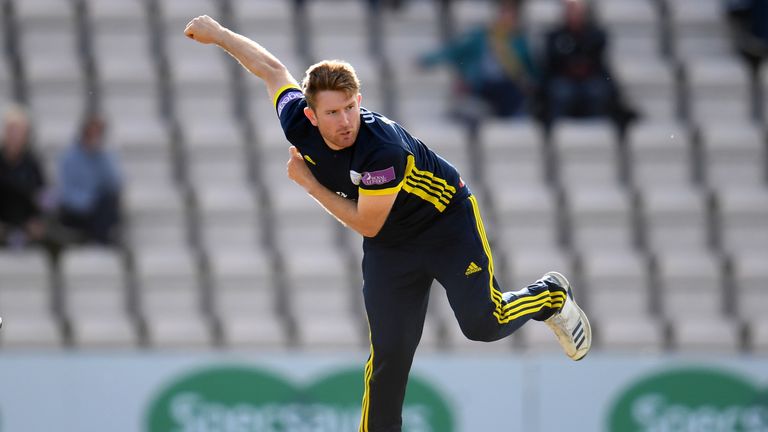 I'd be very tempted to pick DAWSON, who is having a very good year of it.
You can watch every match of the 2019 ICC Cricket World Cup on Sky Sports Cricket, starting with England vs South Africa at The Oval on Thursday, May 30.