Australia drop James Pattinson for second Ashes Test
Josh Hazlewood or Mitchell Starc set to take final bowling spot
Last Updated: 13/08/19 3:25pm
James Pattinson has been left out of Australia's 12-man squad for the second Ashes Test at Lord's.
The fast bowler took two wickets as Australia won the first Test at Edgbaston - his first Test cap in over three years - but is set to be replaced by either Josh Hazlewood or Mitchell Starc.
Australia captain Tim Paine addressed the media on the decision on Tuesday and said though Pattinson is fit enough for selection, his absence is a precautionary measure as they manage his return to the international fold.
"We're really happy, as I said pre-series, with the group of fast bowlers we've got at the moment," said Paine. "We've spoken to the group about making sure that we have this core of fast bowlers going forward for the next two-three years.
"In James' case, in particular, he has come back after a really long lay-off, a really serious operation, and what we've done in the past is bring him back - we know how good he is, so we keep using him - and eventually he breaks down again.
"James is available for selection, but we've decided to rest him for this game and make sure his long-term future is in really good shape. It was always going to be one way or another; he would miss this Test and be fresher for the third, or would have this one and not play in the third.
"Plus, if you look at Mitchell Starc and Josh Hazlewood's records at Lord's, it's a good venue for one of those guys to come in, play and be confident in the fact they can bowl really well here.
"We're really lucky in the fact that we've got two bowlers waiting on the sideline who are world-class."
Starc's absence from Australia's side at Edgbaston came as a surprise to many who had watched him torment batsman throughout the World Cup earlier this summer on the same shores.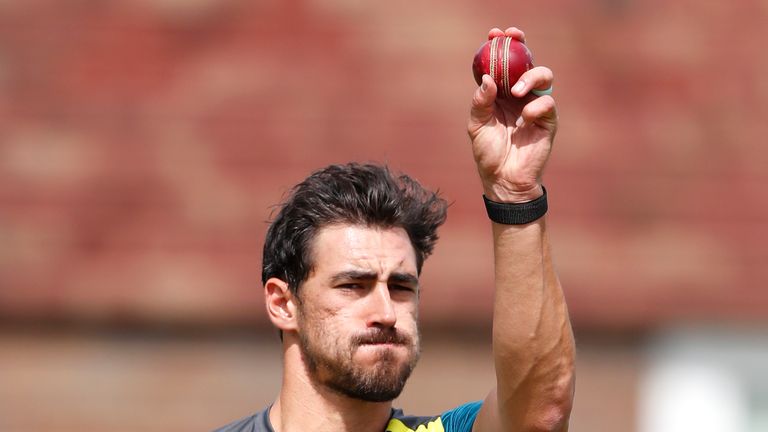 Both he and Hazlewood impressed as Australia played a three-day tour game against Worcestershire last week, and now look set to battle it out for Pattinson's place, though there remains a possibility they could both play should Peter Siddle be left out at Lord's.
Paine wouldn't be drawn, however, on the make-up of his attack for the second Test, saying any number of combinations were possible and that it could come down to a "gut feel" on the first morning.
"We could certainly play Josh and Peter together. We haven't decided that yet. Mitchell is seen as more of a strike weapon, but he has been working really hard as well on his control.
"They're both world-class bowlers. When you leave guys like that out, you can see what sort of people they are and we've been really impressed with both of them. They were disappointed but they're both really excellent team men.
"It's always nice from a leadership point of view when you've got two senior players that when they're left out, they cop it on the chin and work their backsides off. It sets a really good example for the rest of our team.
"There is no set combination. We will come in the morning, have a look and go with a bit of a gut feel. We're not always going to get it right but you try to make the best possible decision you can when you have a look at the conditions you're faced with.
"Whichever of those two we unleash tomorrow, they're certainly ready to go."
England have their own fast bowler ready to be unleashed against Australia at Lord's, with Jofra Archer to make his Test debut.
Paine appeared unfazed by the prospect of facing the 90mph bowler though, suggesting that there wouldn't be any surprises in store for his team after coming up against Archer in the World Cup earlier this summer and the Big Bash League in Australia the last couple of years.
"It doesn't bother us," added Paine. "We're focused in what we have to do. The expectation around Jofra, whether he can handle that or not, I don't know. I don't think it will worry him, from what I know of him.
"A lot of our guys have seen Jofra, or faced him, which is a plus - obviously in white-ball cricket. And we've faced him in Australia, where conditions really suit fast bowling.
"Like with most bowlers in Test cricket, there will be times when he will be a real threat and we're going to have to weather that.
"We've seen him at his fastest, guys know what to expect, they know how skilful and good he is. It's going to be exciting. It adds to the Test match, adds to the atmosphere."
Australia squad for second Test
Tim Paine (c), Cameron Bancroft, Pat Cummins, Marcus Harris, Josh Hazlewood, Travis Head, Usman Khawaja, Marnus Labuschagne, Nathan Lyon, Mitchell Marsh, Michael Neser, James Pattinson, Peter Siddle, Steve Smith, Mitchell Starc, Matthew Wade, David Warner.