Phillip Hughes funeral: Australian cricketer receives emotional farewell in Macksville
Last Updated: 03/12/14 4:26pm
The funeral for cricketer Phillip Hughes turned into a celebration of his life on Wednesday despite the grief and sorrow still evident from his death.
Australia captain Michael Clarke and the rest of the test squad were joined by former and current players from around the world as well as friends and relatives from Hughes' hometown of Macksville on the northern coast of New South Wales.
Clarke was a pallbearer and spoke at the funeral service held at the Macksville Recreation Centre and which opened to the song "Forever Young" by Youth Group.
The service closed with Elton John's "Don't Let the Sun Go Down on Me," the same song the famous entertainer and avid cricket fan performed at a concert last weekend in Germany in tribute to Hughes.
Hughes died last Thursday, aged 25, after being hit near the ear by a ball during a match between South Australia and his former state side New South Wales at the Sydney Cricket Ground. His 26th birthday would have been Sunday.
At the front of the hall, near the altar for the Roman Catholic service, was Hughes' oak brown casket. Flowers and cricket bats, one with his test cap on the handle, were nearby.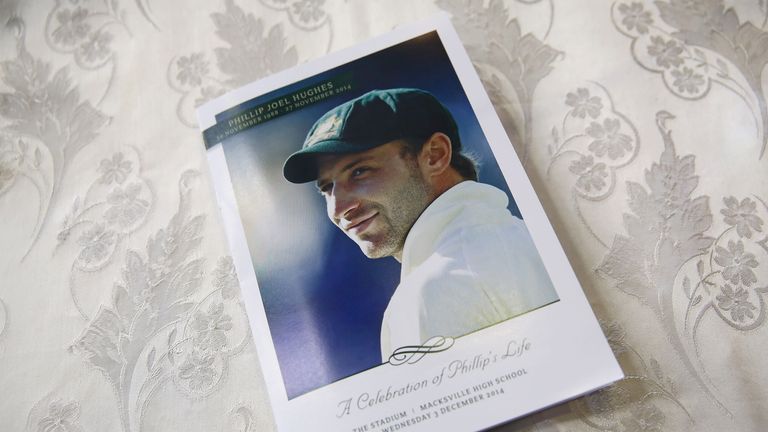 Leading the service, which included a video tribute, Father Michael Alcock remembered the batsman as a "shining light."
"In his short time he walked as a child of the light, not in an ostentatious way but in a natural, unassuming and passionate way," the priest said.
Clarke, who has described Hughes as the brother he never had, broke down frequently last weekend at the SCG when he first commented on his close friend's death.
On Wednesday, he took several deep breaths before he began his remarks at the funeral, saying Hughes would "definitely call me a sook right now."
"I don't know about you, but I keep looking for him," Clarke said. "I want to see his face pop up around the corner.
"I can see how he has touched so many people around the world... so rest in peace my little brother, see you out in the middle."
After Clarke and the other pallbearers placed Hughes' casket in the hearse for a procession through the town, he put his hands on his hips, later wiping tears from his eyes.
The family had asked for Hughes' hearse to go through the town's streets to give locals a chance to take part in the service.
The funeral was telecast live around Australia and on video screens at the Adelaide Oval, where the rescheduled first test with India will start next Tuesday, and the SCG, where a row of 63 bats were propped up against pickets, each with an inscription of a special moment of Hughes' career.