Jonathan Trott's career has been a positive one according to David Gower
Last Updated: 05/05/15 7:24am
David Gower hopes supporters remember the good times in Jonathan Trott's career after it was confirmed he had retired from international cricket.
Trott endured a dreadful tour of the West Indies as he returned to play for England for the first time since leaving the 2013-14 Ashes series with a stress-related issue.
His return as an opener in the West Indies did not go well, as he scored only 72 runs in six innings, but Sky Sports pundit Gower says he should be remembered as a big part of England's success in previous years.
Trott scored a century on his debut against Australia in 2009, made big runs in Australia when the urn was retained in 2010-11, and also played in the home series victory in 2013.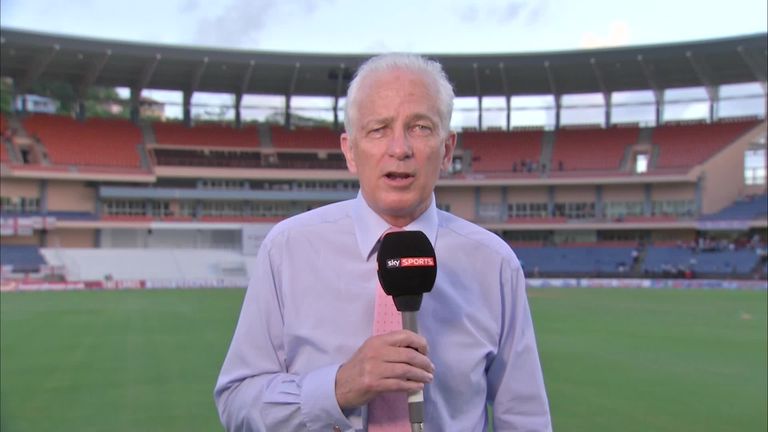 He gave a lot to the team and I think that is where people will happily, and with a smile, remember him.
David Gower
Gower told Sky Sports: "Everyone will remember Jonathan for the good stuff, and there were four or five years of really good stuff, starting with a hundred against Australia at the Oval in his debut Test match.
"He was a tough nut, and for him to come back at all was a major achievement.
"I think if you look back at that first part of his career, both in Test cricket and one-day cricket, he gave a lot to the team and I think that is where people will happily, and with a smile, remember him."
England now need yet another opening partner for captain Alastair Cook, but Gower thinks it will be Caribbean tourist Adam Lyth who gets the call despite the claims of Sam Robson and Alex Hales among others.
Lyth did not feature in the three-Test series against the West Indies but Gower expects him to be in the side when England start their summer campaign against New Zealand at Lord's later this month.
Gower added: "He's had a tough time out here. It was a very brave effort for him to come back but it hasn't worked.
"I think everyone is a little bit sad about that, to say the least. But it hasn't worked and England have to move on with that opening spot.
"Adam Lyth has been the man waiting here in the wings. I think he's pretty much had the tap on the shoulder already and will be in that line-up at Lord's for the first Test match against New Zealand."