200th England Test on Sky Sports: double celebrations for our pundits
Nasser, Bumble, Beefy and David recall their own special double tons...
Last Updated: 13/08/14 10:22am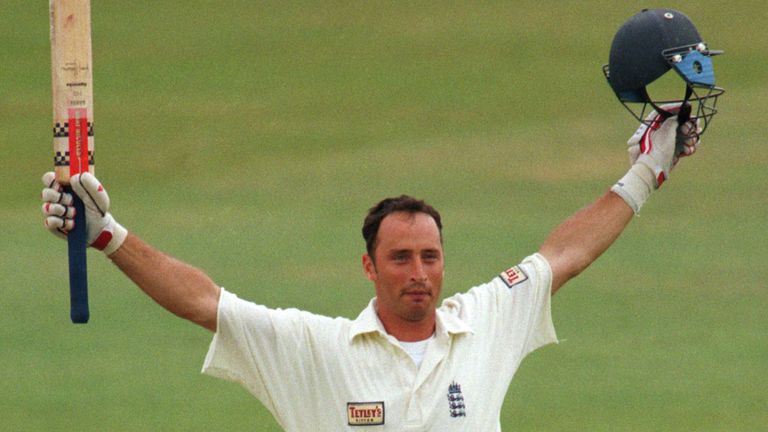 This week's fifth Test at the Oval is the 200th live England Test match to be shown on Sky Sports.
Before play gets underway on Friday, we popped into the commentary box to catch up with the pundits for whom the number 200 is extra special… Vote for your favourite England double-ton here 
Nasser Hussain, 207 v Australia
First Test, Edgbaston, 1997 – England win by nine wickets
Nasser: "It didn't get any better for me than this innings. It was the best I ever batted throughout my career. To play that way and beat an Australian side with a proper attack that featured McGrath and Warne made it more special, as did putting on 288 with Thorpey; that innings was also about proving to the Australian players I'd played with like Mark Waugh that I can play a bit. It was a special week because we'd just beaten Australia in the one-dayers and gone ahead in the Test series so we felt - for once - that we could beat them, but once again it dwindled away after that. I was actually out of form going into the innings. I hadn't got any runs for Essex; the ball had been nibbling around early season and I hadn't been playing well. I spoke to Keith Fletcher, who just said to me 'don't worry - a couple of boundaries and you'll be back in form' and so it proved. We were struggling at 16-2 and then I got a couple off the middle and I was absolutely in the right frame of mind. The previous night I had a TV and video sent up to my room and I watched videos of Warne, McGrath and Gillespie continually for about two hours and trained the brain. The next day I felt so much in the zone that I didn't hear any of the chat or the sledging, I was just in my own little bubble."
David Gower, 215 v Australia
Fifth Test, Edgbaston, 1985 – England win by an innings and 118 runs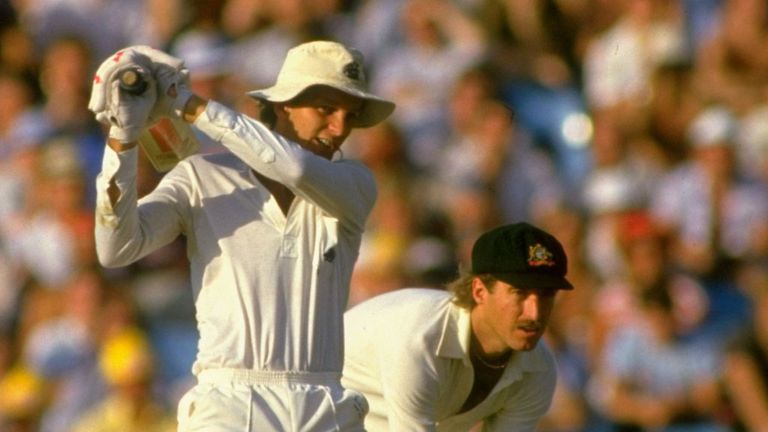 David: "Scoring a double-hundred against Australia as captain in a successful Ashes campaign is tough to beat. We'd lost a bit of time to rain but we managed to bowl Australia out for 335, which wasn't a bad effort on a pretty benign pitch. Richard Ellison was a very, very fine swing bowler and he picked up six wickets but we needed to put the foot down when we batted and we did, scoring 595-5 declared at the best part of 4.5 an over – that was partly down to me but also Tim Robinson (148), Mike Gatting (100no) and Ian Botham, who didn't have much time but clobbered two of his first three balls for six. At the end of the fourth day Australia were 37-5 and we thought all we had to do was pop down on the final day and finish things off. The following morning I got out of bed, pulled the curtains open and saw it was raining. We watched it drizzle all morning and into the afternoon before it cleared up enough to let us back on the field. Wayne Phillips (59) and Greg Ritchie were playing rather well until Wayne played a back foot forcing shot. I was fielding at the more forward of two silly points - Lamby was square, I was in front of square. I swear blind that I watched the ball all of the way – I started to turn but saw the ball come off Lamby's in-step; it bounced up very nicely and I took a nice easy catch. That was the trigger we needed for Botham to polish off the rest of the tail and put us 2-1 up going to the Oval, where we won again to take the series. It was a great game."
Ian Botham, 208 v India
Third Test, The Oval, 1982 – Match Drawn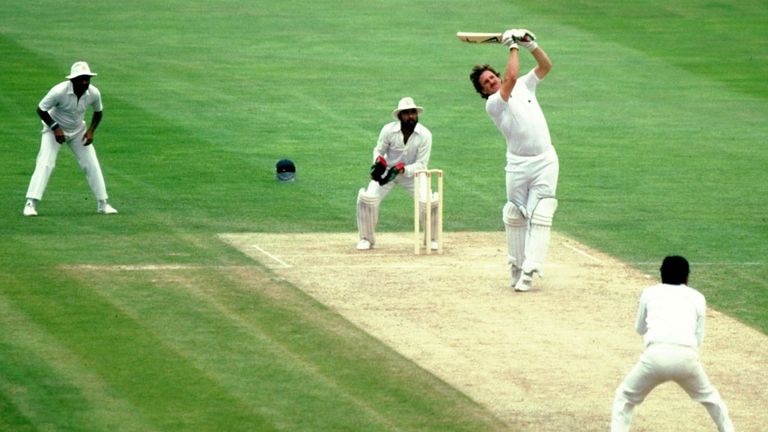 Beefy: "I remember that it was a flat track, glorious weather and my day in front of a great crowd; I felt like I'd been playing well throughout that year so when I got in and I got after their spinners pretty quickly. Their attack was built around spin predominantly. I remember Ravi Shastri came on to bowl and pitched one up outside the off-stump, which I smashed straight into Sunil Gavaskar's leg, breaking his shin. Sunny forgave me for that, but as someone who is petrified of dogs he never forgave me for a prank I played on him down at Taunton. It was before the days of mobile phones so Sunny went into a phone box to make a call and I sat my boxer dog down just outside the phone box and we left him in there for about an hour! Coming in at five it gave me plenty of time to bat with Allan Lamb, who I always enjoyed batting with. We put on almost 180 as Lamby scored his first Test hundred - it was one of a number of good partnerships we had over the years – and like the others it was a lot of fun. Lamby was just at the start of his career and he went on to be one of the best modern-day players against the West Indies, which was awesome considering their attack. I remember saying when India took the new ball 'they're going to bang it in here and they've put a couple of men out, so we won't go hooking' and both of us hooked the first two bouncers we got! To this day I don't have to remind Nasser that my best Test score is higher than his – he knows!"
David Gower, 200no v India
First Test, Edgbaston, 1979 – England win by an innings and 83 runs
Did you know...?
Since Sky became ECB's principal live TV broadcast partner in 2006, the Board has made 3,896 funding awards to grassroots cricket clubs and organisations in grants and loans. This totals £22.5 million of direct capital investment in the grassroots game.
David: "I was in my second year of Test cricket and remember talking to Chris Old, who was a senior player in the side at the time, who'd said about the issue of learning to make big runs, 'it will happen'. It was one of those casual remarks that sticks in your mind. It was only a year before I was having a lecture from Mike Brearley as captain of the side about the art of batting that bit longer after I'd got out for fifty a couple of times. A year later, give or take, the chance came – admittedly on a fairly benign pitch.  A young Kapil Dev picked up five wickets after the best part of 50 overs and Chandrasekhar and Venkataraghavan were two of India's legendary spinners. But on this pitch nothing much was going on, so if there was a time to play against them it was then because they were at the wrong end of their careers and not bowling on dustbowls. I remember putting on over 150 for the sixth wicket with 'Dusty' Miller before our bowlers ran through them and we enforced the follow-on. It was a little bit like the Botham show after that. Beefy was in his prime and, at that stage of his career, swung the ball both ways quite a long way, which made life hard for people. He effectively finished the match with a spell of 4-10 and the Test didn't see a fifth day. It was a fantastic way to start the series.
David Lloyd, 214 v India
Third Test, Edgbaston, 1974 – England win by an innings and 78 runs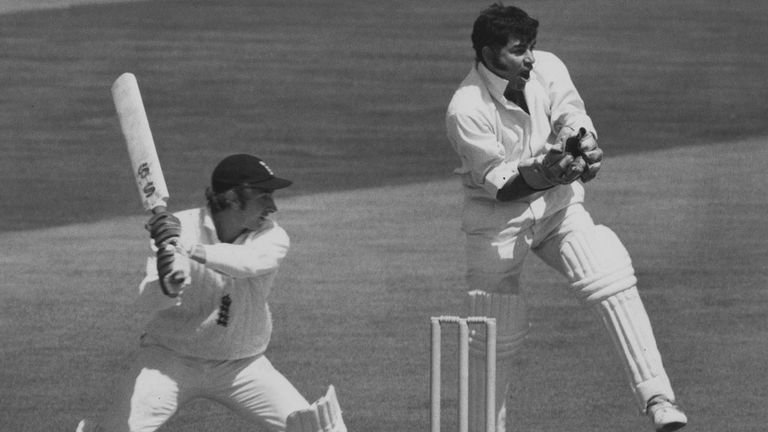 Bumble: "It was one of those old-style Tests – you know, the ones that started on Thursday. Unfortunately there was no play at all on day one because of rain but once we got underway it was a case of our swing and pace attack against their spin attack on a very flat pitch. India couldn't handle the swinging ball and we bowled them out for next to nothing, Mike Hendrick taking four wickets and Geoff Arnold three, and they didn't spin a ball; there was no way they could get you out and they weren't the most athletic of teams either. I was making only my second Test appearance and I'd never hit a double century before although I had got close. I batted for just over seven-and-a-half hours and will always remember John Edrich, who was next man in at number five, watching Wimbledon on the television. Edrich was a dry old stick and every break I'd come in and he'd say 'you keep going, I'm watching the tennis'. You can watch the innings if you want because it's available on YouTube. You'll see for yourself, I just keep coming down the pitch and hitting the spinners straight. There's not a reverse sweep in sight! We might have gone on past 459-2 declared if it hadn't had rained but we felt we could get into them again quickly and Chris Old, Hendrick and Arnold took the wickets in the second innings."
Watch day one of the fifth and final Test between England and India live on Sky Sports from 10am on Friday.