Joe Root says winter was 'bitterly disappointing' but backs England Test team to improve
"You learn a lot about your team when you are up against it and the way they have kept fronting up and trying to respond has been really good for me to see and to learn about the characters in the dressing room."
Last Updated: 03/04/18 6:39pm
Joe Root told Sky Sports that his Test winter was "bitterly disappointing" after failing to score a ton against Australia and New Zealand.
England skipper Root passed fifty seven times in seven Tests but struck a top score of 83 in Sydney as his team were thrashed 4-0 by Australia and slipped to a 1-0 defeat in New Zealand.
However, the 27-year-old is confident his five-day side can make "big strides quite quickly" ahead of the summer engagements at home to Pakistan and India after falling two wickets short of a series-levelling win against the Black Caps in Christchurch.
"Bitterly disappointing on a personal front," Root told Ian Ward while reflecting on his winter. "Seven fifties, you want to convert at least half of those, if not more, as a top-order batter.
"You talk about scoreboard pressure and you want your senior players to step up and make big contributions and I haven't managed to do that this winter.
"It's not for the lack of trying and I will continue to keep working hard at my game. I have learnt plenty - I don't think we have enough time to go through it all!
"I have learnt a lot about myself and the guys - you learn a lot about your team when you are up against it and the way they have kept fronting up and trying to respond has been really good for me to see and to learn about the characters in the dressing room.
"We are not the finished article and there is plenty for us to work on but it just shows that with the talent we have got we can be very competitive.
"I believe we can make big strides quite quickly and I think this game will give that to the guys," added Root, after England reduced New Zealand to 256-8 on day five at Hagley Oval.
Root saluted his bowling attack, including Stuart Broad, who took two wickets in two balls at the start of the day - Kane Williamson nicking off first delivery - to ignite England's victory hopes.
The Yorkshireman also praised Somerset spinner Jack Leach, who took two scalps on debut after coming into the side in place of Moeen Ali, and recalled seamer Mark Wood.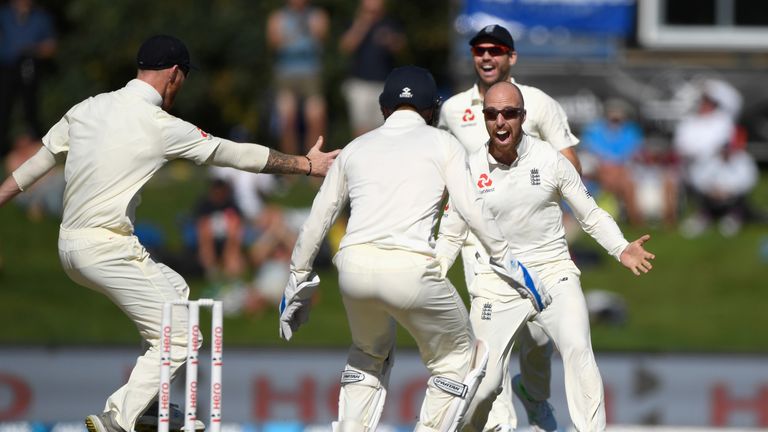 "These two Test matches, in particular, have been massive for Stuart moving forward," Root said of Broad, who ended the series with 11 wickets at 18.54 after toiling during the Ashes.
"He looks like he is moving the ball both ways, he's got great control of his length and he's bringing a lot more dismissals into the game. It's great for me as a captain to have him back at his best.
"We wanted a few different options [with our bowling]. Woody gave us a different angle to attack with, while Leach has a lot about him. He is very impressive and can offer a lot to Test cricket.
"He might not have got the wickets we and he, in particular, would have liked but he looked threatening throughout and brought in the rough on occasions.
"We exploited the bowling conditions well as a group. Even when it looked flat, we managed to create things."
Root also believes batsmen Mark Stoneman and James Vince - who notched a fifty apiece in Christchurch - are now "more rounded as cricketers", despite not yet scoring a Test century.
But coach Trevor Bayliss hopes to see domestic players pushing those two for spots ahead of the first Test against Pakistan at Lord's from May 24.
"I think [Vince and Stoneman] are learning on the job," Bayliss told Sky Sports. "They've both shown the ability that they have got and they're both working very hard to make sure that happens more often than not - but I want to see guys from county cricket putting pressure on the guys in the XI.
"There's no better pressure than from within and if one or two of them are looking over their shoulder a little bit at the next guys then that's what we want.
"The work behind the scenes has been top class - we've just got to put it all together at the one time and get some consistency about our performance."
Watch England's Test summer in full on Sky Sports Cricket - Root's men will play two games against Pakistan, before a five-match series against Virat Kohli's India.