Ball-tampering update expected from Cricket Australia on Wednesday
By Sky Sports News
Last Updated: 28/03/18 9:55am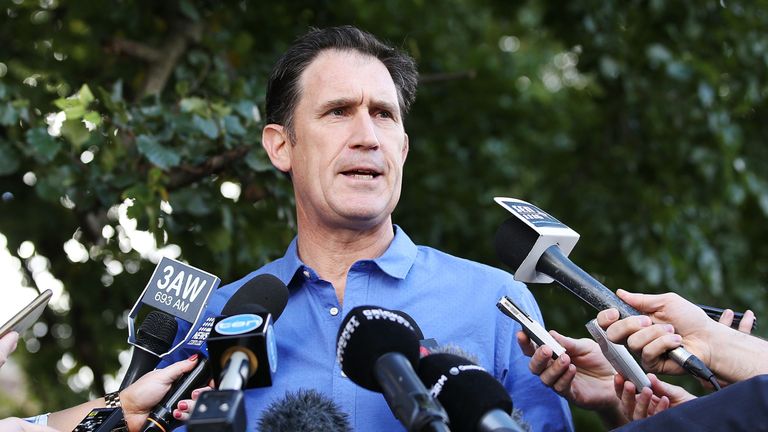 Cricket Australia's investigators have arrived in South Africa and are expected to provide an update on the ball-tampering investigation by Wednesday.
CA's head of integrity Iain Roy and team performance manager Pat Howard flew into Cape Town on Tuesday morning to uncover what happened and who knew in advance of the ball tampering plan.
Steve Smith's future as Australia's Test captain remains in doubt after he admitted the team's "leadership group" intentionally planned to manipulate the ball during the third Test against South Africa.
Footage emerged during the Test of Australia opener Bancroft appearing to use a piece of tape on the ball before hiding it down his trousers.
Smith has been given a one-Test ban by the ICC - a decision that rules him out of the fourth and final Test of the series which gets underway in Johannesburg on Good Friday - and fined 100 per cent of his match fee.
Bancroft has been handed a 75 per cent fine and three demerit points.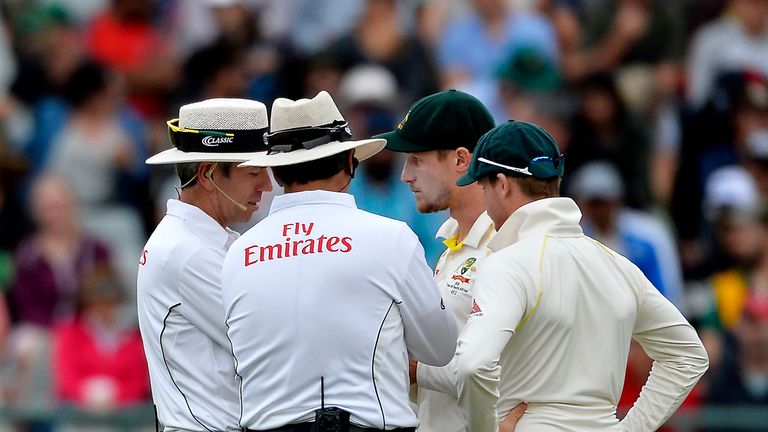 Australian Prime Minister Malcolm Turnbull has called on Cricket Australia to take "decisive action".
The fallout to the scandal shows no sign of abating in Australia with the front pages of Tuesday's papers continuing their criticism of the team.
The Daily Telegraph carries an interview with former Australia bowler Trevor Chappell, who says he is no longer the most hated man in the country. Chappell infamously bowled the underarm ball which helped Australia beat New Zealand nearly 40 years ago.
The Herald Sun's headline predicts Smith and vice-captain David Warner face a year ban for their part in the scandal, while The Advertiser focuses on Darren Lehmann's future as coach.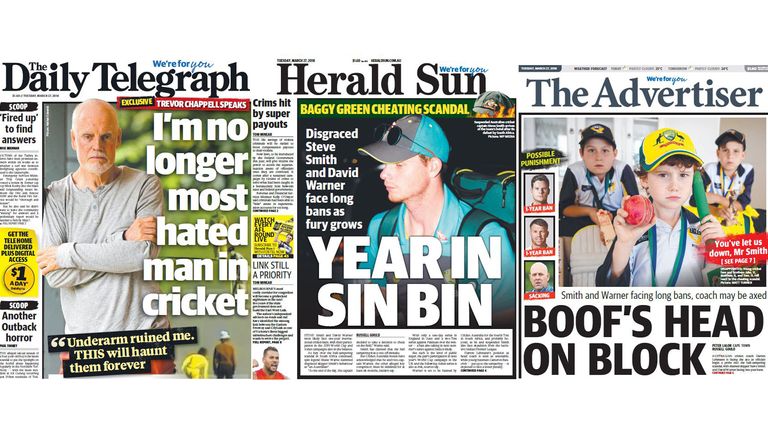 The MCC has also released a statement reacting to the news.
"We welcome the swift action by the match officials, ICC and Cricket Australia in response to the admission of ball tampering by senior Australia players," said John Stephenson, MCC Assistant Secretary (Cricket).
"Changing the condition of the ball is prohibited under Law 41 concerning Unfair Play.
"Law 41 also places upon the captains of both sides the responsibility for ensuring that play is carried out in accordance with the spirit of the game as well as within the Laws.
"The behaviour of some of the players in the current South Africa/Australia series, and other incidents in recent times in the game we all cherish, has fallen well below the standard required to inspire future generations of cricket-loving families.
"The time has come for a major shift in attitude and culture of all those with responsibility for leadership within the game, to give young players the kind of role models who will uphold standards, preserve cricket and, vitally, the Spirit of Cricket for future generations."