Tim Paine introduces new Australian era with handshakes against South Africa
By Mark Ashenden
Last Updated: 02/04/18 12:12pm
Tim Paine signalled a new era for Australia cricket by getting his players to shake hands with the South Africans ahead of the fourth and final Test.
In the wake of the ball-tampering scandal that has rocked the sport with former captain Steve Smith, David Warner and Cameron Bancroft all banned, the new skipper suggested the gesture hoping to ease tension between the two teams.
With Warner preparing to face the media for the first time on Saturday to address his involvement, Paine opened up on how football had inspired his actions in Johannesburg.
"I've been watching soccer," he said. "I noticed they do that every game and I thought, cricket's a gentleman's game.
"I spoke to our players about bringing it in. It's not something we'll do every Test match but I think it's not a bad way to start a Test series.
"It's something we'll probably do going forward. I think it's just a good show of sportsmanship and respect."
He said he had discussed the idea with South African skipper Faf du Plessis before the toss at the Wanderers.
"He was happy to that. I think he thought it was a good idea," Paine added.
"There's been a lot of water gone under the bridge and a bit of tension between the two sides. We want to be super-competitive but we also want to respect the opposition and it was important to show that."
The fall-out from the scandal will also see Darren Lehmann step down as head coach after this Test, despite being cleared of any wrongdoing by Cricket Australia.
Smith addressed the world's press on Thursday for the first time since receiving his 12-month ban - admitting he failed as a leader and that he would regret his actions for the rest of his life.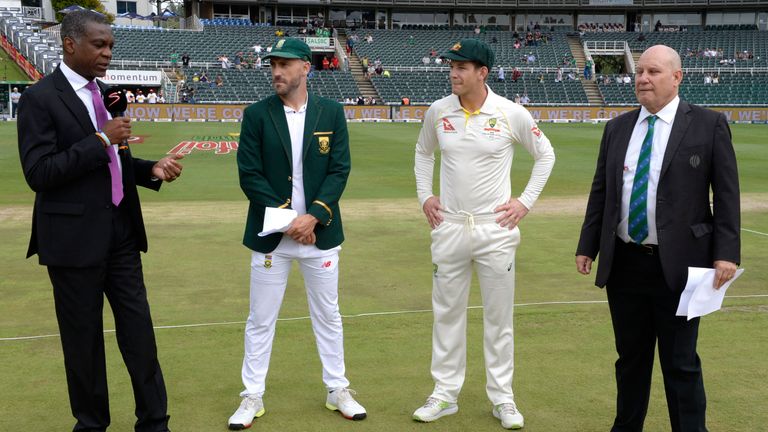 Bancroft, who used sandpaper to alter the ball during the Test match against South Africa, pleaded with fans for their forgiveness.
Paine is clearly desperate to change the team's culture but is cautious about making too many strides at the start of his leadership.
"We're trying to take it one day at a time, trying to build back the respect of the cricket world, our fans and the cricket public," added the 33-year-old Tasmanian.
"We know we've got a really long journey to get where we want to get to. The last couple of days have been the start of that long journey.
"We want to create an environment where guys can just come in and play cricket and be themselves. If we can achieve that I think we can achieve better results as well.
"It is important for us to realise how lucky we are and how privileged we are to be playing cricket for Australia."