England's Ashes victory is triumph for team spirit, says Ian Botham
'Root is probably the best player in world cricket at the moment'
Last Updated: 09/08/15 9:28am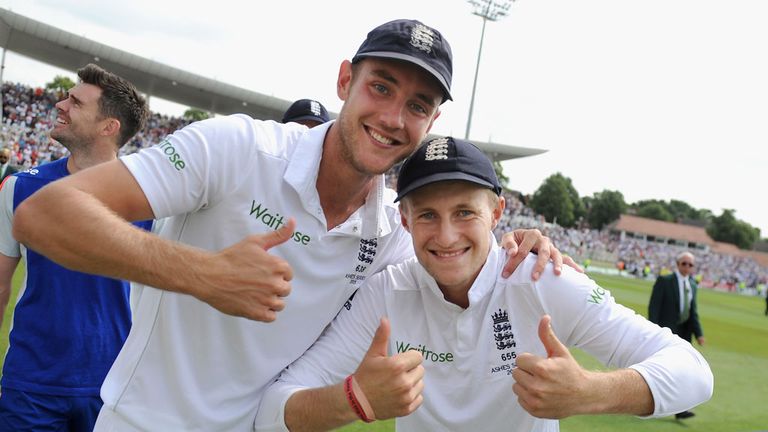 Sir Ian Botham hailed England's team spirit after Alastair Cook's side regained the Ashes and said the team's primary objective must now be to beat Australia 4-1.
England reclaimed the urn in style with an innings and 78-run victory in the fourth Test at Trent Bridge, wrapping up the series after just 40 minutes of play on day three.
Former skipper Botham could not fault the team ethic or the contribution each player had made to England's success – adding that the home side shouldn't let up in the fifth and final Test at the Oval, starting on August 20.
He said: "They've all turned up, they've shared it around – everybody has come to the party one way or another whether it's been a great catch, great fielding, great bowling or great batting. It's all been there in the mix.
"The whole world of cricket watches the Ashes – that's how important it is. Ok – the games haven't gone five days but they've lacked nothing.
"There have been some great individual performances and there is a definite team spirit there.
"Just spending a little bit of time with them you got the sense that they are a little bit more relaxed than previously; there's a different atmosphere and that obviously comes from the top."
He added: "England have won the last two games in style; it's going to be very difficult for Australia to pick themselves up having lost the Ashes.
"It will be an emotional time with Michael Clarke retiring so England's first objective is to win the game and win the series 4-1."
England's victory was ignited by Stuart Broad's career-best figures of 8-15 as Australia were shot out for just 60 on day one and sealed by Ben Stokes' second innings return of 6-36.
In between, Joe Root struck his eighth Test century – scoring 130 in England's only innings to add to his hundred in the first Test at Cardiff.
The Yorkshire batsman is now poised to become the top-ranked batsman in the world – quite a transformation after he lost his place in England's 5-0 whitewash in 2013/14.
"The best thing England did was drop him for the Sydney game," said Botham. "He's come back from that. He was annoyed; he sets his standards very high so he was bitterly disappointed to put himself in a position where he would be left out.
"He's come back, he's bounced back and he's worked hard – and at the moment he's probably the best player in world cricket at the moment."
Following the conclusion of the Ashes and one-day series against Australia, England will travel to the UAE to face Pakistan at the end of September.
Although conditions will be very different, Botham said he has every confidence that England's attack will flourish.
"They will adapt," he said. "They are all capable of reverse swing, which is important, particularly when you go somewhere like the UAE; it's not going to swing around a lot but it will reverse swing, because it's very dry over there and the ball will get roughed up very quickly very naturally.
"I think they'll revert to that and that's what the 2005 side was good at. Sometimes that's even more tricky to play than the new ball."
Watch coverage of the fifth Ashes Test live on Sky Sports Ashes HD from August 20. You can also watch the fifth Test with a NOW TV Sports Day Pass. Plus, our Ashes Events Centre - the best of Sky Cricket's analysis at your fingertips - is available on our iPad app.