Cricket Expert & Columnist
Bob Willis assesses England's players after the Test series win over South Africa
Last Updated: 07/08/17 7:27pm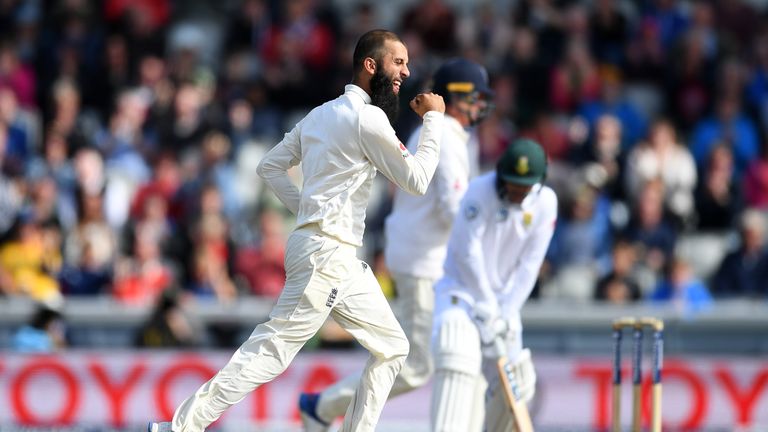 England completed a 3-1 Test series win over South Africa but how did they perform as individuals?
Bob Willis has run the rule of every England player to have participated over the four matches. Moeen Ali was in fantastic form with both bat and ball to be named Player of the Series and comes in top of the class, but what of new captain Joe Root and how did Keaton Jennings rate after struggling at the top of the order?
Here is Bob's verdict...
Alastair Cook - 7
268 runs @ 33.50, two fifties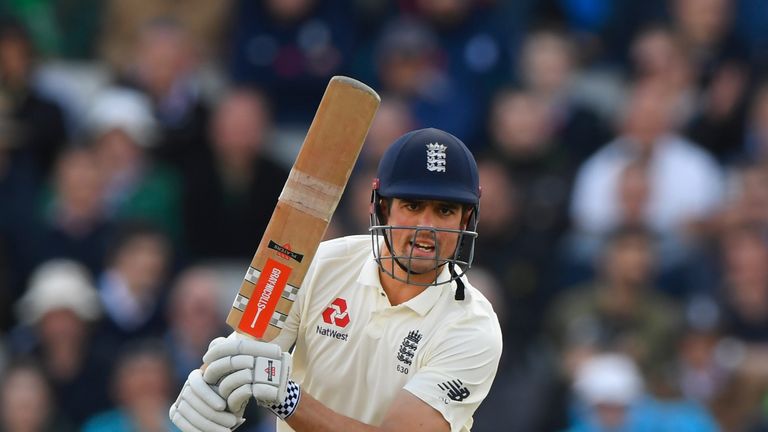 A reasonably quiet series for him but a magnificently important innings for him to set England's stall out batting first in difficult conditions, he's still a bedrock of England's batting. Perhaps not as prolific as always with daddy hundreds but I'm giving him a seven.
Keaton Jennings - 3
127 runs @ 15.87
He had a great start in India but he has looked like a wicket waiting to happen all the way through this series. The repetitive nature of his dismissals means he is going to be back in county cricket for the foreseeable future.
Tom Westley - 6
122 runs @ 30.50, one fifty
He has looked quite assured, I don't think there is any problem with temperament. I don't think the fielding side are going to get up his nose in any way. I'm still concerned with him wanting to play every ball to mid-on or midwicket but No 3 is a very difficult place to come into the side and bat. I'd still prefer to see Joe Root bat there and the new players come in at No 5 or even No 6 or 7.
Joe Root - 7
461 runs @ 57.62, one hundred, three fifties
Not quite as an expressive a captain as many of us were hoping, some of the field placing not as innovative as we might have hoped. With huge fourth innings totals for South Africa to chase, he could have had more slip fielders in for the new ball - I know Broad and Anderson don't like that but he should have overruled them and said 'we're having four slips'.
It's easy to be critical but England the series 3-1 - what a great start for him. I just feel a bit of the careful, conservative nature of Cook and probably the England management has rubbed off on him and it would be my hope that he can be a bit more adventurous in the future.
With the bat, he scored a fantastic century at Lord's and had a very important innings at Old Trafford, a ground that he loves.
Dawid Malan - 3
35 runs @ 8.75
It's difficult to give him many marks, he hasn't really got going in any innings and coming in at No 5, a much more comfortable position than Westley at three or Jennings at two, so a disappointment. I know four innings is a small sample size but he didn't make any impression at all.
Ben Stokes - 8
299 runs @ 37.37, one hundred, two fifties
Seven wickets @ 43.00
He's taken on the role of vice-captain with great alacrity and he's matured magnificently. His wonderful innings at The Oval was vitally important when the pitch was doing its worst he really got stuck in and, of course, we've seen him play aggressively as well.
The only downside to Ben's game is probably his consistency as a bowler - he's made some very important breakthroughs, been on a hat-trick a couple of times but he needs to be more economical as England's fourth seamer. A terrific series for him though.
Jonny Bairstow - 8
330 runs @ 41.25, three fifties
17 catches, no stumpings
I don't agree with most punters who think he should stay at No 7, he's a better player than that and should bat higher up the order. He played a very, very important innings at Old Trafford and he should blossom as a batsman. I don't think you can ask him to bat in the top four but he could certainly bat at five or six, at the lowest. He's been pretty good behind the stumps as well; one or two mistakes but he's had an excellent series.
Moeen Ali - 9
25 wickets @ 15.64, two five-wicket hauls
252 runs @ 36.00, two fifties
An extraordinary return for a spin bowler in mostly seamer-friendly conditions. We had all that political spin about him being the second spinner when Liam Dawson was in the team but he has caused great problems to the South Africans, particularly the left-handers. Not only the left-handers though, his dismissal of Hashim Amla in the Old Trafford Test was vital in England forcing home their advantage.
He scored some very important runs down the order, he was free flowing and he turned the game with the bat at Old Trafford to give England that extra breathing space.
Toby Roland-Jones - 8
10 wickets @ 22.20, one five-wicket haul
Very impressive. A wise-head, he's played a lot of county cricket and been very consistent for Middlesex. He knows exactly what he's doing with the ball. When the pitch was flatter and the sun came out, he was perhaps not quite so convincing but a dream debut at The Oval and important wickets again at Old Trafford - and important runs, too.
He can really bat, either in a defensive role - albeit he is going to get peppered in Australia if he gets picked - but fine aggressive innings along the way in this series.
Stuart Broad - 7
11 wickets @ 32.00
He's run in and bowled very effectively. He hasn't had the sort of dramatic figures he got against Australia a couple of years ago but he and Anderson are an absolutely electric pair of opening bowlers. Not quite at his scintillating best but still worth a seven.
The only negative about Stuart as an all-round cricketer is the demise of his batting. He's still shell-shocked from that hit on the head and can no longer bat with any confidence. I don't know why he doesn't try to bat more defensively when he is in with a proper batsman down the order, because he is giving the bowler a full view of his stumps.
James Anderson - 8
20 wickets @ 14.10, one five-wicket haul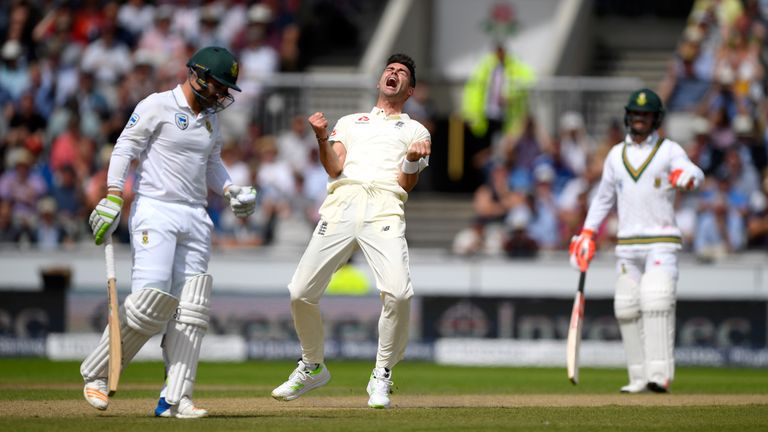 People keep trying to say he is on the downward slope, over the hill - not for me. He is the master of seam and swing with great control. It's very apt that he has had the pleasure of bowling from the James Anderson End at Old Trafford, a real pleasure for him.
I don't think Joe Root bowled him enough at his home ground during the Old Trafford Test match. There is clearly a question mark about his ability to get wickets away from England but we're talking about a series in England that he has helped to win.
Gary Ballance - 3
85 runs @ 21.25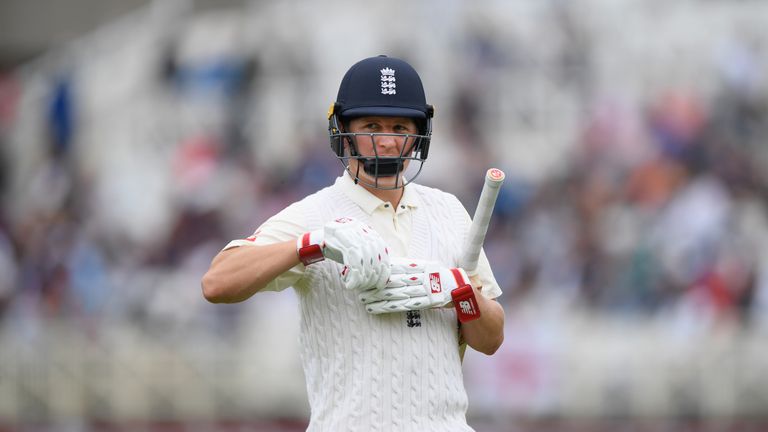 He's had three goes now and he got off to a brilliant start - other players have done that - but as an England No 3 he is just not equipped to deal with top quality bowling. It is a sad indictment of bowling in the County Championship that players like Ballance, Jennings and Malan score runs at will in that competition but can't step up in class. He's had his opportunity, it's a shame he got injured but I think he'd have been dropped anyway.
Liam Dawson - 3
Five wickets @ 33.80, 18 runs @ 6.00
I think with Liam that he is clearly a favourite of Trevor Bayliss, I'm not quite sure why. There are better spinners in the country than him. They were looking for a bowler to give them control and hold because Moeen Ali didn't look capable of doing that holding, Ashley Giles-type role but Dawson was far too expensive. He bagged a pair at Lord's and I'm afraid he'll be playing the rest of his cricket at the Ageas Bowl.
Mark Wood - 5
One wicket @ 197.00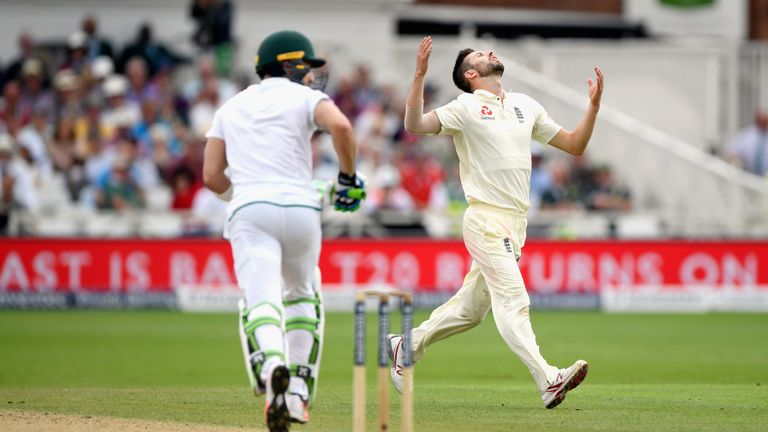 I feel sorry for Mark, injury just seems to follow him around. He had various operations in the winter but don't write him off yet. England are going to need a pace bowler in Australia and if one of the young guns doesn't come through then Wood might be a vital ingredient out there.
I think he perhaps might need to lengthen his run up a little bit, it's a very demanding action, he puts a lot in in that final stride. He is the only real candidate of what I would call the mature cricketers so he is an important asset in the England squad but he didn't pick up many wickets in this series.