World Twenty20: Canny Sri Lanka wash West Indies' title defence away
Big, powerful West Indies team failed to fire with final place at stake...
Last Updated: 09/04/14 9:44am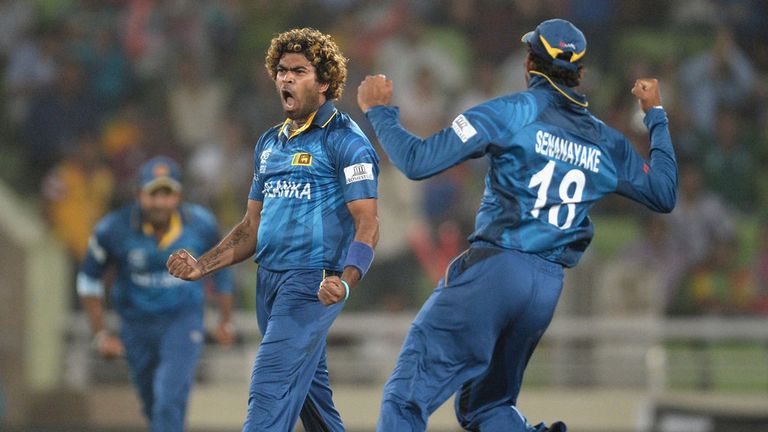 Sri Lanka's bowlers out-thought and out-fought West Indies to end the defending champions' hopes of retaining their World Twenty20 crown, says David Lloyd.
West Indies – needing 161 to reach the final – were wobbling on 80-4 off 13.5 overs when heavy rain and hail forced the players from the pitch.
With play unable to resume, Sri Lanka secured a 27-run win on the Duckworth/Lewis method and gained a measure of revenge for their defeat to the West Indies in the 2012 final.
Damage
"The West Indies have been out-thought," Lloyd told Sky Sports. "Sri Lanka's bowlers have been really canny and clever in the conditions. This big, powerful West Indies team didn't do anything in their innings.
"Sri Lanka worked so hard to get to the 160, particularly in the last two overs – there was a lot of damage done there.
"We saw so much emotion from Sri Lanka during this innings. They seemed to be out of this game but they stuck in and it just shows you what you can do in the last two overs of the game.
"Angelo Mathews [40 off 23 balls] is a big, powerful player. He was out on the last delivery of the innings but the damage had been done by then.
"Two of Sri Lanka's big players – Mahela Jayawardene and Kumar Sangakkara – haven't done a thing and they are in the final. That will just play on the minds of South Africa and India.
"You'd think in a competition like this that those two would have one telling innings between them but it hasn't happened yet."
Worry
Former Australian skipper Ricky Ponting told Sky Sports that the West Indies paid the price for failing to factor in the inclement conditions.
Although Dwayne Bravo blasted 30 off 19 balls, it proved too little too late following a sluggish start to the reply. Paceman Lasith Malinga (2-5) removed both Chris Gayle and Dwayne Smith cheaply to leave the chase in trouble at 28-2 off 4.5 overs and the chase subsequently failed to fire.
"There had been storms around and predicted all night, so there was always the chance that this was going to happen so they had to be up, near or around the run-rate in case Duckworth-Lewis came in," said Ponting.
"Immediately that Bravo came out the run-rate was up really high. He had to come out and play that way but that's his natural game. He made room outside of the leg stump to the spinners and hit them over the off-side.
"As convincing as the West Indies have been in some of their games, when you have to come out and chase a total of 160 in slow conditions it becomes a worry."
Watch England Women take on South Africa Women in the ICC Women's World T20 semi-final from 9am on Sky Sports 2 on Friday.
Find out who will face Sri Lanka in the men's final on Sunday by tuning in for India v South Africa from 1pm on Sky Sports 2 on Friday.