Cricket's deadly bowling duos: Where do James Anderson and Stuart Broad rank?
By Sam Drury
Last Updated: 21/08/17 2:00pm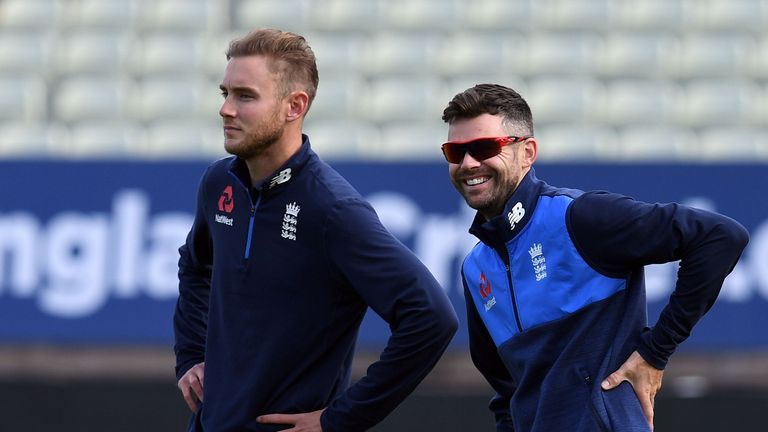 Stuart Broad grabbed the headlines following England's mauling of the West Indies in the day-night Test at Edgbaston as he moved past Sir Ian Botham and into second place on the list of England Test wicket-takers.
However, arguably the standout bowling performance in Birmingham came from his new ball partner and the man currently occupying top spot - James Anderson - who tormented the Windies batsmen and, on another day, could easily have doubled his five-wicket haul in the match.
Anderson and Broad ended the game with five wickets apiece and what is clear is that they are among the most fearsome bowling duos in world cricket. But how do they compare to some of the great partnerships of the last 30 years?
Anderson and Broad - 876 Test wickets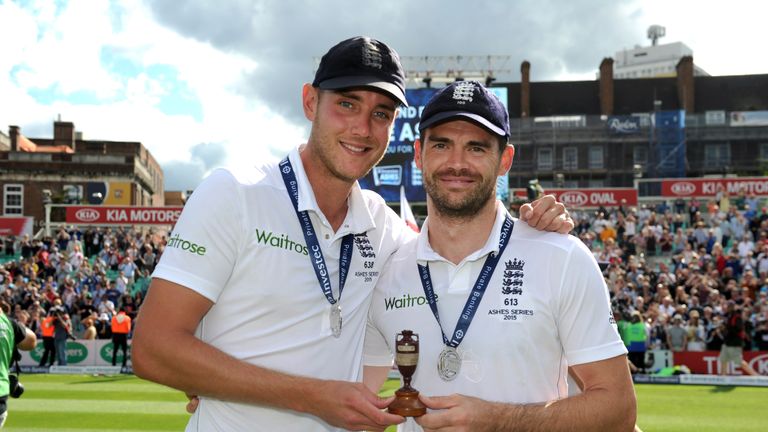 The England pair have now played in 95 Tests together and formed one of the most potent opening bowling partnerships England have ever had. However, when Broad made his debut in 2007, Anderson's place in the team was far from assured.
It was not until early 2008 that they were named in the same Test XI but those concerns over selection have long since vanished as, for the past nine years, Anderson (492 Test wickets) and Broad (384 Test wickets) have wreaked havoc in Test matches around the world.
Their effectiveness away from home continues to be questioned in some quarters but a combined 730 wickets in Tests played together speak for themselves and in English conditions, their success is unparalleled.
Ambrose and Walsh - 924 Test wickets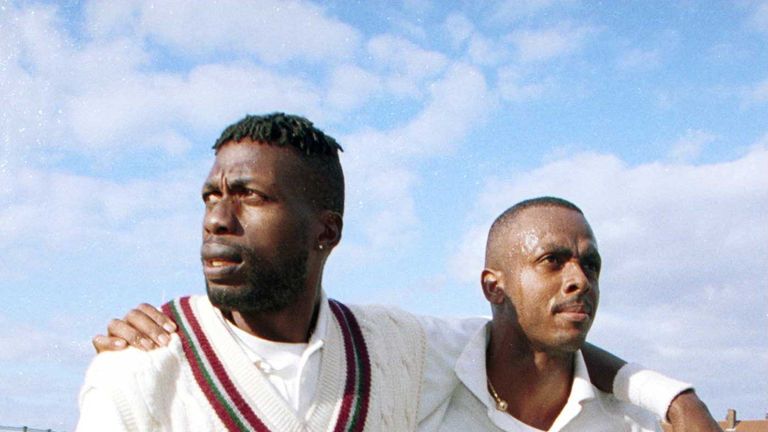 While the current crop looked wholly ineffective during the first Test, that is completely at odds with the rich history of great West Indian fast bowlers.
At various points during 1970s and '80s you could have picked any two of Croft, Garner, Holding, Roberts or Marshall as the finest bowling pairing on the planet but as the Windies started to fade moving into the '90s, it was left to Curtly Ambrose (405 Test wickets) and Courtney Walsh (519 Test wickets) to fill the void and spearhead the attack.
They not only did that but, in terms of wickets, surpassed each and every one of the legends who had come before them. Pace, bounce and unerring accuracy gave them remarkable success wherever they played - 95 Tests together yielding 762 wickets.
Warne and McGrath - 1,271 Test wickets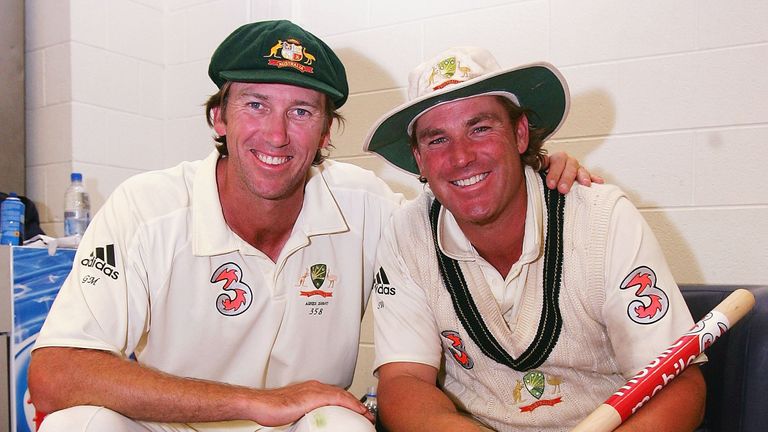 Of course, it is not just opening bowlers who combine to devastating effect and there is no more concrete evidence of that than the partnership between Shane Warne (708 Test wickets) and Glenn McGrath (563 Test wickets) in Australia's all-conquering side of the mid-to-late '90s to the mid-2000s.
McGrath did not possess the express pace of Brett Lee, nor did he get the hooping swing of Anderson, but his accuracy was second to none and his ability to nip the ball just enough to bring both edges and the stumps into play gave batsmen no way out.
With McGrath drying up runs at one end, batsmen would be keen to make up for it at the other. The problem was, stood there waiting - more often than not, with a choice remark - was arguably the best bowler of all-time, an armoury of finely tuned wrist-spin deliveries at his disposal and capable of outthinking even the savviest of batsmen.
It is little wonder they shared 1,001 wickets in the 104 Tests they played together.
Waqar and Wasim - 787 Test wickets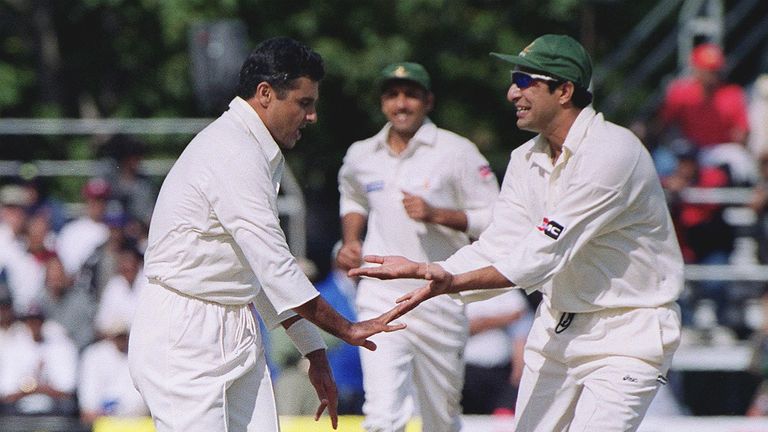 The Pakistani pair played together in far fewer Test matches, 61, than the duos we've looked at so far - but their impact was no less great. In that time Wasim Akram (414 Test wickets) and Waqar Younis (373 Test wickets) took a combined 559 wickets - and inflicted only marginally fewer toe injuries - although that is unconfirmed.
The issue for opposition batsmen was that the threat posed by Wasim and Waqar was not restricted to their bursts with the new ball, when they did get lavish swing. The pair were just as dangerous, if not more so, when the ball got older and began to reverse.
The sight of a middle or lower-order batsman trudging off bemused having been castled by an inswinging yorker when they could have sworn the ball should have gone the other way became a familiar one.
There have been few, if any, finer exponents of reverse-swing than Wasim and Waqar and certainly not two in tandem.
Donald and Pollock - 751 Test wickets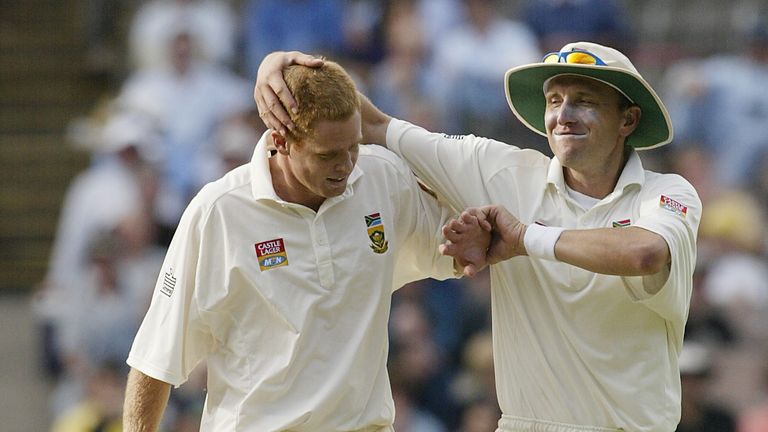 For all that Vernon Philander and Morne Morkel were excellent for South Africa in England this summer, they cannot be considered the best Proteas pairing to open the bowling on these shores in the past 20 years.
That honour, surely, falls to Allan Donald (330 Test wickets) and Shaun Pollock (421 Test wickets). In the 47 Tests they played together, they shared 397 wickets.
What Donald brought to the side is best exemplified by his famous battle with Mike Atherton at Trent Bridge in 1998: searing pace, uncompromising aggression and an unashamed will to win.
Pollock, meanwhile, was a line bowler - certainly once he lost the express pace he possessed in his early years - in the mould of McGrath and Ambrose, and possessing much the same quality. The only regret for South Africa is that they were unable to lead the attack together for longer.
Muralitharan and Vaas - 1,155 Test wickets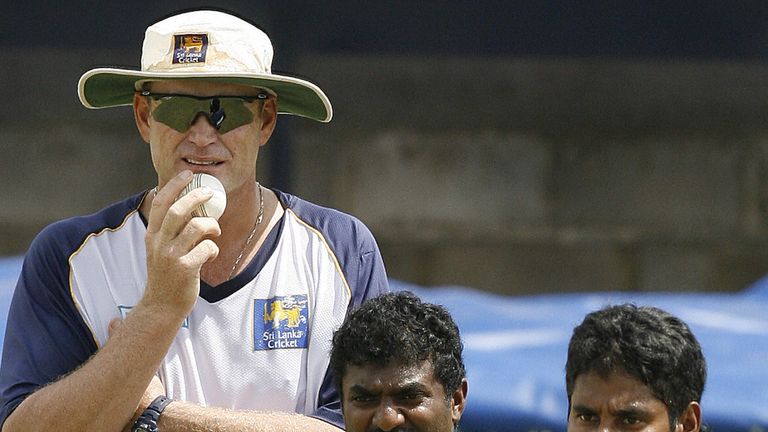 Finally, we come to another seam and spin combination - another one with more than 1,000 Test scalps between them between 1992 and 2010.
Muttiah Muralitharan, the leading wicket-taker in Test history, 800 all by himself, somewhat dwarfing Chaminda Vaas' impressive haul of 355 and perhaps because of Murali's brilliance and the traditional dominance of spin bowling on sub-continent pitches, the role of Vaas can be overlooked and the partnership is far less heralded than those touched on above.
However, the numbers speak for themselves: 895 wickets between them in 95 matches. That is 133 more than Ambrose and Walsh and 165 more than Anderson and Broad, in the same number of games.
The left-armed Vaas was able to seam and swing the ball, possessing a superb late inswinger to the right-handers, his intelligence and variations ensured he could threaten even on flat surfaces at home and abroad.
As for Murali, his unorthodox action may have proven controversial at times during his career, but no one could deny his skill as a bowler. His doosra was much-vaunted but more often than not the drift, dip and prodigious spin he got on his standard off-breaks were more than enough to get the better of a batsman.
Which bowling partnership - past or present - is your favourite? Tweet us @SkyCricket to let us know.