Chris Rogers said winning the Sky Sports ECB Young Coach of the Year award 2012 will spur him on
Whitchurch CC coach Chris Rogers said winning the Young Coach of the Year award 2012 would spur him on.
Last Updated: 29/01/13 1:03pm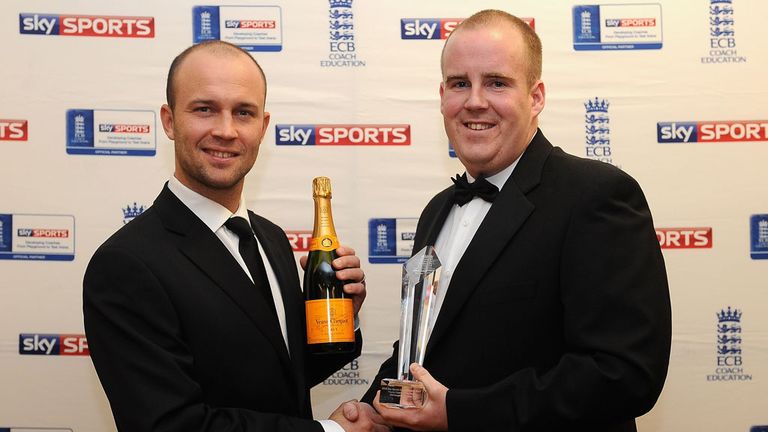 Chris began his coaching at Frankton CC in 2007. In 2011, he moved to Whitchurch CC, Ellesmere, where he continues to play and coach.
Last year, Chris supported and helped initiate the Shropshire Cricket Board with their brand new coaching programme.
Earlier this year, to mark his nomination for the award, Chris attended a training session that was led by England's spin coach, Peter Such, at the National Cricket Performance Centre in Loughborough.
He was joined there by 29 other hopeful nominees, put forward by their County Development Managers for the award and took part in the session that focused on all elements of their coaching.
Commenting on his award, Chris said: "I am delighted to be recognised by Sky Sports and the ECB and to have won the Young Coach of the Year award.
"I feel honoured to be rewarded for something that I love doing and I am certain that this will encourage me further to continue my coaching journey. I have learnt so much in the past five years and I am excited to learn more as part of the Sky Sports Coach Education Programme next year."
Commenting on the achievement, England batsman, Jonathan Trott, said: "It is really positive for English and Welsh cricket to see such enthusiasm from a young coach like Chris.
"This award is testament to the impact that he has made on grassroots cricket in Shropshire and he is a deserving recipient of the award. With coaches like Chris coming through the ranks we have a great chance of continuing to improve the standard of cricket in England and Wales."
In October 2006, Sky Sports and the ECB teamed up to launch the Sky Sports ECB Coach Education Programme, a scheme designed to equip coaches with the necessary skills to deliver high quality coaching programmes at all levels of the game.
The programme enables coaches to plot their training to suit themselves. Anyone who has played cricket at grass roots levels knows the value of coaching. Good coaches are vital to ensure as many amateur cricketers across England and Wales enjoy cricket, irrespective of where they play the game and to what level.
For more information about Sky Sports ECB Coach Education Programme, visit www.skysports.com/coaching