Dominic Cork talks ICC Teams of the Year, Lungi Ngidi and controversial dismissals
Last Updated: 19/01/18 5:17am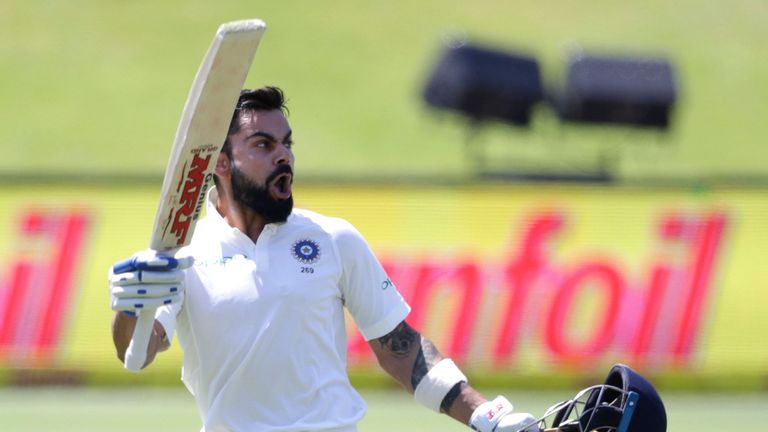 Dominic Cork reflects on the ICC's Cricketers of the Year, Lungi Ngidi's stunning debut and another controversial dismissal.
Is Lungi Ngidi a star of the future after his debut six-for, for South Africa?
Based on the way he bowled in the second Test against India, I think he is. He is a tall, young man who has worked really hard on getting fit and winning a place in the side. To do what he did on a pitch that was quite flat was impressive.
South Africa fully deserve their 2-0 lead given how well they've played. India have always found it tough against the moving ball; South Africa outplayed them at Cape Town and with a bit of pace at Jo'burg this series could finish 3-0.
Virat Kohli is the ICC Cricketer of the Year. Do you agree with the ICC's individual and team selections?
I'm sure Steve Smith - the Men's Test Cricketer of the year - would have been close but for me Kohli deserves it. All of the players in the Test team deserve to be in there, on the basis of their high level of consistency across the year; Josh Hazlewood and Pat Cummins could not quite force their way in despite an impressive series against England.
I wasn't surprised to see Ben Stokes in both the Test and ODI teams; Stokes would make any team, anywhere around the world for his ability to turn games on their head.
ICC Test team of the year: D Elgar (SA), D Warner (Aus), V Kohli (Ind), S Smith (Aus), C Pujara (Ind), B Stokes (Eng), Q de Kock (SA), R Ashwin (Ind), M Starc (Aus), K Rabada (SA), J Anderson (Eng)
ICC ODI team of the year: D Warner (Aus), V Kohli (Ind), R Sharma (Ind), B Azam (Pak), AB de Villers (SA), Q de Kock (SA), B Stokes (Eng), T Boult (NZ), H Ali (Pak), R Khan (Afg), J Bumrah (Ind)
Stokes could now play in the T20 series against New Zealand. Do you agree with the ECB's decision?
Michael Atherton said it seems strange that Stokes was made unavailable for the Ashes but all of a sudden, after he has been charged with affray, he is made available.
I'm not clear why the decision has been made now but Stokes has said he is "extremely delighted" with the decision and has vowed to "clear my name".
We know now that the court date is on the same day as the first T20, so quite how he fits into England's plans remains to be seen.
Stokes and Root have made themselves available for the IPL auction. Are you concerned Root could burn himself out?
It's a difficult one to manage for a lot of reasons. If I was in his shoes, I would want to play in the IPL; it's the best T20 tournament in the world because it's played in the toughest conditions, the crowds are phenomenal and you're pitting yourself against the best players. It's great to get that experience and let's not forget the financial benefits too.
Players have to manage their workloads as best as they can to keep fit; I'm convinced that Root will know if he's doing too much.
Windies caused controversy at the U19 World Cup when South African Jiveshan Pillay was given out obstructing the field. Was it fair play or foul?
The problem is that trying to get one over the opposition - whether technically it's within the laws or not - this isn't just affecting cricket, but all sports.
Diving has been a big issue in football's Premier League and there is now this system where people can be banned and it will get the problem eradicated.
If I'm the coach of the Windies side and that happens, I'm running onto the pitch to tell my captain to withdraw the appeal.
I said exactly the same in Chittagong in 2016 when Windies caused controversy with the Mankad dismissal against Zimbabwe; I was on commentary with Ian Bishop at the time and I didn't agree with it and we then had a very heated conversation after the game for two-and-a-half hours.
I understood his view that the bowler was doing nothing wrong but for me it just looked too pre-planned.
Who has impressed you in the Under 19 World Cup so far?
Harry Brook has taken the headlines so far, and rightly so given the way he's played, but it's also great to see the young coaches that are working with this England team doing so well - the likes of Jon Lewis, Jonathan Trott and Chris Taylor.
That's going to help younger players coming through. I didn't play in an U19 World Cup but I was lucky enough to play at that level and gain vital experience at a crucial time of my career. England have got a great chance out there if they can continue to do the basics well.