Cricket Writer & Broadcaster
Mike Selvey: Windies must show pride in second Test at Headingley
Tourists have hope with Hope, Blackwood, Brathwaite and Chase
Last Updated: 30/11/17 2:40pm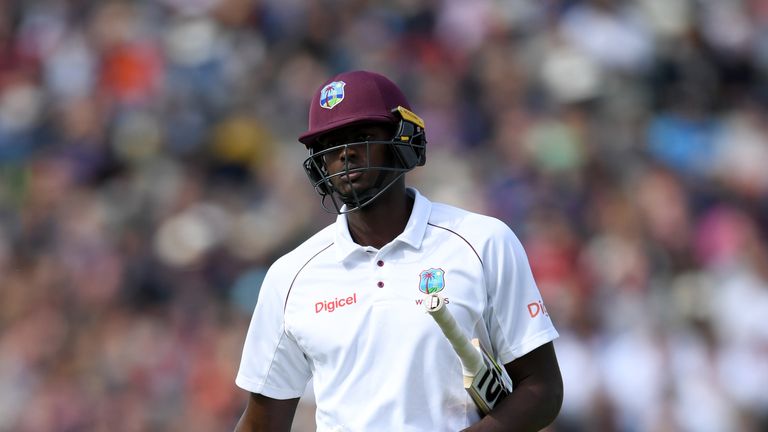 The Windies are missing some big names, says Mike Selvey, but can - and must - play better than they did at Edgbaston in the second Test at Headingley. Skipper Jason Holder, in particular...
Unless they carried a death wish, no one in their right mind went out of their way to get on the wrong side of Curtly Ambrose in his playing pomp.
Dean Jones tried it once while batting in a white-ball match when he asked him to remove his wrist bands when bowling, and suffered such a consequential working over that he asked Ambrose to put them back on again if it would assuage his anger. Then there was Steve Waugh, in a Test in Trinidad, who incensed him so much verbally that the great bowler had to be physically restrained by his captain Richie Richardson.
The mighty Ambrose was West Indies bowling coach for two years but now here he was in Birmingham to comment on the game, as verbose in broadcasting as he was the silent assassin when playing. During his coaching stint, Ambrose spent much time trying to drill into his charges what the heritage of West Indies cricket meant and should continue to mean. Now, after the debacle of the first Test, he was incandescent.
"I talked about the pride and passion in representing the region and our people," he told the Daily Mail. "I could talk to them all day but once they stepped over the rope they were on their own and if they were not prepared to listen it was simply a waste of time. It does hurt. And it has reached the point where it is very embarrassing."
In pure playing terms, there have been unreasonable expectations placed on the team that West Indies captain Jason Holder has at his disposal. The fact that the touring party is not the best that could be assembled from the region's resource is obvious, although not all those who choose to play in the Caribbean Premier League rather than take the opportunity to represent West Indies would necessarily enhance a Test side.
For now, though, there is little point in lamenting absentees rather than accepting that they have in this country what they have and it is up to Holder, the coach Stuart Law, and his staff to try and make the whole greater than the sum of its parts.
As it was, in the trying conditions of Edgbaston, and albeit it against two of England's finest ever batsmen and probably their greatest new ball bowling combination, they failed dismally to meet the lowest expectations. For much of the match, Law was to be found sitting on the dressing room balcony, head in his hands, glumly watching things unfold as if it had finally hit home, perhaps, the level of the task he had taken on. Hercules had it easy by contrast.
In essence, there are some competent players in the side. Kraigg Brathwaite has five centuries under his belt, including one against England, and Jermaine Blackwood, another with a century against England, battled hard in the first innings. There have been good things heard of Shai Hope, and Roston Chase, who has three centuries in a brief career, looks a smooth, unflustered mover into the ball. Better players than these have come unstuck against Jimmy Anderson and Stuart Broad strutting their stuff in helpful conditions.
The West Indies bowling though was woeful, ill-directed, inconsistent, and meat and drink to players of the calibre of Alastair Cook - who did no more than have the 10-hour net that might be his luxury on a desert island - and Joe Root. Each of the bowlers has performed considerably better in the past but collectively, once the first new ball had exceeded its brief sell-by date, they were shambolic.
A team's mood is reflected in its fielding, however. No matter the quality of the batting or bowling, there is no excuse, in a young side, for fielding that is anything but enthusiastic as a bare minimum starting point. A bowler who is fighting for rhythm or trying to make an impact can draw immeasurably from the effort that goes into a flying stop in the infield, or a boundary saved by a sprint and dive.
If half chances are held, as they seem to be when things are going well (cause and effect?) then the mood on the field lifts. How often does a run-out seem to precede a change of fortune? West Indies fielding at Edgbaston was slovenly, lacklustre, and bordering on indolent at times. Cook, for example, reached his first century by dabbing the ball straight at short third man yet completing a comfortable single, and his double hundred when third man let the ball through his legs for a boundary.
The problem, well one of many, is that there is no player of sufficient seniority or influence to seize matters by the scruff and shake them up. The most senior players are Kemar Roach and Brathwaite, who have 38 matches apiece.
And if leadership was required then it did not, in this match anyway, come from Holder, who endured an appalling personal match in which he failed to score runs including a golden duck in the second innings, was dismal with the ball, anonymous in the field, and was inept as a leader, culminating in a monumental tactical blunder when he failed to take the second new ball at a time, with twilight falling and the floodlights taking effect, that could not have been plainer had it been announced on the scoreboard.
There is no doubt that Holder, relatively young and inexperienced himself, has been given one of the toughest jobs in international cricket, with general inexperience across the board and little seniority to support him. He is a good cricketer, another with a hundred against England on his CV. But if he is to rally his troops for this week's second Test, he might need to start by raising all aspects of his own game.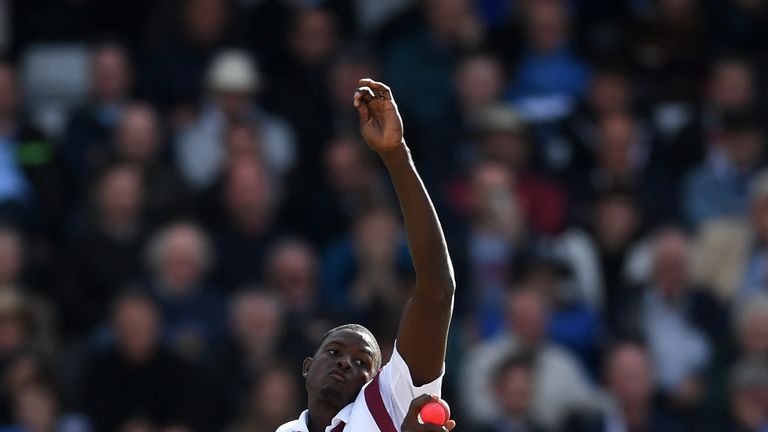 No one should expect miracles from his team, and they will surely suffer another beating but demonstratively they threw in the towel in the first Test and they have to convey real intent now: they are better cricketers than they showed in Birmingham but they need to show that there is still real pride in the maroon cap. Another display such as that at Edgbaston and they would have to answer not just to Curtly, but Viv, Mikey and Big Bird, too, all of whom have been watching and witnessing. That you would not wish on anyone.
For England, the questions that have been asked all summer still remain unanswered with the rout underpinned by the old guard. Cook's latest opening partner, Mark Stoneman batted the once, put away a couple of half volleys, and then got a bail trimmer. It was a decent delivery from Roach, but a left hander batting on off-stump ought not to have been bowled.
The suspicion was that Stoneman sensed another easy leg-side boundary, made a misjudgement and played around his pad: Cook would have been playing with the full face of the bat to mid-on. Tom Westley shaped up well again initially but bat on off-stump to make the leg-side your domain, and you'd better not miss when the ball is straight as he discovered to his detriment.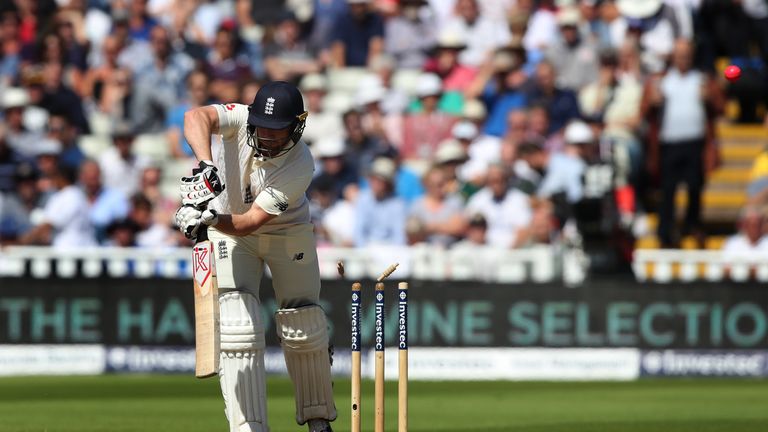 A personal view is that he overdoes the emphasis, something that even Steve Smith has reined into his great advantage. There was solidity to Dawid Malan, and some pleasing aesthetics in some of his driving and pulling. But having played himself in, and with the bowling at his mercy now, he submitted tamely.
As he watched Cook on his relentless way, Malan might have considered the dictum that you cash in while you can, because form and luck are fickle. As it is we really know little more about the trio than we did before, and, unless West Indies can raise their game, it is unlikely to change dramatically at Headingley.
Watch the second Test between England and the Windies, live on Sky Sports Cricket (404) from 10am on Friday, with over-by-over commentary and in-play video clips on our digital platforms.