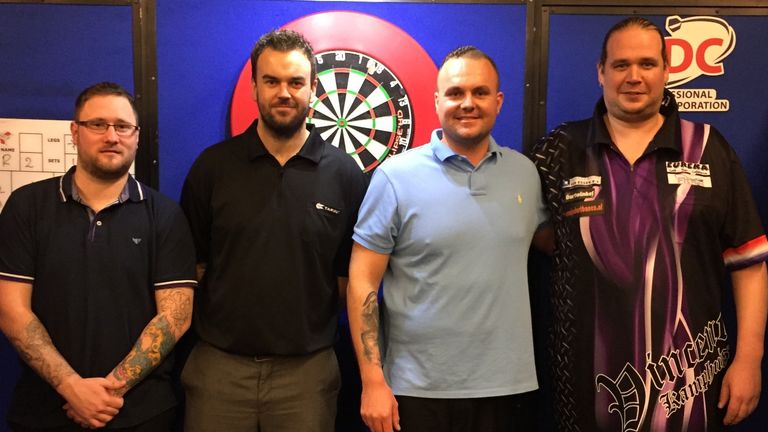 Ross Smith completed an impressive week by securing his Tour Card on the final day of the 2016 PDC Qualifying School at the Robin Park Tennis Centre in Wigan, as Ryan Palmer and Dutch duo Yordi Meeuwisse and Vincent Kamphuis also joined the elite 128 Tour Card holders.
Following four days of play in Qualifying School, which attracted 400 entries from players worldwide, 16 players won automatic Tour Cards to secure a coveted spot on the PDC ProTour.
A further 14 Tour Cards were also awarded to those top of the PDC Qualifying School Order Of Merit, with ranking points having been awarded based on finishing positions across the four days.
The meant that Mark Walsh, John Michael, Dick van Dijk, Harry Robinson, Mark Barilli, Matt Clark, Terry Temple, Darron Brown, Dennis Smith, Mick McGowan, Simon Preston, Matthew Dennant, Robert Owen and Ron Meulenkamp also booked their place on the PDC circuit for 2016-2017 with Tour Cards.
The fourth day, though, did see Kent-born Smith, who hit a nine-darter in Wednesday's Day One, secure an automatic Tour Card as he overcame Ashley Hykin in his opening match, before beating John Power, Robert Marijanovic and Zoran Lerchbacher to reach the last 32.
Then came a run of incredibly close victories, as he edged out Adam Huckvale, Marko Kantele and Mick McGowan all by a 5-4 scoreline to secure his full-time place on the PDC ProTour.
The 27-year-old already has four years of experience on the PDC circuit, but is looking to break into the sport's elite during 2016.
"I am absolutely over the moon," said Smith. "Playing in the elite of darts is what it's all about, so I am delighted.
"The money that is on offer now is fantastic and I just want to do what I know I can. I have had a bit of a tough year, so I am looking forward to this year now and hopefully I can play as well as I know I can.
"I know I have beaten and can beat a lot of the top boys - it's just the consistency part I am looking to get right."
Elsewhere, the Dutch talent pool grew ever larger with Meeuwisse and Kamphuis cementing their Tour Cards alongside Day Three qualifier Jeffrey de Graaf.
Gifted a bye in the first round, Meeuwisse then whitewashed Mark Breakspear in his second round game before beating Richie Howson, Adam Hunt, Mick Todd and Scott Dale to set up a shoot-out with compatriot Ron Meulenkamp, which he won 5-2.
Kamphuis, who agonisingly lost in the last eight on Day Three, was also the beneficiary of a first round bye, before beating Scott Taylor, Stuart Stubbs, James Young, Jamie Kelling, Joey Ten Berge and Mark Walsh to secure his place in the elite 128 Tour Card holders.
After also receiving a first round bye, Palmer secured his first ever Tour Card as he narrowly squeezed past Sam Head 5-4 in the second round, before beating Jason Tarry, Nigel Daniels. Per Laursen, Jerry Hendriks and Matt Clark.
With an additional 14 Tour Cards on offer to take the total number of ProTour professionals to 128, former UK Open finalist Mark Walsh, veteran stars Dennis Smith and Matt Clark and resurgent Irish ace Mick McGowan secured Tour Cards.
Greece's John Michael will also now compete full-time on the PDC circuit this year - after qualifying for the last two World Championships - while Dick van Dijk and Ron Meulenkamp add another two Dutch rivals to world No 1 Michael van Gerwen.
Players who competed at the 2016 PDC Qualifying School but did not win Tour Cards will now be eligible to compete on the PDC Unicorn Challenge Tour, which will feature 16 tournaments each worth £10,000 in prize money and are held across four double-header weekends.
These players will also be eligible to top up the field for Players Championship events to 128 players should all of the Tour Card Holders not enter, with places allocated in order of ranking position on the Q School Order of Merit.