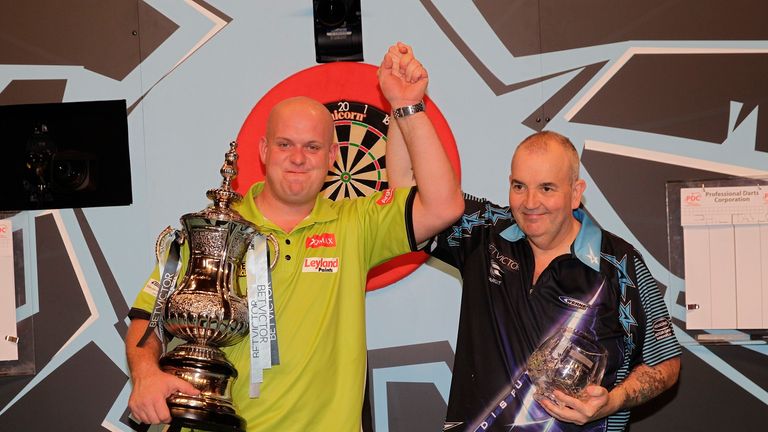 Michael van Gerwen denied Phil Taylor a 16th World Matchplay title on Sunday night, but what did we learn from our week in Blackpool?
Blackpool is still Taylor's best bet
Taylor's hopes of ending his drab run without a trophy should remain centred around the World Matchplay, despite falling at the final hurdle on Sunday night. He has a stunning record at the tournament, with 15 titles since 1994 and just eight defeats in 101 matches in that time.
Blackpool is still the likeliest location for Taylor to end a major hoodoo that dates back to exactly two years ago, when he beat Van Gerwen in the 2014 Matchplay final. A lot has happened in those two years.
The concern is that, even on his favourite patch under a format that he has historically dominated, he is still chasing Van Gerwen's shadow. Will we ever see Taylor win another major?
MVG a tough nut to crack
Yet another trophy tells us nothing we did not already know about Van Gerwen's prodigious ability - he is on course to become darts' greatest ever player and even Taylor acknowledged his brilliance. But we did witness something about the Dutchman that doesn't crop up too often.
Taylor, perhaps realising that merely duking it out at the dartboard wouldn't favour him, dipped into his vast reservoir of knowledge and forced the crowd to help. His frequent encouragement of the clap made famous by Iceland at Euro 2016 was a clear ploy to interrupt Van Gerwen's concentration.
The Dutchman didn't budge. Taylor wouldn't give in - and still his less experienced foe gave him short shrift. Van Gerwen not only outplayed his rival, he out-thought him too.
Top four in a league of their own
There can be little argument about the pecking order of the world's top darts players at the moment. Rankings are unlikely to interest the players themselves, but the numbers are currently telling a story that can't be ignored.
Van Gerwen, Taylor, Gary Anderson and Adrian Lewis are significantly clear from the rest of the field as the top quartet at the oche. Their semi-final qualification in the Matchplay followed their appearance in the final four of the Premier League, while only Lewis missed the World Championship semi-finals.
The likes of Peter Wright and James Wade might be able to defeat anyone on their best day, but consistently the top four form their own elite group.
Yesterday's heroes always welcome
An entertaining run by 'The Bronzed Adonis' Steve Beaton was one of the highlights of the week in Blackpool, proving that there's nothing quite like a feel-good factor.
Beaton, the 1996 world champion, rolled back the years and forced Anderson into some very nervous moments during their quarter-final. Beaton, ultimately, was sent packing but he represented a reminder that, in the entertaining world of darts, champions from previous generations are always capable of flirting with a comeback.
Big names are never safe
The Matchplay saw three established players crash out at the very first hurdle, proving that the standard of the world's top 32 players is constantly improving.
Wade, Raymond van Barneveld and Jelle Klaasen were surprisingly kicked through the exit door shortly after they had unpacked their bags at the seaside town. Mervyn King, Brendan Dolan and Beaton, respectively, were responsible for the upsets suggesting we should always keep an eye on players outside of the PDC's top ranks.