Peter Wright blew 'golden opportunity' at World Grand Prix, says Wayne Mardle
"I've always felt that he's got the game and he has got the game, but he blew that tonight. He blew an absolutely golden opportunity."
Last Updated: 08/10/18 4:17pm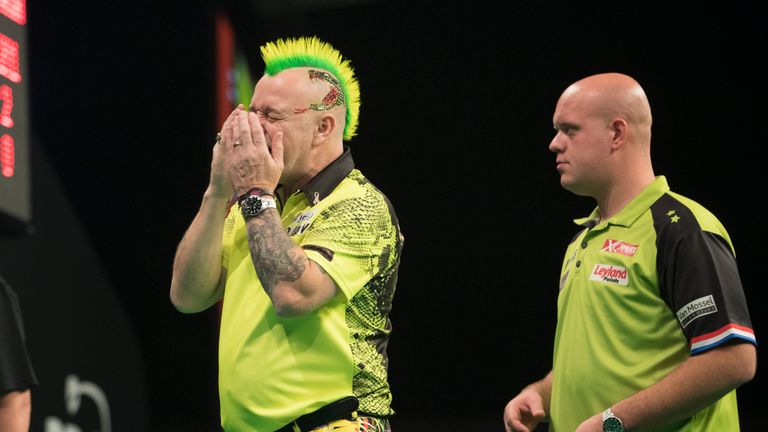 Wayne Mardle believes Peter Wright may be questioning whether he's got the game to beat the world's best in major finals, after Snakebite was beaten 5-2 by Michael van Gerwen in the World Grand Prix Final.
Van Gerwen was below-par for much of the contest and was averaging below 80 after three sets, but Wright failed to capitalise as 'The Green Machine' reeled off the final three sets without reply to seal his fourth Grand Prix title.
Wright had recorded three televised wins over MVG in 2018 prior to their Dublin showdown, but having lost his previous five major finals against the Dutchman, it was a familiar story for the Scot as Van Gerwen ran out a convincing winner.
"Peter Wright - whilst he put up an absolutely great show, he was talking really quite defeatist after that final, kind of beaten. He's got to pick himself up again - he's just not mixing it; he's better than that," Mardle said.
Wright's solitary major title came at the UK Open in 2017, where he defeated Gerwyn Price 11-6 to scoop the title, but when Dave Clark asked whether the world No 2 was capable of adding to his tally, Mardle admitted he was unsure.
"I don't know. I've always felt that he's got the game and he has got the game, but he blew that tonight. He blew an absolutely golden opportunity.
"Michael van Gerwen won a set with a 73 average - now as the world No 2 I'm not saying he shouldn't let that happen; I'm saying it's very hard for him to take that on the chin."
Wright was still in relatively good spirits after his defeat, but when asked if losing should hurt him more, Mardle added: "I do personally. Put it this way, if Michael van Gerwen had lost, would you have seen him there? I don't think so.
"Michael said about that winning mentality; I'm not saying that Peter hasn't got it, I believe he finds losing to Michael van Gerwen in big finals easy to do. I think he kind of capitulated there at the end as well.
"If I was Peter Wright I'd be questioning whether I've got the game to beat the very, very best in the very, very big finals."
Darts season is in full swing and continues on Sky Sports with the Grand Slam of Darts in November and the World Championships which gets underway from the iconic Alexandra Palace on December 13.
Don't forget to download, subscribe and listen to the brand new Darts Show podcast, episode one is already available and episode two is on the way next week.