Jenson Button: His best races in Formula 1 revisited
The standout drives from Jenson's glittering F1 career as the 2009 world champion bows out from a race seat
By James Galloway and William Esler
Last Updated: 27/12/16 8:29am
He may not have quite 'officially' retired, but all indications are that Jenson Button competed the final grand prix of his illustrious career at this year's season-ending Abu Dhabi GP.
Definitely not on the grid for the first time in 18 seasons in 2017, the hugely-popular Briton steps down from a race seat after 305 grands prix, 15 wins and, thanks to an unforgettable 2009 season, one world championship triumph.
But what were his best performances during one of F1's longest-ever careers? We select some of Jenson's standout drives since his debut for Williams back at the turn of the century...
2000 Brazilian GP, Interlagos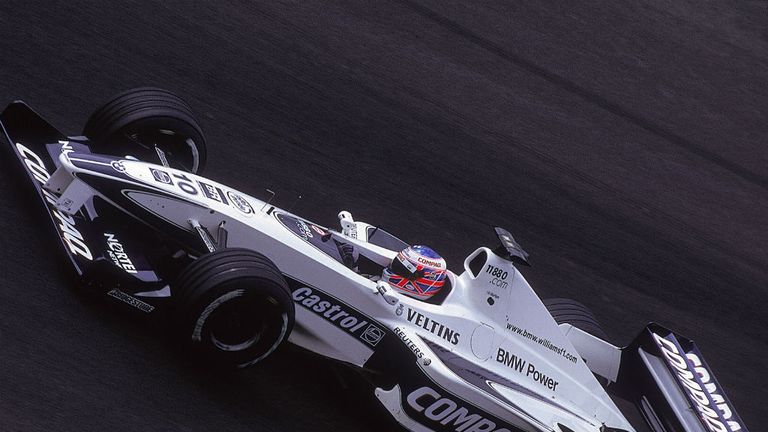 Qualified: 9th; Finished: 6th
In only the second race of his F1 career, a 20-year-old Button picked up his first point in Brazil to become the then-youngest points scorer in the sport's history. It is worth noting that in 2000 points only went down as far as sixth place, making the achievement all the more impressive.
Having started ninth, Button made a one-stop strategy work to come through the field and take the final point with the drive capped by a great late-braking overtaking move on Jos Verstappen at Turn 10 of the famous Interlagos circuit.
2004 Malaysia GP, Sepang International Circuit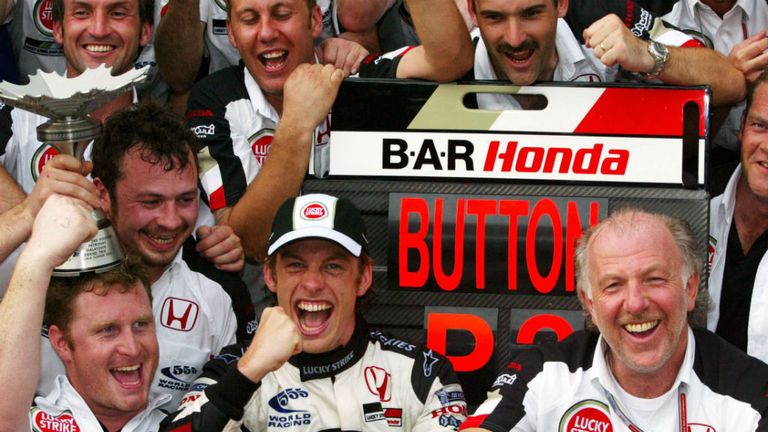 Qualified: 6th; Finished: 3rd
Considering Button has a one-in-six strike rate for podiums in F1, it's easy to forget that it actually took him four years and 68 starts before he climbed the rostrum in the sport.
That he achieved it at Sepang in Malaysia was all the more fitting given two years before he had been on course for third place at the same circuit only for a mechanical problem to slow his Renault on the final lap.
Fast forward to 2004 and fortune was on his side as his BAR survived contact with former team-mate Jarno Trulli at the first corner and he went on to beat Ferrari's Rubens Barrichello to third place by two seconds.
With the monkey off his back, Button wouldn't have to wait long for a second podium visit – it came just a fortnight later in Bahrain. In fact, eight more would follow in a highly-impressive year as he finished third behind the dominant Ferraris in the Drivers' Championship.
2004 German GP, Hockenheim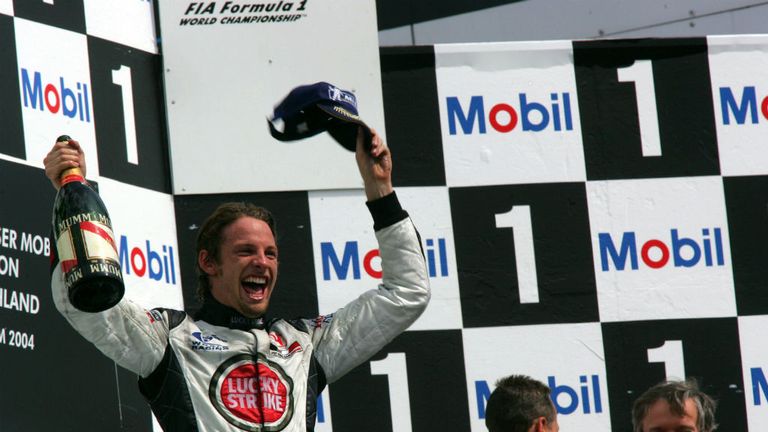 Qualified: 3rd, started 13th due to engine change penalty; Finished: 2nd
One of those 10 podiums in 2004 came at Hockenheim, a venue Button habitually performed well at during his career. The Briton's BAR team had been competitive relative to Ferrari and Williams over a single lap, but the hard work of qualifying third was undone by 10-place grid penalty for an unscheduled Honda engine change.
However, Button wasn't to be deterred and on race day he scythed his way through the field, with the culmination of his fightback a long-running duel with Renault's Fernando Alonso as the pair diced over second place. It was Button who ultimately won out, 15 laps from home, with an incisive move down the inside of the Spaniard.
His drive was made all the more creditable – and memorable more than a decade later – by the fact that for the last 20 laps of the race he was often forced to drive one handed to hold upright a crash helmet which had worked its way loose.
2006 Hungarian GP, Hungaroring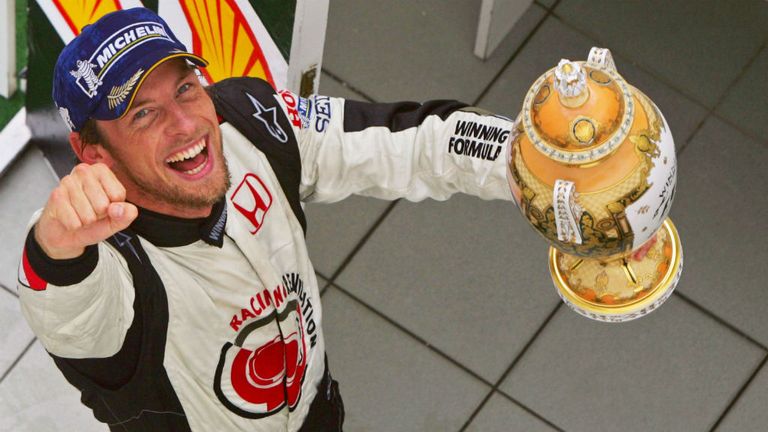 Qualified: 4th, started 14th due to engine change penalty; Finished: 1st
Button showed his wet-weather prowess to pick up his first F1 victory despite starting in 14th place. The Briton had qualified in fourth, but was relegated to the middle of the grid after an engine change. The race started in wet conditions and with cars sliding off the circuit at seemingly every corner – including Ferrari's Michael Schumacher – Button kept his Honda on the tarmac and steadily worked his way through the field.
Staying out behind the Safety Car allowed the Briton to move up to second and he was challenging Fernando Alonso for the lead when the Spaniard was forced to retire with a loose wheel. Button made the right call on when to switch to dry tyres and took a comfortable win by over 30 seconds. It was a breakthrough moment.
2009 Australian GP, Albert Park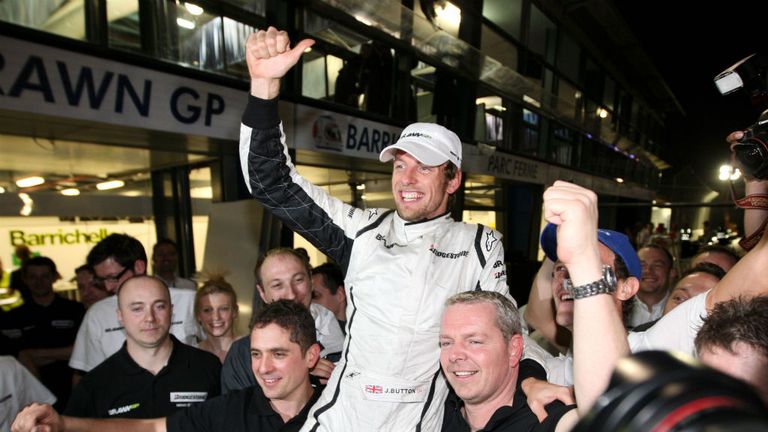 Qualified: 1st; Finished: 1st
March 2009 represented something of a phoenix rising from the ashes for Button. It wasn't until March 5 that a deal was put in place for the Brawn team to compete following previous owner Honda's sudden F1 withdrawal and instead of finding himself on the sidelines, Button was on pole position in Australia a couple of weeks later.
The Brawn car with its double diffuser was the class of the field in Melbourne, but Button still out-qualified team-mate Rubens Barrichello by over three tenths of a second. Jenson streaked away from the field in the opening laps, but his lead evaporated on lap 19 when the Safety Car was deployed.
Having rebuilt a lead to Sebastian Vettel, a very slow pit-stop with 12 laps to go, caused by a sticking left-rear tyre and the fuel nozzle not connecting, put the German right back onto the tail of the Brawn car. But Jenson kept the Red Bull driver at bay and when Vettel made contact with BMW's Robert Kubica with three laps remaining, the resultant Safety Car saw Button cruise the final laps to victory. It set up his title-winning season.
2009 Brazilian GP, Interlagos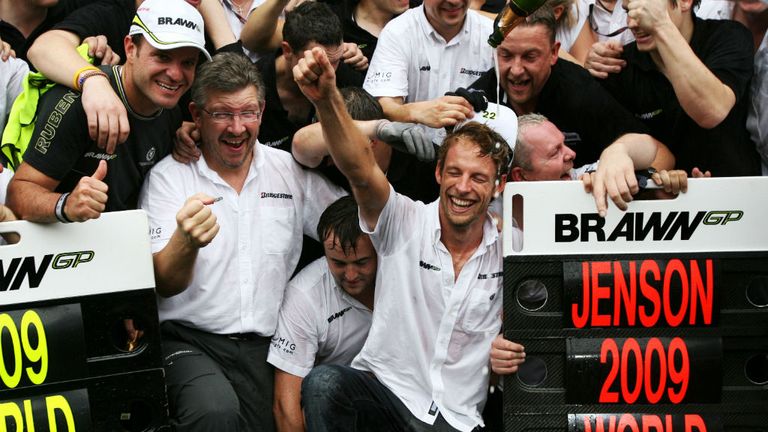 Qualified: 14th; Finished: 5th
A fifth-place finish doesn't exactly stand as the most emphatic way in which a driver has clinched a world championship title, but for Button at Interlagos in 2009 it mattered not one jot as a title challenge which had threatened to come completely off the rails at the last was finally concluded.
While a title for Button had always looked nailed on once he won six of the opening seven rounds, the rise of Red Bull and, perhaps more crucially, his own wobbles from the British GP onwards – especially relative to team-mate Rubens Barrichello in qualifying – had offered up the possibility he could still blow it.
While still holding a 14-point lead over Barrichello heading into Brazil, the season's penultimate round, a dramatic rain-interrupted qualifying session saw the two Brawn cars line up 13 places apart on the grid, Rubens on pole and Jenson down in 13th. However, after being down in the dumps on Saturday night, it was a re-energised Button who emerged on race day and some scintillating and brave early overtakes saw him force his way back into the points.
And, as Barrichello's hopes faded, Button's fifth place finish was the result that clinched him the crown. It was with relief as much as joy that Button celebrated after the race.
2011 Canadian GP, Circuit Gilles Villeneuve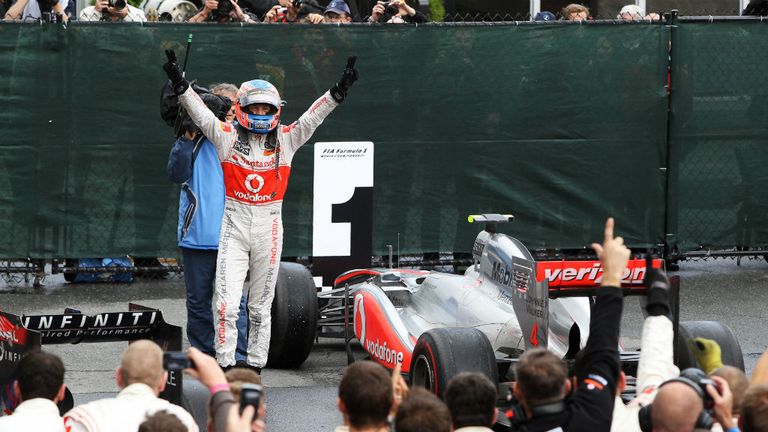 Qualified: 7th; Finished: 1st
Undoubtedly this was Button's most memorable win. While the nature of the McLaren man's race-winning moment was sensational enough in itself – Button, having cranked up the pressure over the preceding laps, passed Vettel on the final tour as the Red Bull was caught out on a wet patch – it was the dramatic, unpredictable narrative that ran all the way through the elongated, rain-hit race that makes it stand out to this day.
Few drivers, let alone Button, would have ever experienced such an up-and-down race. Six pit stops, a drive-through penalty, a collision with a team-mate (Lewis Hamilton) and a separate one with a rival car (Fernando Alonso) had at one stage combined to leave Button running stone last.
However, in a race full of Safety Cars and red flags, Button unfathomably overcame all the setbacks to secure what is surely the best of his 15 F1 victories.
2011 Japanese GP, Suzuka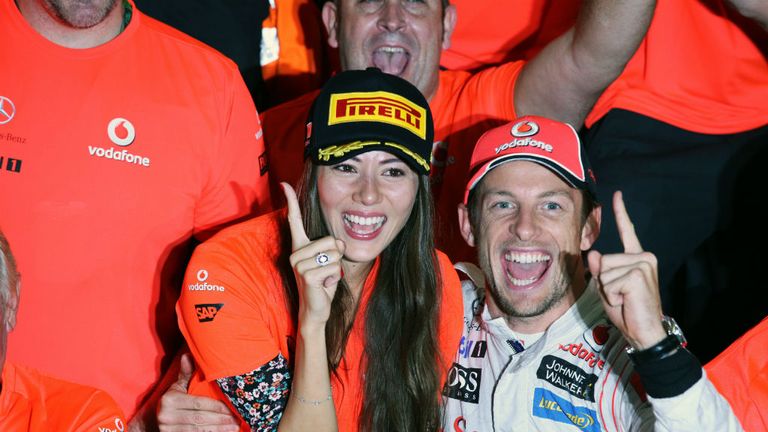 Qualified: 2nd; Finished: 1st
2011 was a year dominated by Vettel, but while the German picked up his second drivers' title at Suzuka, it was Button who took the headlines with a masterful drive to victory.
Starting from second, Button dropped to third behind team-mate Hamilton at the lights after being forced onto the grass by the Red Bull polesitter, but it wasn't long before Button was the lead McLaren again and began closing the gap to the German. Button stayed out a lap longer than Vettel before making his stop and despite the Red Bull driver having fresher rubber, did enough on his in-lap to leapfrog ahead.
Following a Safety Car, Jenson opened the gap to Vettel during the second stint and then controlled the gap to the Red Bull and Ferrari's Alonso to bring it home. He had hardly put a wheel wrong.
2012 Belgian GP, Spa-Francorchamps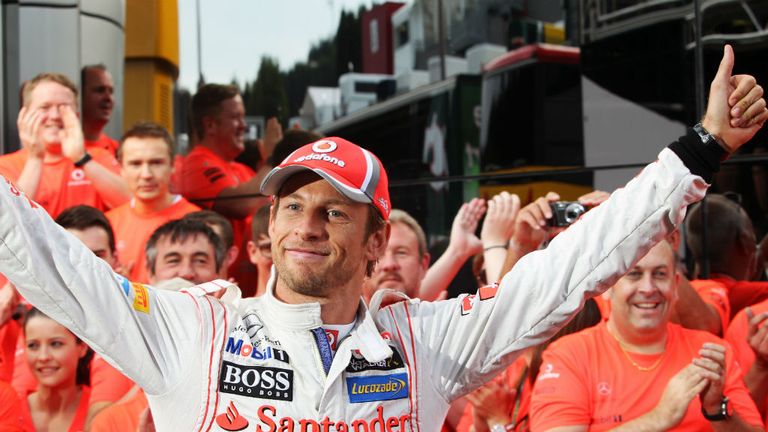 Qualified: 1st; Finished: 1st
Button was in a class of one at Spa-Francorchamps in 2012. By going his own way on set-up and opting for a different rear-wing configuration to team-mate Hamilton, Button qualified on pole by a mammoth eight tenths of a second. That led to Hamilton's infamous telemetry tweet on a weekend when the younger Briton had no answer to the sister McLaren.
Following a dramatic first-lap crash triggered by Romain Grosjean, Button was able to control the race at the front and just 10 laps in McLaren were telling him he was pulling away from the car behind at over half a second per lap. And despite his pace, Button's smooth driving style allowed him to preserve his Pirelli tyres, allowing McLaren to exploit their desired strategy.
Such was his dominance the TV cameras rarely picked up on Button as he cruised around in a race of his own at the front. At the chequered flag, Vettel was the only man to get within 25 seconds of the dominant race victor.
2014 British GP, Silverstone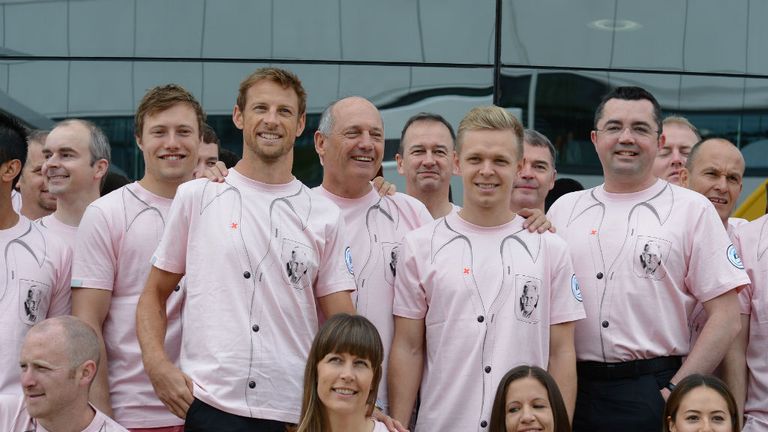 Qualified: 3rd; Finished: 4th
This may be the first race in the list in which Button actually finished in a lower position than which he qualified, but don't let that disguise the fact that Silverstone 2014 was a highly impressive weekend for the now-McLaren veteran.
The tricky, changeable conditions of qualifying had given the opportunity for Button to put the MP4-29 where it would have otherwise had no right to be – third on the grid – although the expectation was that a dry race would expose the car's aerodynamic flaws.
The rain did indeed stay away on Sunday, but Button still held his own, challenging for a long-awaited maiden home podium only to be denied by the narrowest of margins by Red Bull's Daniel Ricciardo. The weekend, and performance, was all the more significant for Button given thousands of fans had turned Silverstone 'Pink for Papa' in memory of Jenson's father John, who had died at the start of that year.
2016 Austrian GP, Red Bull Ring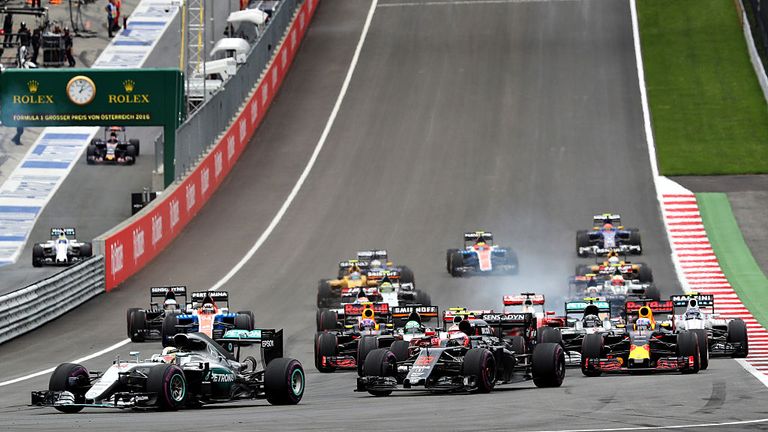 Qualified: 5th, started 3rd due to grid penalties ahead; Finished: 6th
Button's best result of his final season came in Austria where he finished an unlikely sixth on a circuit that wasn't expected to suit McLaren's Honda engine. In a weekend reminiscent of the previous race in this list, Silverstone 2014, Button made light of his car's shortcomings in tricky wet-dry conditions of qualifying to take fifth, which became third on the grid following gearbox penalties for Vettel and Nico Rosberg.
The start of the race went even better as, overtaking surprise front-row starter Nico Hulkenberg, Button ran second to former team-mate Hamilton for the opening six laps. But on a circuit where outright power counts, the 36-year-old was eventually shuffled backwards - although still finished a highly credible sixth, ahead of Romain Grosjean and Carlos Sainz. "We thought eighth was probably on the cards," said Button afterwards.
"The cars that beat us are all much quicker than us. To beat Williams, Haas, Force India - it's a good day."